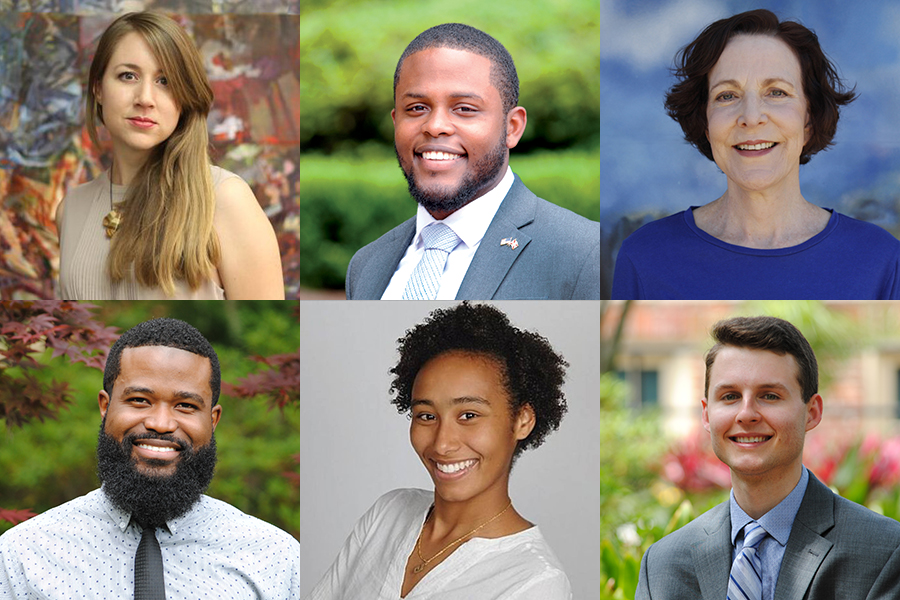 Six exceptional Florida State University graduate students and recent alumni will spend the 2018-2019 academic year teaching English or conducting research projects abroad as a part of the Fulbright U.S. Student Program.
The program, administered by the Department of State's Bureau of Educational and Cultural Affairs, offers grants for graduating college seniors, graduate students, young professionals and artists to study, research and/or teach English in participating countries around the world for one year.
"Our phenomenal success with Fulbright recipients demonstrates the world-class education and training our undergraduate and graduate students receive at Florida State University," said Craig Filar, associate dean of Undergraduate Studies and director of the Office of National Fellowships. They are prepared to engage in research, study and service at the highest levels, and it is wonderful to see six of our students recognized for this with a Fulbright student scholarship. They will represent FSU well as they depart on their journeys."
Five of FSU's recipients earned study/research grants, which allow awardees to design their own academic projects in collaboration with advisers at foreign universities or other institutes of higher learning from one of 140 participating countries around the world.
One recipient will participate in the English Teaching Assistant program, which places Fulbright scholars in classrooms abroad to assist local English teachers and to serve as cultural ambassadors for the U.S.
The recipients of the Fulbright U.S. Student Program study/research grants are:
Christina Klein, 29, a native of Fairview, Kansas, is a Master of Fine Arts student who will study painting and printmaking at the Academy of Arts in Nuremberg, Germany.
"I'm thrilled to begin my fellowship in Germany this fall," Klein said. "It's a great opportunity for me to continue my artistic education under the guidance of Professor Susanne Kuehn at the Academy of Arts in Nuremberg. My hometown in Fairview, Kansas, can trace much of its ancestry to Germany and studying the language and culture of rural communities will help better my understanding of my community's heritage."
Jan-Ruth Mills, 60, a native of Fresno, California, is a doctoral candidate studying modern German history. She will research Messerschmitt 262 jet production and slave labor in the Third Reich at the University of Regensburg in Regensburg, Germany.
"I am grateful to my committee chair, Dr. Jonathan Grant, for encouraging me to apply to the Ph.D. program in history at FSU, and for the support of Drs. Kris Harper, George Williamson and Will Hanley as well as other faculty in the departments of history and German studies," Mills said. "This Fulbright will allow me to honor the memory of the victims and survivors of Nazi slave labor by doing original research in German archives."
Joshua Scriven, 30, a native of Orlando, is a doctoral candidate studying political science. He will research the possible link between immigration attitudes and foreign direct investment in Barbados at the University of the West Indies.
"This time abroad should not only provide an excellent addition to my doctoral dissertation, but an unforgettable experience," Scriven said. "I hope to interact as much as I can with the local culture, while paying special attention to the country's unique cuisine. I hope to teach political science at the university level after I have completed my doctoral studies."
Mackenzie Teek, 21, from Tallahassee, graduated with a bachelor's degree in sociology with minors in Portuguese and public administration in May. She will conduct a mixed-methods research project report on black racial identity in São Paulo, Brazil. Unlike a traditional qualitative study which takes the form of an academic article or book, she will write a poetry book. She plans to pursue a Ph.D. in sociology, studying race and gender.
"I am grateful to my dozens of mentors who helped me to earn my Fulbright award, especially Dr. Deana Rohlinger, Dr. Steven Butterman, Dr. Solange Rocha, Dr. Peggy Sharpe and Jesse Wieland," Teek said. "I am very excited, and, of course, a little scared, but I'm eager to jump into my project as it investigates blackness, a phenomenon which I am deeply invested in studying and understanding. I hope to refine my skills as a hopeful researcher and poet and become a better thinker and learner."
Austin Wyant, 22, from Odessa, graduated from FSU this spring with a bachelor's degree in exercise physiology and minors in chemistry and psychology. In September, he will study at the University of Stirling in Stirling, Scotland, and pursue a master's degree in health psychology. He plans to research how physicians can best motivate patients to improve their health-related behaviors, such as quitting smoking, eating healthier and maintaining exercise regimens. After earning his master's, Wyant will begin working on his M.D. at the University of Miami Miller School of Medicine.
"Representing Florida State University, Florida, and the United States in the United Kingdom as a Fulbright Scholar will be an honor," Wyant said. "As I reflect on the lengthy application process, I credit my success to the domestic and international support I received from the staff and faculty at Florida State University and the University of Stirling."
The recipient of the Fulbright U.S. Student Program English Teaching Assistant grant is:
Brian Menard, 23, from North Port, graduated with a bachelor's degree in psychology in May 2017. He will teach English at both the high school and university levels in Kenya.
"Earning a Fulbright grant has only affirmed my journey towards becoming an educator, and I owe a lot of the honor to my incredible advisers and mentors at FSU," Menard said. "This is an opportunity to not only represent the best of U.S. culture but also appreciate the cultural contributions made by our global community."
For more information on national scholarships, contact the Office of National Fellowships or the Office of Graduate Fellowships and Awards.