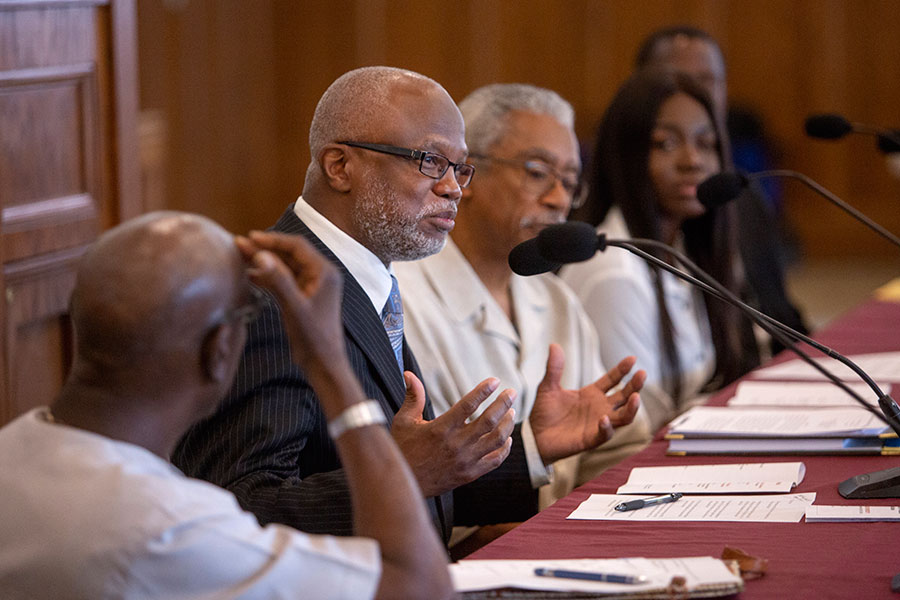 "American history that doesn't incorporate the black experience is a false history."
Those words were uttered by the late William Jones, Florida State University's first director of the Black Studies Program at FSU. This year, the program celebrates 40 years of educating students on the wide-ranging contributions of people from the black diaspora, as well as the continued success and struggles of the culture. The program faculty hosted a commemorative celebration on April 20.
"This program would not be possible without the vision and indomitable warrior spirit of William R. Jones," said Billy Close, Jones' former student and assistant professor of criminology at FSU. "Although he is no longer with us, this program is a testament to his legacy and beyond. He refused to give up on his vision for this, refused to accept all of the reasons that we should not have a viable program of black studies here at Florida State University. He gave of himself personally, financially and intellectually."
The African-American Studies program, an interdisciplinary unit of the College of Social Sciences and Public Policy, was established during the 1977-1978 academic year following student protests and campus organizing fueled by the black campus movement of the 1960s and 1970s.
"African-American studies has a particular importance here at Florida State," said Shantel Buggs, professor of sociology and African-American Studies. "It was students who organized and agitated for the program to exist in the first place."
Today, the program offers a thriving and varied curriculum studying ethnicity, identity, human relations and cultural dynamics. The curriculum also focuses on educational and social policy issues.
"African-American Studies offers students a chance to examine American society from the unique lens of the socioeconomic and cultural experiences of the African diaspora in the United States, Caribbean and South America," said Patrick Mason, the program's director and professor of economics.
Over the past few years the college has invested heavily in the African-American studies program. They recently hired four new instructors to serve as core faculty members of the program. Tim Chapin, dean of the college, said his team continues to take a deep look at curriculum and also is reinvigorating and strengthening the partnership between the college, the African-American Studies program and the Black Student Union.
"There is even greater importance today in having a strong African-American studies program at a state university like FSU," Chapin said. "I would suggest we've made strong strides in the last 40 years, but we have a way to go still. Racism is still prevalent, it is still a very powerful force in society for evil and I think we need to continue understanding culture and people of all races frankly, but in this country and historical context particularly African-Americans."
Buggs and Katrinell Davis of sociology along with geography professors Adam Bledsoe and Willie Wright make up the group of new hires. They join associated faculty from disciplines outside the college, such as criminology, education, history, music, psychology, social work and modern languages.
In addition to the new hires and revamped curriculum, new classes, including an online course, are planned for the 2018-2019 academic year.
"When we think about the people who are considered the founders and great thinkers in various areas, a lot of times women are left out and people of color are left out," Buggs said. "Black studies and a lot of these ethnic studies programs provide an opportunity to put those voices that are often left out, back at the forefront."
For details about the African-American Studies program, visit https://coss.fsu.edu/aas.