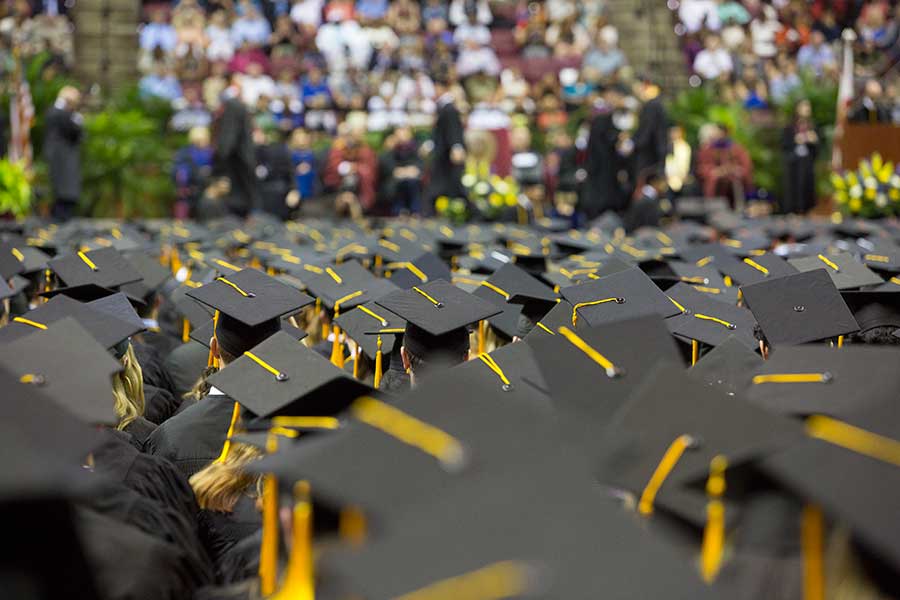 Florida State University will hold four spring commencement ceremonies for the first time in its history in an effort to accommodate increasing participation by graduates and their families in recent years.
The two ceremonies on Friday, May 4, will feature Florida State alumni Julie Dunn Eichenberg, an executive at Turner Content Distribution, and John Rivers, founder and CEO of the 4R Restaurant Group, as the keynote speakers. Jim Jenkins, an executive for Sodexo — the company that operates Seminole Dining — will deliver the commencement address at both ceremonies Saturday, May 5.
More than 6,400 students will receive degrees this spring: 5,232 bachelor's graduates, 998 master's graduates and 227 doctoral graduates. More than 5,300 graduates are expected to participate in spring commencement. Florida State University President John Thrasher will preside over each of the four ceremonies at the Donald L. Tucker Civic Center, 505 W. Pensacola St.
Florida State will present special recognition to students and student-veterans who have earned academic honors, including induction into the Garnet and Gold Scholar Society.
Last year's spring commencement set a record for attendance with more than 5,200 graduates participating in three ceremonies. As a result, university administrators decided to add a fourth ceremony this year to better meet the high demand for tickets and limited parking.
"This is a wonderful problem to have," Thrasher said. "Our students are more engaged than ever, and they want the tradition of commencement to be part of their Florida State experience. We love celebrating this important milestone with our graduates and their families."
The addition of the fourth ceremony is expected to reduce the length of each ceremony by roughly 45 minutes to an hour. Organizers estimate each of the four ceremonies will conclude in just over two hours. Graduates can request two extra tickets if they need more than their six-ticket allotment, and the additional ceremony is projected to ease traffic and parking issues.
Eichenberg will speak at 2 p.m. Friday, May 4, to the graduates of Arts and Sciences, Motion Picture Arts and Social Work.
Eichenberg, who graduated from Florida State in 1994 with a bachelor's degree in marketing, has spent the past 21 years at Turner, rising to vice president of Brand Distribution at Turner Content Distribution, the domestic distribution and marketing arm of the company. She currently serves as chair of the FSU Foundation Board of Trustees and is a member of the board for the Seminole Torchbearers. In 2017, Eichenberg was inducted into FSU's Circle of Gold.
Rivers will deliver the keynote address at 7:30 p.m. Friday, May 4, to the graduates of Business, Fine Arts, the Dedman School of Hospitality and the Jim Moran School of Entrepreneurship.
Rivers is a graduate of the FSU College of Business and serves on the college's Board of Governors. After retiring as president of a $1.5 billion company, Rivers left a 20-year career in health care to follow a lifelong dream of running a restaurant. In 2009, Rivers opened his first concept, 4 Rivers Smokehouse, which now has 14 locations in Florida and Georgia, including one on the FSU campus.
Jenkins will speak at 9 a.m. Saturday, May 5, to the graduates of Applied Studies; the Graduate School (material sciences graduates only); Engineering;Social Sciences and Public Policy; Nursing; and Criminology and Criminal Justice. At Saturday's 2 p.m. ceremony, Jenkins will address graduates of Medicine (bachelor's and Ph.D. only); Communication and Information; Music; Human Sciences; and Education.
Jenkins is the chief executive officer for Sodexo's Universities North America East, FSU's dining services partner. After starting out as a production manager for Sodexo at American University, Jenkins now oversees the company's United States Universities business, an operating segment of Sodexo's $9.9 billion North American operations. Jenkins has served on several boards, including the National Association of College Auxiliary Services Foundation, as well as being an executive sponsor for Sodexo's Emerging Leaders Program. He has been an active participant in Sodexo's Mentor Impact Program for the past seven years and is involved in Stop Hunger efforts both nationally and locally in his hometown of Austin, Texas.
In addition to the four commencement ceremonies:
• Army ROTC will commission 30 cadets — 17 for active duty, five for the Army Reserves and eight for the Army National Guard — during a ceremony at 6 p.m. Saturday, May 5, in the Oglesby Union State Ballroom. The guest speaker will be U.S. Army Maj. Gen. (Ret.) Ronald Harrison.
• Air Force ROTC will commission 29 cadets as second lieutenants during a ceremony at 6 p.m. Saturday, May 5, in Opperman Music Hall, Kuersteiner Music Building. The guest speaker will be Lieutenant General (Ret.) Dr. Thomas W. Travis, who served as surgeon general of the U.S. Air Force from 2012 to 2015. All 29 cadets will enter the active duty Air Force in a variety of career fields.
• The FSU College of Social Work will host a spring graduation reception for its students in the Oglesby Union Ballrooms from 9 to 11 a.m. Friday, May 4. The event, led by Dean Jim Clark, will include a pinning ceremony and will recognize accomplishments of the graduating class. Amore Rodriguez, a social work student pursuing a master's degree, will address graduates.
• The College of Nursing will hold its pinning ceremony at 6 p.m. Friday, May 4, in Ruby Diamond Concert Hall. Each nursing graduate receives a pin, recognizing the completion of educational requirements, allowing alumni to seek a state nursing license. College of Nursing alumni and faculty members Laurie Grubbs and Roxanne Hauber will be the guest speakers. Several students also will be honored for scholarly achievement and outstanding performance for their clinical work at Tallahassee Memorial HealthCare and Capital Regional Medical Center.
• The College of Law will hold its commencement ceremony at 11 a.m. Sunday, May 6, in the Donald L. Tucker Civic Center. Florida Supreme Court Justice C. Alan Lawson, a 1987 graduate of the FSU College of Law, will be the commencement speaker. The ceremony will be followed by a reception on the law school green.
• FSU Panama City will hold its commencement ceremony at 1:30 p.m. CDT Sunday, May 6, at the Marina Civic Center in Panama City, Fla. FSU Provost Sally McRorie and FSU Panama City Dean Randy Hanna will preside. Becca Hardin, president of the Bay County Economic Development Alliance (BayEDA) will deliver the commencement address to the 147 graduates expected to participate in the ceremony.
• The College of Medicine will hold its commencement ceremony at 10 a.m. Saturday, May 19, in Ruby Diamond Concert Hall for 108 students receiving the Doctor of Medicine degree and 10 students receiving the Master of Science Bridge to Clinical Medicine degree. Michael Sweeney, M.D., education director for surgery at the College of Medicine, will deliver a commencement address to the graduates.
Florida State will once again livestream commencement ceremonies on the web. Livestreaming allows family and friends to view the ceremony in real time from anywhere in the world. Visit www.learningforlife.fsu.edu/fsu-graduation/ for webcast links.