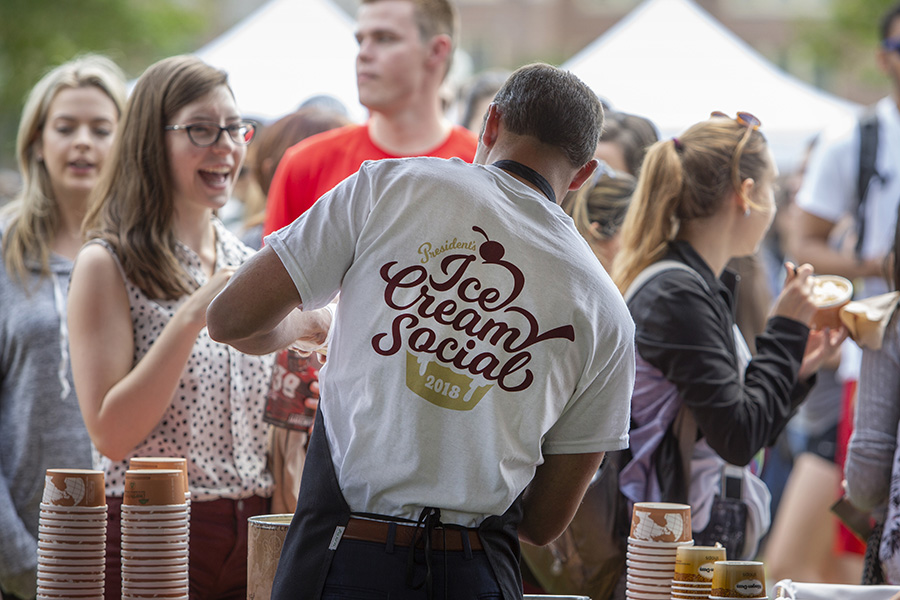 View the photo gallery from the event.
Students, faculty and staff from across Florida State University campus came together to enjoy a sweet treat during the President's Ice Cream Social April 12.
Landis Green was packed as thousands got a little taste of summer fun — enjoying music, dancing, an inflatable bounce house, a photo booth and tasty treats.
President John Thrasher and several university administrators cheerfully scooped and served assorted flavors of ice cream while chatting and taking photos with students.
"This is one of my favorite events of the year," Thrasher said. "Jean and I love getting the chance to visit with students and see the enthusiasm they have for Florida State. It's just a beautiful day."
It was Alma Herrera, Tiara McKinney and Asia Warren's first Ice Cream Social, and they were eager to enjoy the festivities.
"It's great to see President Thrasher out and involved with the students," said Warren, a freshman majoring in exercise physiology.
Herrera loved how diverse the event was.
"It's cool to see so many different people from all over campus," said Herrera, a sophomore majoring in political science.
McKinney was glad to have an opportunity to relax and have fun before finals and the end of the semester.
"This has been a great day," said McKinney, a sophomore majoring in risk management. "I really enjoyed the bounce house and the fact that there were so many dogs on Landis."
Sponsors of the event are Asker Distributors, Edy's Grand Ice Cream, Hyppo Gourmet Ice Pops, Coca-Cola and Legacy Catering by Sodexo.