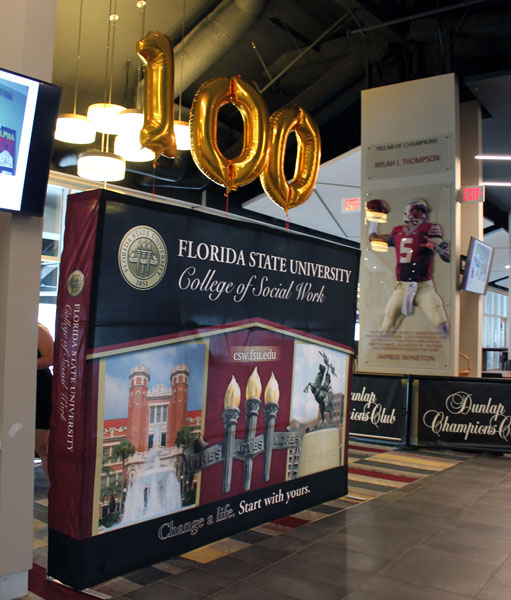 "100 years!!"
That continuous refrain echoed through the Champions Club Ballroom as Florida State University social work faculty member Pam MacDill outlined highlights of the 100-year history of the College of Social Work's celebratory gala on April 7.
"100 years," the crowd shouted. "Of innovation," MacDill continued. "We started the first online MSW program in 2002 and we've expanded internationally with internships, exchange agreements, courses and alternative spring breaks."
MacDill went on to reflect about how facilities have changed since the first social welfare classes were taught in the Westcott Building before moving to the Bellamy Building and finally to the University Center, where classrooms and offices are located today.
"We actually had parking," MacDill said as the crowd chuckled along with her.
The origins of the college date back to 1918 when the university was the Florida State College for Women and faculty members such as Raymond Bellamy — founder of the Department of Sociology — began teaching courses in social welfare. This strong beginning provided the bedrock for social work programs at Florida State University, including the development of the BSW, MSW and Ph.D. programs.
The event began with a reception that allowed faculty, staff, students and alumni to reunite.
"It's really exciting to be here," said Jim Clark, dean of the FSU College of Social Work. "We have a full crowd, we met our total capacity and people were still trying to get in after the tickets were closed so it turned out to be a really wonderful event."
During the reception FSU research assistants shared information about the great projects, centers and institutes associated with the college.
"I'm really excited and honored to be here," said Veronica France, a master's student in the college. "It's such a great event to have a combination of faculty, alumni and students get together and share what makes the College of Social Work awesome."
France shared information with event attendees about the college's annual Arts and Athletics Social Work Camp. The camp brings dozens of middle school students to campus for a week of free activities to introduce them to the university environment and encourage them to pursue higher education all while enhancing leadership development, socialization skills and self-confidence.
Students also were showcased during the formal dinner program. Anne Nicole Dela Cruz, a junior from Brevard, Florida, reflected on her experience as an undergraduate student in the college.
"The College of Social Work has not only provided me with an incredible education where I found a great skill set, but it helped me find friends and resources in the community I could turn to when I need them, when my friends need them, when my family needs them," Cruz said. "FSU is really special."
President John Thrasher also attended the event and offered remarks. He followed Cruz, sharing heartfelt remarks.
"You're the reason I get up every single day," Thrasher said. "You and the rest of our great students — because of what we're doing at Florida State and the transformation that students are making while they're here and then going out and doing things in the world that's going to change lives. I appreciate them, I really do."
Guests enjoyed a host of memorabilia from decades past and old pictures flashed on screens throughout the night. Many called the event an opportunity to reflect on the past, while also looking toward the future.
"I think this celebration is important because it shows us the progress that we're making and it also inspires us to do even more," said Carol Campbell Edwards, assistant teaching professor and FSU alumna. "All of the research that's happening, our awareness of changes in the field, it all promotes innovation and practice in the way we're teaching. We're always looking to grow and develop, and I think having this time to focus on where we've been only helps to establish where we want to go next."