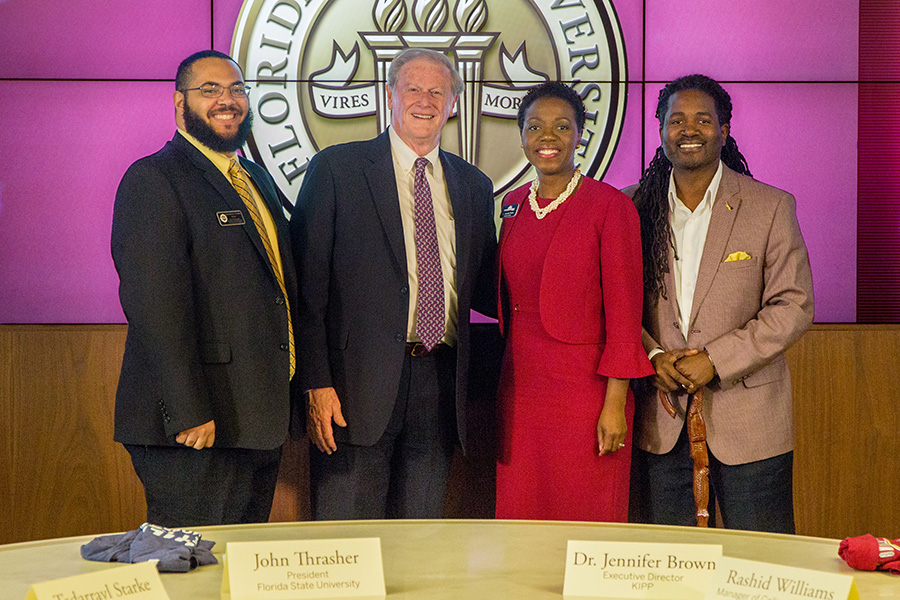 Officials from Florida State University, the KIPP Foundation and KIPP Jacksonville announced a partnership between the university and the network of public charter schools to help provide more pathways to FSU for KIPP students in the Jacksonville area.
FSU President John Thrasher and KIPP Executive Director Jennifer Brown signed a memorandum of understanding that would connect FSU staff with KIPP to help better prepare students for admission to Florida State. In addition, the university's nationally renowned Center for Academic Retention and Enhancement program for first-generation college students will create up to 10 spots in its program for KIPP students.
"This agreement will provide a structured pathway to help KIPP students enroll at FSU and receive support and guidance through our nationally acclaimed CARE program," Thrasher said. "It's truly a win-win. It allows us to tap into the wealth of academic talent that exists in Duval County, while giving these students an opportunity to earn a degree from one of the nation's best public universities."
Provost and Executive Vice President for Academic Affairs Sally McRorie said the partnership reflects the university's commitment to inclusive excellence.
"The partnership with KIPP will help expand access to the transformative education we provide at FSU," she said. "We are excited to partner with an organization that is equally committed to the success of every student."
KIPP Jacksonville educates about 1,080 students in three public charter schools in Duval County in kindergarten through eighth grade. KIPP staff members continue to mentor their alumni through high school to help them be college ready.
"KIPP Jacksonville's partnership with FSU will provide our students with myriad opportunities to pursue their dreams at one of our state's preeminent universities," Brown said. "KIPP is committed to supporting our students on their path to lifelong learning, and the FSU partnership gives them tools and resources for sustained achievement in a diverse environment."
Working with KIPP will also allow the university's CARE program to recruit more students from the Jacksonville area and ensure they are successful at FSU.
Tadarrayl Starke, the director of CARE, said the agreement is beneficial to both the university and KIPP.
"Duval County has traditionally been an untapped area for our program," he said. "This gives us boots-on-the-ground there to help get more students admitted to college who might not have even applied in the past."
KIPP students do not necessarily have to apply through the CARE program under this agreement but that would be an option for first-generation students.
CARE has long been helping underserved students make the jump from high school to college by providing resources and support services to students. CARE students also participate in a summer program that allows them to get a head start on the college experience.
The CARE program has a first-year retention rate of 97 percent, along with an 81 percent six-year graduation rate.
For more information about CARE, visit care.fsu.edu.
For more information about KIPP Jacksonville, visit kippjax.org.