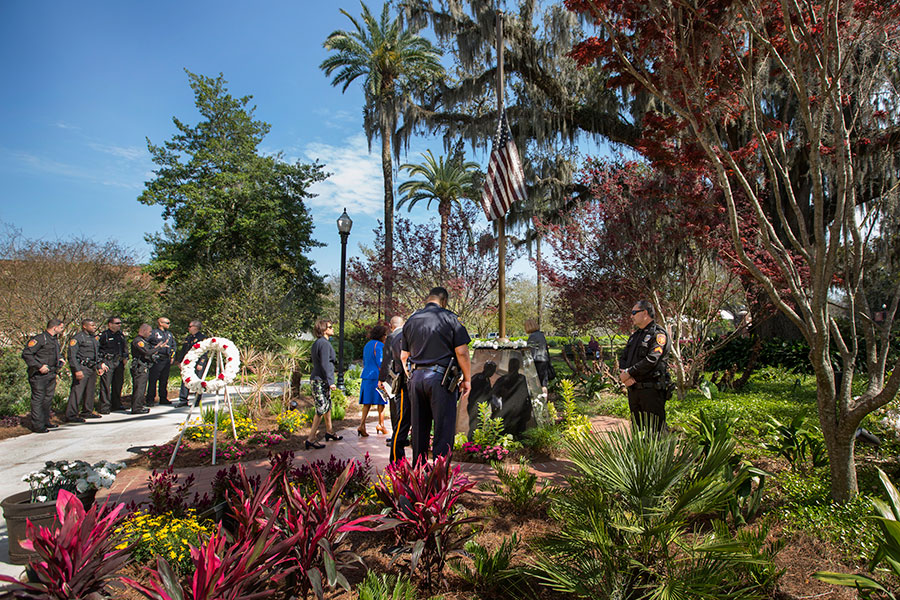 More than 200 attendees gathered on Westcott Plaza Friday, March 23, to dedicate the Florida State University College of Criminology and Criminal Justice's newly established Fallen Officer Memorial, which honors eight college alumni who have died in the line of duty.
"We believe this memorial will serve as an important place of reflection for friends and family of the fallen, as well as for students, the Tallahassee community and visitors to the university for years to come," said Thomas Blomberg, dean of the College of Criminology and Criminal Justice.
FSU President John Thrasher formally dedicated the memorial through a proclamation and offered words of welcome and recognition.
"We know many of you have come a long way to be here today," Thrasher said. "Present with us today are family members of these heroic alumni from Trinidad & Tobago, California, Ohio, Mississippi and throughout the state of Florida. We appreciate your presence at this dedication. Please know today we honor you and your sacrifice as well."
That theme of sacrifice was reiterated in the keynote remarks of Darrel Stephens, who currently serves as the executive director of the Major Cities Chiefs Association. His law enforcement career has spanned four decades.
"What does that say about a university that supports a college seeking to achieve a vision to remember and honor eight students that graduated from 11 to 54 years ago," Stephens said. "To me it says 'we care.' As an institution it says our students are important no matter what they do in their life and for however long. It says to the families and friends and loved ones of the eight fallen officers that your sacrifices are understood, they're appreciated and have not been forgotten."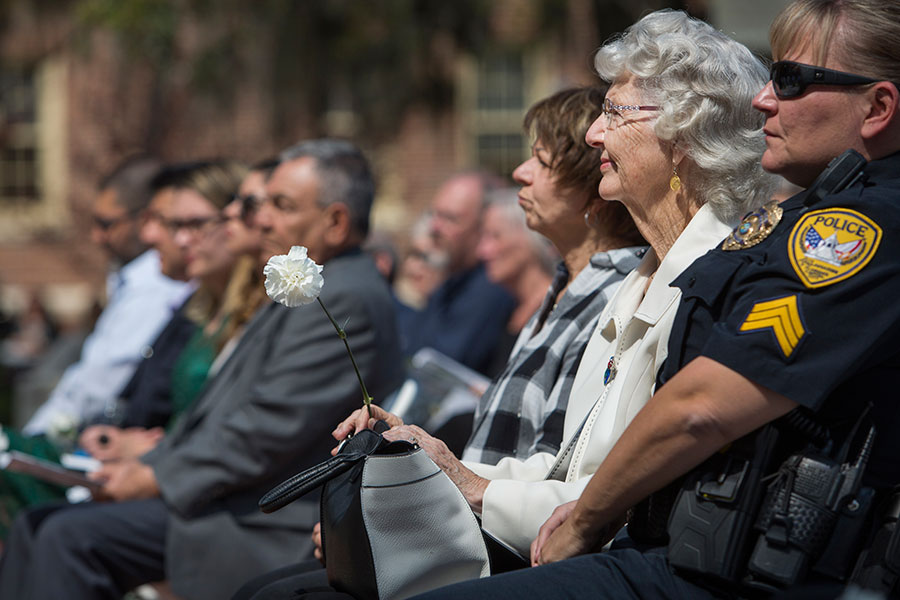 Sam Morales traveled from south Florida to honor the legacy of his late son, Roger.
"I think it's outstanding," Morales said. "It's great that he's remembered. He loved Florida State, he was very proud of it. It still hits the heart hard. It was a great loss. We just try and do as much as we can to honor him in the appropriate ways and this is a great one."

The Fallen Officer Memorial was the vision of the college's Development Council and made possible through financial contributions of alumni and friends of criminology.
The memorial, titled "At Half Mast," was designed by Katharine Galvin, a Florida native and Florida State University alumna. It is located outside of Eppes Hall, the home of the College of Criminology and Criminal Justice, overlooking the iconic Westcott Fountain Plaza.
The fallen who were honered at the event include:
Livio "Al" Beccaccio
Deputy Commissioner, United Nations International Police Task Force
End of Watch: Sept. 17, 1997 (Age 58)
B.S. 1963
Livio A. Beccaccio was a husband and father of five. Beccaccio served as chief of the National Academy Unit at the FBI Academy from 1987 to 1994, where he supervised the training of thousands of local officers who later rose to leadership in their departments nationwide. Prior to that, he was chief of the Physical Training Unit at Quantico and had multiple assignments since joining the FBI in 1968. After retirement, Beccaccio joined the International Police Task Force mission to help rebuild Bosnia's civilian police forces. He died on Sept. 17, 1997 in a helicopter crash, which took the lives of 12 members of the U.N. international peace mission in Bosnia and Herzegovina.

Corey Dahlem
Lieutenant, Gainesville Police Department
End of Watch: April 4, 2007 (Age 45)
B.S. 1984
Corey Dahlem was a husband, father of two and 22-year veteran of the Gainesville Police Department before his untimely death in 2007. Lt. Dahlem enjoyed biking, playing the guitar and attending his children's sporting events. On April 4, 2007, Lt. Dahlem was struck and killed by a drunk driver while on foot patrol after the celebration of the University of Florida's basketball national championship win. Lt. Dahlem is missed by his family, friends, fellow officers and community.
Daniel "Dale" Green
Field Training Sergeant, Tallahassee Police Department
End of Watch: Nov. 13, 2002 (Age 47)
B.S. 1977
Daniel "Dale" Green was a husband, father of three and 13-year veteran of the Tallahassee Police Department. He joined the Tallahassee Police Department in 1989 as a patrol officer. Sgt. Green served as a field training officer and was on the TAC Team. He was promoted to sergeant in 1996, served as sniper team leader, COPP Squad Sergeant and K-9 team sergeant. On Nov. 13, 2002, Sgt. Green was slain in the line of duty while responding to a home invasion robbery. Sgt. Green is remembered by his peers as being a devoted family man, as well as a respected police officer and sergeant known for his character and integrity.
Rogerio "Roger" Morales
Officer, Davie Police Department
End of Watch: Jan. 13, 2011 (Age 27)
B.S. 2006
Rogerio "Roger" Morales married his junior high school sweetheart and joined the Davie Police Department. After a year of service as an officer, Officer Morales collapsed from heat stroke while participating in physical agility testing for SWAT team tryouts. He passed away after being in a coma for three days. Officer Morales loved being a police officer and serving his community. He enjoyed working out, reading and outdoor activities.
Ernest "Ernie" Ponce de Leon
Officer, Tallahassee Police Department
End of Watch: July 8, 1988 (Age 40)
B.S. 1973
Ernest "Ernie" Ponce de Leon served in the U.S. Air Force — including a tour in Vietnam — and worked as a case worker for troubled and delinquent children at Florida's Department of Health and Rehabilitative Services before he began working as an officer of the Tallahassee Police Department. On July 8, 1988, Officer Ponce De Leon was shot and killed in the line of duty while he attempted to run a routine registration check on a vehicle that turned out to be occupied by three armed interstate fugitives. Officer Ponce de Leon is remembered throughout the community for his friendliness and compassion.
Scott "Scotty" Roberson
Security Officer, Central Intelligence Agency
End of Watch: Dec. 30, 2009 (Age 39)
B.S. 1992
Scott "Scotty" Michael Roberson was a husband and father who began his career as an officer with the Atlanta Police Department and rose to the rank of detective while working undercover in the narcotics division. His international service started with U.N. security forces in Kosovo and continued with several tours of duty in Iraq, where his duties included providing protection to high-risk officials. His last assignments were in support of U.S. efforts in Afghanistan. On Dec. 30, 2009, Mr. Roberson died under hostile fire while serving his country as a CIA Security Officer in Khost, Afghanistan.
Dana Seetahal
Senior Counsel, Trinidad and Tobago Senate
End of Watch: May 4, 2014 (Age 59)
M.S. 1985
Dana Seetahal was a sister and daughter, as well as a prominent and fearless prosecutor in the twin-island Caribbean nation of Trinidad and Tobago. She worked in the Solicitor General's Department, as a magistrate, as a state prosecutor and in private practice in Justitia Omnibus. In 2002, she was appointed an Independent Senator in the Parliament of Trinidad and Tobago. She was awarded the status of Senior Counsel in 2006, one of only three women to attain the distinction. At the time of her death, she was one of the lead prosecutors in the trial of 12 men accused of kidnapping and murdering a prominent business woman. On May 4, 2014, she was ambushed and murdered in a carefully planned operation orchestrated by an international drug organization.

Robert "Rob" Williams
ATF Special Agent
U.S. Dept. of the Treasury
Bureau of Alcohol, Tobacco and Firearms
End of Watch: Feb. 28, 1993 (Age 27)
B.S. 1988
Robert "Rob" J. Williams was a husband and five-year veteran special agent with the Bureau of Alcohol, Tobacco, Firearms and Explosives (ATF). Special Agent Williams worked with the New Orleans Field Division out of the Little Rock, Ark. office. He served with the ATF for over four years, starting in 1988. He was one of four ATF Special Agents killed while serving a federal arrest and search warrant on the Branch Davidian compound near Waco, Texas. He was also an accomplished and certified SCUBA diver.