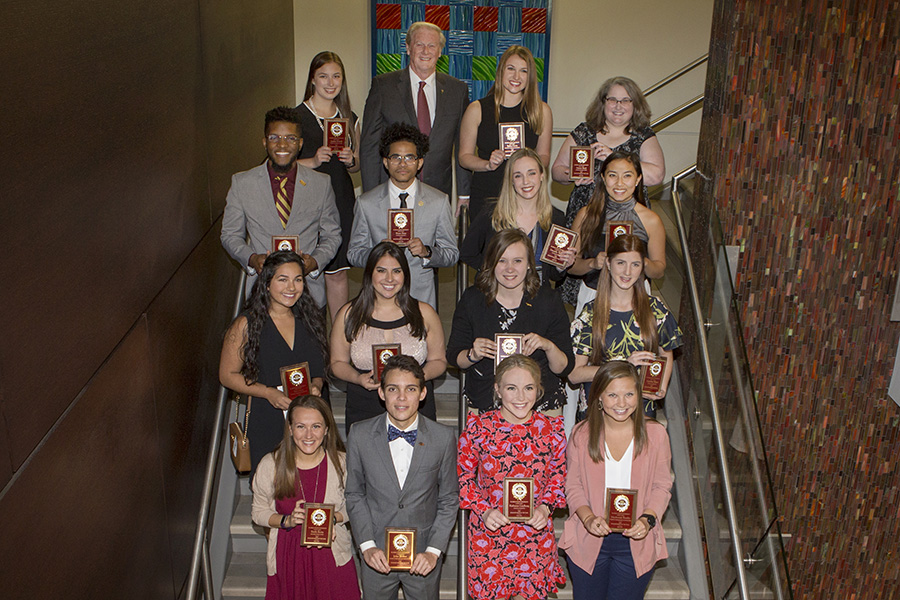 From suicide prevention to providing care for the elderly to helping rural communities have running water, Florida State University students have been hard at work serving others.
FSU President John Thrasher and Vice President for Student Affairs Amy Hecht recognized 15 of these humanitarian heroes for their tremendous commitment to service at a luncheon Wednesday, March 21, as part of the annual President's Humanitarian of the Year program.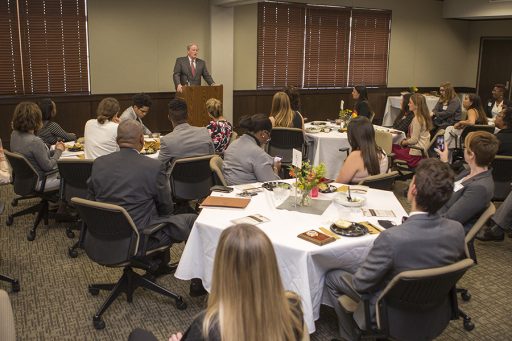 "Nothing is more inspiring to me than seeing students giving back and make the world a better place," Thrasher said.
The President's Undergraduate Humanitarian of the Year Award is a prestigious honor that recognizes students who exhibit an incredible commitment to service. Each college nominates one student for the award. Through the program, the nominees will receive $200 to be donated to the nonprofit of their choice.
Of the students honored Wednesday, the one who best exemplifies a commitment to service will receive the President's Undergraduate Humanitarian of the Year Award at FSU's annual Leadership Awards Night on April 10. The winner will receive an additional $1,000 for their charity.

During the luncheon, students shared their experiences and reflections on service and their work to improve the lives of others. For many, their drive for service came from a very emotional and personal level.
For College of Criminology & Criminal Justice junior John Walker, who has dedicated more than 300 hours volunteering for 211 Big Bend providing crisis and suicide prevention counseling, the passion came from losing a close friend to suicide during his freshman year.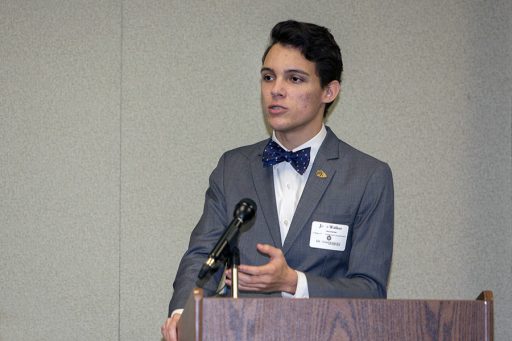 "After my friend Lauren committed suicide, I had a lot of survivor's guilt and thought about how I could have done more," Walker said. "Though I couldn't bring her back, I realized I could still help those who are going through the same struggles and give them reasons to live."
Walker said it is inspiring to be around so many other students who have used their pain in a positive way.
"It was so humbling being surrounded by so many other individuals with such touching stories," Walker said. "The work that everyone is doing; taking their pain and using it to help others is absolutely amazing."
FAMU-FSU College of Engineering sophomore Bailey Davis has worked hard to raise funds for Relay for Life after losing a close friend to cancer in high school.
"Before my friend passed away, I promised him that I would work tirelessly for an organization to help find a cure for cancer," Davis said.
Her efforts shifted when Davis faced another immense tragedy in her life. She is an alumna of Marjory Stoneman Douglas High School, where one of the worst school shootings in history recently took place. Davis is now donating her stipend from the award to the Christopher Hixon Memorial Fund, honoring one of the shooting victims she was close to.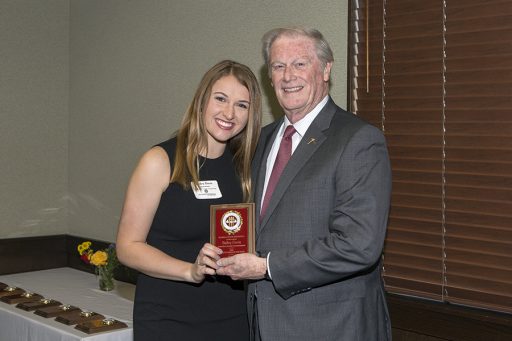 "My mother is a teacher there, and my sister is a student," Davis said. "It was my home away from home, and Mr. Hixon was my mentor and like a father to me."
Other humanitarians shared similarly touching and emotional stories. Thrasher and Hecht emphasized the dedicated work the students have done will echo beyond their time on campus, making them ambassadors for the university and citizens who care about making their communities better.
"We know our students are changing the world," Hecht said. "You are making your mark now and you will continue to do so throughout your lives. That's what being a Seminole is all about."
The 2018 honorees are:
Justine Powell, College of Applied Studies
Powell is a senior from Panama City who has served the FSU Panama City campus through a variety of Student Government Council roles, including her current role as president pro tempore. In addition, she serves with the FSU Communication Club, Wigs for Kids and her church.
Arsene Frederic, College of Arts & Sciences
Frederic is a senior from Fort Lauderdale. As one of the student coordinators for the 2017 LeaderShape program, he facilitated students in personal development for making positive change. He is also involved with the Black Student Union and Sons of Sophistication where he works to uplift African-American and minority men by reinforcing positive core values.
Bryan Peña, College of Business
Peña is a junior from Miami who has served in roles with PeaceJam Southeast, Progressive Black Men and Sons of Sophistication. While he has held the roles of fundraising chair and chief financial officer in some of these organizations, his role as mentor has been the most significant way he has served all three organizations —primarily mentoring high school students.
Mackenzie Bowlin, College of Communication & Information
Bowlin is a senior from Ocala. She has spent three summers as an English camp teacher in China, and she helped children with disabilities at local orphanages. Bowlin also assisted installing water filtration systems with Filters of Hope missions in El Salvador. She is the fundraiser and event coordinator for Chi Omega's Make-A-Wish Foundation philanthropy.
John Walker, College of Criminology & Criminal Justice
Walker is a junior from Lakeland who serves as a counselor and trainer providing crisis counseling and information/referral services at 211 Big Bend, focusing on Lifeline, Helpline 211, HIV/AIDS Hotline and Family Health Line. In addition, he serves as the director of Students for America's Military and as a mentor for Big Brothers/Big Sisters of America.
Emily Botta, College of Education
Botta is a junior from Fort Lauderdale who has served with Operation Groundswell in Asia assisting with sustainable farming, turtle conservation and anti-wildlife trafficking. Locally, she has coordinated the Menstrual Hygiene for the Homeless Project which has collected approximately 12,000 products to benefit the Kearney Center.
Bailey Davis, FAMU-FSU College of Engineering
Davis is a sophomore from Coral Springs who works as an advocate with the National Alliance on Mental Illness and as an honors delegate on FSU's campus. As a freshman, Davis dedicated herself to raising the most funds for her 2017 Relay for Life team; as a result, she was recently selected as a celebration leader for the 2018 event.
Caroline Mozo, College of Fine Arts
Mozo, a senior from Miramar, has worked with Autism Speaks U and with the FSU chapter of Camp Kesem. With Camp Kesem, Mozo has spent three years helping her chapter support approximately 80 children annually who have parents affected by cancer with roles that include camp counselor, volunteer coordinator and marketing coordinator.
Natalia Correa, College of Human Sciences
Correa, a senior from Miami, has served the Alzheimer's Project through her work with AmeriCorps. She provides respite care for individuals suffering from Alzheimer's and progressive dementia. She also assisted in translating the Alzheimer's Project handbook to Spanish. Correa served with the SSTRIDE Mentoring Program as well as serving in the Global Scholars Program with the Moroccan League for the Protection of Children.
Katharyn Lindborg, College of Medicine
Lindborg is a senior from Orlando. Her honors thesis brings together her two areas of service: working with people affected by Real ID through the IDignity program and working with people affected by access to health care through Shepherd's Hope. Lindborg's thesis explores the possible connections between compliance with Real ID and its effects on the homeless and indigent population's access to health care.
Iliana Ipes, College of Motion Picture Arts
Ipes is a senior from West Palm Beach. She is working with the Living Waters for the World program as a cinematographer and editor. The program focuses on providing water systems to rural communities in Cuba. She will create a documentary about the importance of accessible clean water. One of Ipes's previous documentaries that highlighted the challenges faced by two women who moved their families from Uruguay and Cuba contributed to her being selected to serve on the Living Waters project.
Emma Harmon, College of Music
Harmon is a junior from Orlando who traveled on a mission trip to Guatemala where she worked to assist a family in need of housing repair. She currently serves as a peer advisor for the FSU College of Music Board of Advisors and with UKirk Tallahassee Mission coordinating monthly service projects. Harmon is also currently serving with the Council on Culture and Arts working with artists from the Big Bend area and students in the theatre and choir department at a local middle school.
Danielle Wilson, College of Nursing
Wilson is a senior from Miami. She is the student coordinator of Nursing on the Chapman Community Health Program Interdisciplinary Executive Board. Through this combined effort between the College of Nursing and College of Medicine, Wilson helps coordinate health screenings, food pantry duties, childcare and other monthly community events with other students and community members.
Samantha Kunin, College of Social Sciences & Public Policy
Kunin is a junior from Lakeland who has served as an interpreter/legal assistant working with detained asylum seekers. She works to coordinate their narratives about why they fled their countries through the Southern Poverty Law Center – Southeastern Immigration Freedom Initiative/CARA Pro Bono Project. She also co-founded the Migrant and Refugee Education Alliance student organization where she coordinates tutoring partnerships between college students and refugees in local schools.
Denise Baril, College of Social Work
Baril is a senior from Panama City. Her service work focuses on those who are homeless or borderline homeless through Community Outreach of Northwest Florida and First United Methodist Church Cold Night Shelter. Baril helped create the Cold Night Shelter with other members of the church and regularly serves as a shelter chaperone.
For more information, visit thecenter.fsu.edu.