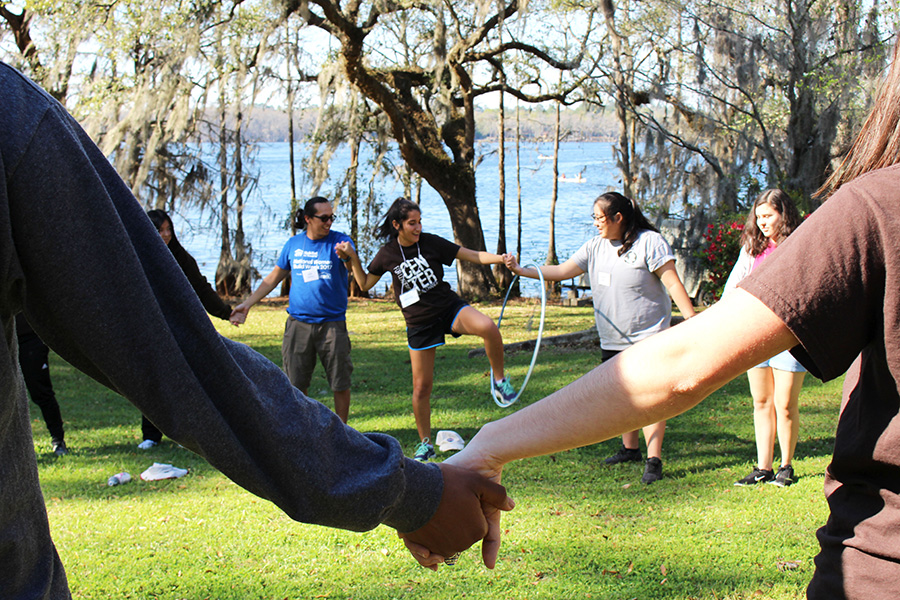 A group of Florida State University students made new friends and learned about themselves, while discovering what it means to be a leader during the annual Leadership Learning in the Outdoors for Group and Individual Change (LOGIC) March 3-4.
The leadership development program is a unique partnership between the Center for Leadership & Social Change and Campus Recreation created in 2011. It invites students to stay overnight in cabins at the FSU Reservation for the weekend while participating in activities designed to help them learn and grow from each other by exchanging experiences, knowledge, skills and beliefs.
"I believe the program's uncommon focus on the outdoor engagement of leadership is what sets this experience apart," said Bailey Albrecht, a coordinator of leadership programs for the Center for Leadership & Social Change. "Usually you engage with leadership in a group of people who you know, but it's not every day that you come into a program and work with a group of random strangers on team building and leadership development."
Free to about 75 students each year, the two-day overnight introductory program provides students with a foundational level of leadership in hopes of motivating them to learn more about how they can be effective leaders in their communities and personal lives. It integrates leadership education, training, development and engagement in an open, dynamic and challenging learning environment.
Senior Jenna Volpe's understanding of leadership was so impacted after attending the event that she now serves as one of the Leadership LOGIC student coordinators.
"When I was a participant in LOGIC I learned a lot about leadership, and I was able to see other aspects of leadership that I didn't know about before," said Volpe, a recreation, tourism and events major. "As a coordinator, leadership means setting a positive example by getting others motivated and excited to create social change. It provides an experience where we get to team build, learn about leadership and create bonds with new people."
First-time participant Maria Pastor, an international student from Spain, registered for the program during her first semester abroad at FSU in hopes of making new connections and learning more about her personal leadership style.
"Everyone has been so nice here," Pastor said. "This experience has been a great way to meet new people and gain confidence in myself."
The next session of Leadership LOGIC takes place April 13-14. Registration opens one month prior.
For more information about Leadership LOGIC or to register, visit thecenter.fsu.edu.