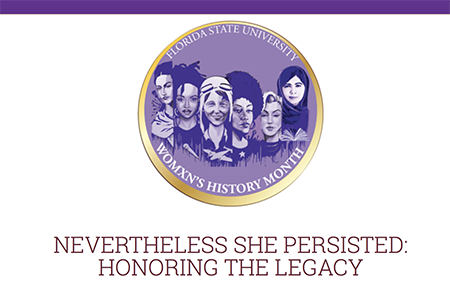 The Florida State University Women's Student Union (WSU) and the university community are celebrating Women's History Month during the month of March with activities centered around the theme of "Nevertheless She Persisted: Honoring the Legacy."
The theme honors women throughout history and modern day who have fought all forms of discrimination in their quest for equality.
"This year's theme is an expansion of the national theme honoring U.S. Senator Elizabeth Warren who fought for justice in Congress," said Elizabeth Butscher, co-coordinator of Women's History Month. "We are honoring women like Sen. Warren and others throughout history who have spoken up and fought against discrimination in all forms, remaining steadfast in their pursuits."
Key events include:
Monday, March 5
"Battle of the Sexes"
7 p.m., Askew Student Life Cinema
Movie screening of the hit movie "Battle of the Sexes," a historical film about the tennis battle between Billie Jean King and Bobby Riggs in the 1970s. A panel discussion with women in sports on campus will follow the film.
Tuesday, March 6
Golden Tribe Lecture Series Presents: An Evening with Roxane Gay
7 p.m., Ruby Diamond Concert Hall
Gay is an author and cultural critic whose writing is unmatched and widely revered. Her work garners international acclaim for its reflective, no-holds-barred exploration of feminism and social criticism. Her novel, "Difficult Women," is the Women's History Month book selection. This is a ticketed event. For tickets, visit tickets.fsu.edu.
Tuesday, March 20
Lit Womxn 2.0
7 p.m., Strozier Library, Bradley Reading Room
Graduate student Margaret Mauk will lead a group discussion centered around women in literature. Students, faculty and staff are encouraged to bring their own books to discuss and share. Attendees will also receive a copy of the Women's History Month book selection "Difficult Women," by Roxane Gay.
Thursday, March 22
Ladies' Legacy Banquet
7 p.m., Union Ballrooms
The Ladies' Legacy Banquet is a night of celebration honoring and awarding female students, alumni and faculty leaders who are making a difference within the community. The event includes dinner, awards, a keynote speaker and performances. Cocktail attire is encouraged. Pre-registration required sga.fsu.edu/llb18reg.
Friday, March 30
"Vagina Monologues"
7 p.m., Club Downunder, Oglesby Union
The WSU presents its annual production of Eve Ensler's groundbreaking play, "The Vagina Monologues," based on hundreds of interviews with women of varying race, ethnicity, social class and sexual orientation. The play hopes to provide audiences with an insight on what it means to identify as a woman.
Saturday, March 31
Women's Leadership Conference
1 p.m., Oglesby Union, third floor
The Women's Leadership Conference is an annual event hosted by WSU during Women's History Month with the intent of fostering relationships, building leadership skills and strengthening communities of women on campus. The conference features workshops, lunch and a keynote speaker. For more information or to register, visit sga.fsu.edu/wlc18reg.
For a full schedule of events or more information, visit sga.fsu.edu/whm18.