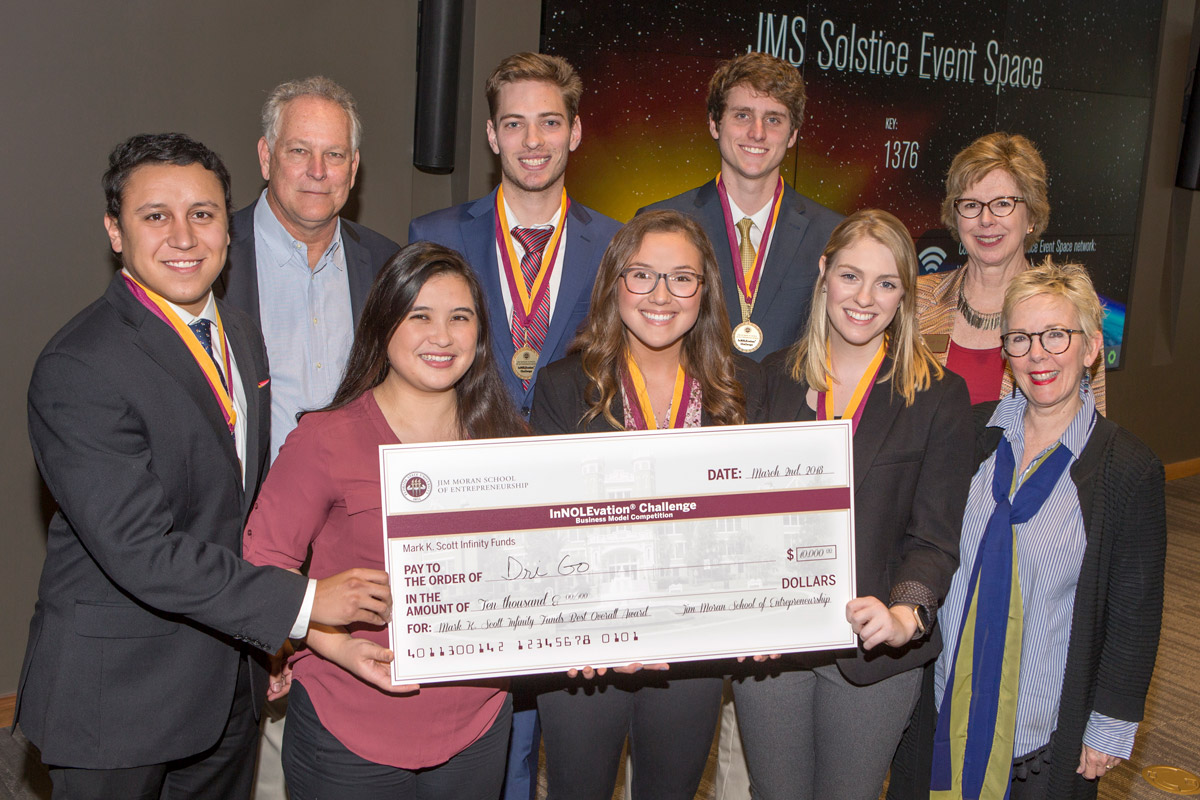 A team of six student engineers, who brainstormed a hands-free umbrella for wheelchairs, won the grand prize of $10,000 in Florida State University's annual InNOLEvation® Challenge sponsored by the Jim Moran School of Entrepreneurship.
The students, all seniors at the FAMU-FSU College of Engineering, created an umbrella called DriGo that automatically deploys when a person pushes a lever located behind the left elbow.
Claire Kelly, an industrial engineering student, said there's nothing else like DriGo on the market.
"Currently, wheelchair users don't have a lot of options to protect themselves from the rain," Kelly said. "We learned that many of them just don't go outside to avoid the rain altogether. So, this device would be very beneficial and give them more independence in the rain."
The DriGo team of entrepreneurs learned how to navigate and organize the many steps required to develop a workable design and prototype. Each member brought specific engineering skills to help advance the project. The team includes two mechanical engineers (Megan Simpson and Brianna Yeung), two industrial engineers (Jose Miranda and Claire Kelly), an electrical engineer (Billy Courson) and a computer engineer (Hunter Wheeler).
"We have a diverse group of engineers and brains working on this project, and that has been a great opportunity for all of us," Kelly said. "The electrical and computer engineers spearheaded the effort to make this an automatic, hands-free device, and it took time. We had nine different prototypes and finally settled on one at the end of last semester. Since then, this final prototype is in its third iteration, so we have gone through a lot of trial and error in our brainstorming."
Now, the student-entrepreneurs plan to use the $10,000 Mark K. Scott Infinity Funds Prize to further develop the prototype, file for a patent and create an LLC for the company.
"We're very excited," Kelly said. "Honestly, we were surprised to win the grand prize. There were a lot of strong ideas and presentations in the competition."
The 2018 InNOLEvation Challenge included seven teams of student-entrepreneurs. Each explained how they planned their venture, identified problems, developed solutions and made adjustments. The competition included all of the work students have done on their business models since the start of the 2017 fall semester. They were guided along the way by professors, entrepreneurs in residence at FSU, as well as experts from different industries.
Other awards included:
Most Innovative: DiaTech
Spirit of Entrepreneurship: Jump Start Recovery
Most Viable: Gifts for Confidence
Most Scalable: Social Safe
Strongest social/environmental impact (Jim Moran Challenge Social Venture Award): Read to Rise