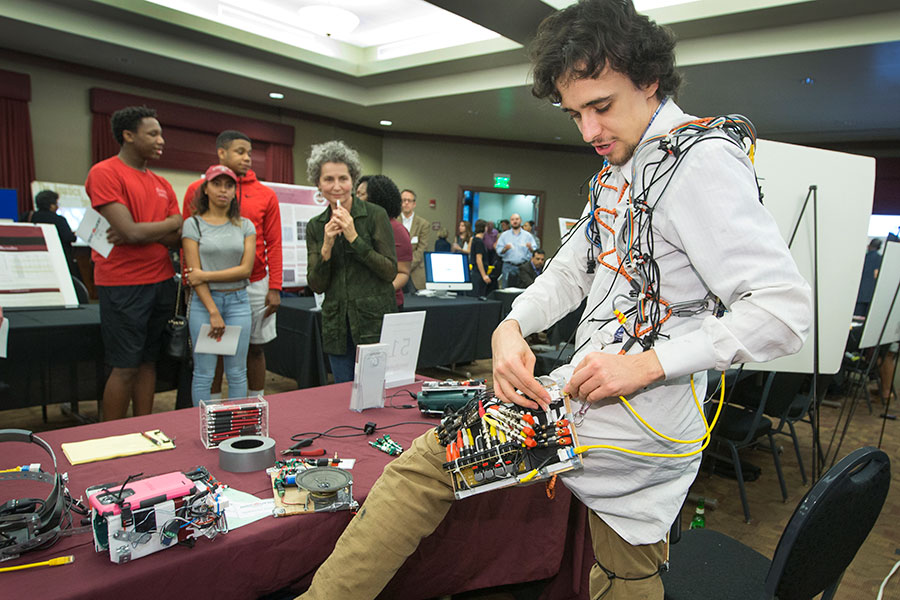 Taken individually, Tallahassee's institutions of higher education are high-powered engines of scientific invention and creative achievement.
But when they join together to share their ideas, discoveries and innovations with the Tallahassee community, as they did for the third annual Discovery on Parade event on March 1, the results can be spectacular.
"We all recognize the critical academic function our institutions of higher education play, but it's also important to keep in mind the breadth of research and creative activity that takes place on our campuses every day," said Florida State University Vice President for Research Gary Ostrander. "Discovery on Parade is the perfect opportunity to come together and share that remarkable work with our friends and neighbors."
Jointly hosted by FSU, FAMU and TCC, Discovery on Parade is an innovation and research showcase providing community members with unique technology demonstrations, presentations about completed and ongoing research initiatives and previews of new and existing companies launched through research endeavors.
On the evening of this year's event, the broad galleries of the Augustus B. Turnbull Florida State Conference Center were abuzz with excitement and curiosity.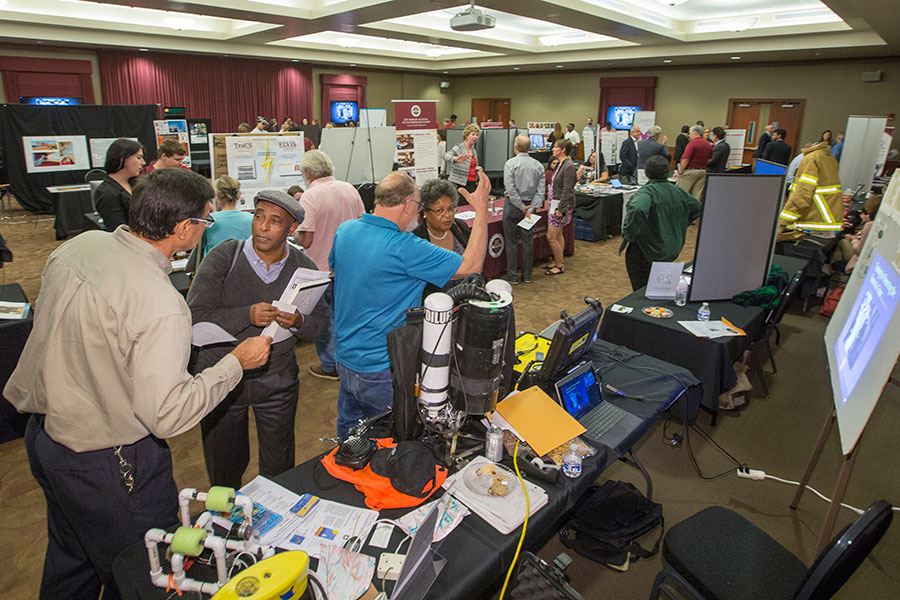 The more than 60 student, faculty and industry exhibits on display reflected the dynamism of Tallahassee's research and entrepreneurial culture. The rows and roomfuls of displays offered something for every taste.
Representatives from FAMU's Center for Viticulture and Small Fruits Research, for example, demonstrated their pioneering — and delicious — work with Florida-native muscadine grapes, offering samples of juice, jams and sweeteners produced by the center's biotechnology lab.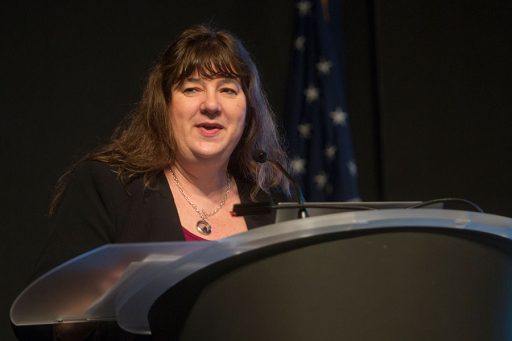 Tech enthusiasts young and old queued up for TCC's Engineering Technology presentation, where attendees had the rare opportunity to control an advanced robotic arm using a simple joystick and directional pad.
Crowds amassed in anticipation as Lucas von Hollen from FSU's School of Information donned a multifunctional robot suit made entirely from recycled and found materials. Oohs and ahhs fluttered through the exhibition hall as von Hollen's suit went live and Black Sabbath's "Iron Man" blared from a speaker braced to his chest piece.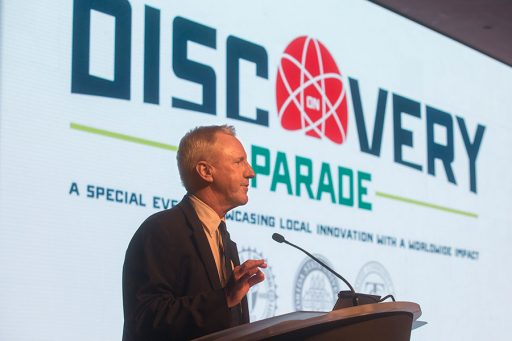 The event culminated in a keynote lecture from Valerie Browning, director of the Defense Advanced Research Projects Agency's Defense Sciences Office, who spoke to a packed ballroom about the ways our government strives to maintain global technological superiority in the name of national security.
FSU Business Development Consultant Larry Lynch, who oversees Discovery on Parade, said that while the energy surrounding the event has always been present, excitement and community engagement has grown beyond what organizers could have imagined.
"Discovery on Parade continues to grow in size and popularity," he said. "The first time we did this, we had 25 brave souls show up in the driving rain for three hours of PowerPoints, and when nobody left, we said, 'we're onto something.' Tonight, we'll have close to 800 attendees and almost 70 exhibitors."
Lynch said that the research, businesses and technology represented at Discovery on Parade provides a glimpse into the economic future of Tallahassee.
"If you believe like I do that we're going to expand the economic base of Tallahassee through the intellectual properties of our three universities, then you're looking at the future tonight," he said.
Sponsors for this year's Discovery on Parade included Thomas Howell Ferguson P.A., the City of Tallahassee, Innovation Park of Tallahassee, Danfoss Turbocor, the Tallahassee-Leon County Office of Economic Vitality, the Tallahassee Democrat and Tallahassee Memorial HealthCare.