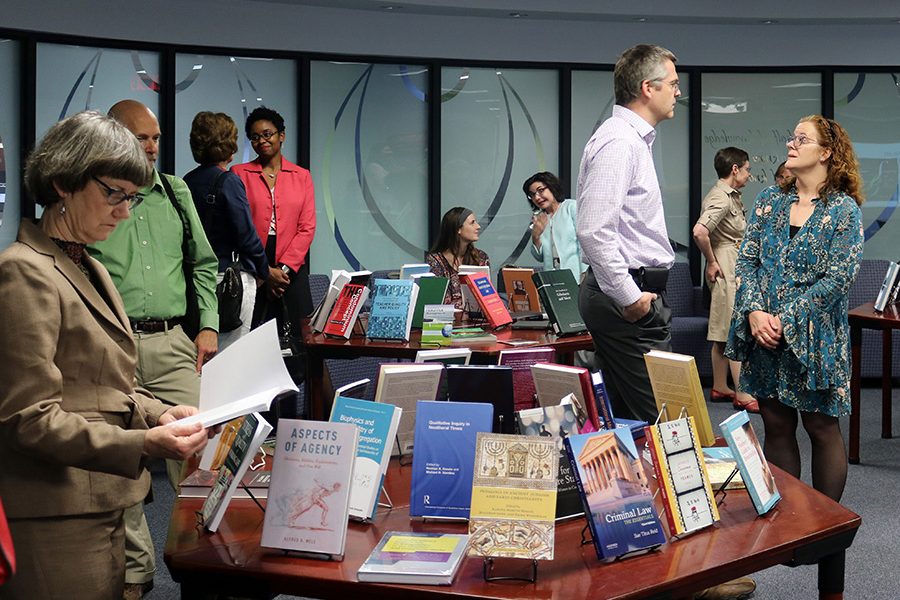 The Florida State University community celebrated its faculty members who have gone through the rigors of having a book, score or CD published in 2017 during FSU Authors Day.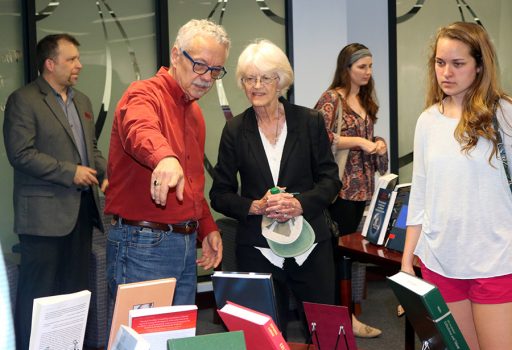 The Robert B. Bradley Reading Room in Strozier Library was filled with faculty, staff and students excited to check out the new faculty literature during the annual event held Feb. 22. Ninety FSU faculty publications were on display: 85 books, 4 CDs and 1 score or musical piece.
"Our faculty produces scholarship and new knowledge in a variety of forms and FSU Authors Day celebrates those publications," said Peggy Wright-Cleveland, director of faculty development. "Completing the research and writing for a book-length project and then seeing that project through to publication is a huge feat. We want to celebrate that collaborative effort and bask in the rich diversity of knowledge our faculty produces."
The book topics ranged from breastfeeding to the prison system, and faculty members were eager to see the fruits of their colleagues' literary labor.
"FSU has a very large campus with a very strong faculty," said Iain Quinn, assistant professor of organ and coordinator of sacred music. "We don't get to interact as much because as we would like since we're all so busy, so this is a great opportunity to see what is going on across campus."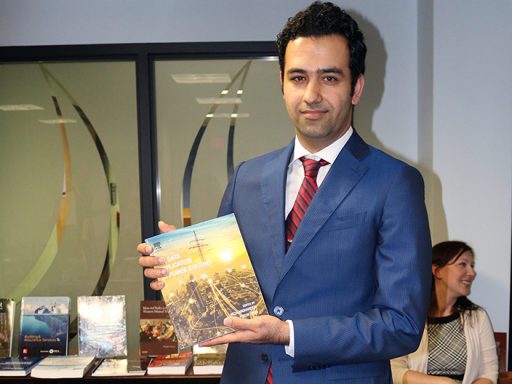 Quinn had two books published last year, "The Genesis and Development of an English Organ Sonata" and "The Organist in Victorian Literature," as well as two CDs.
Reza Arghandeh, an assistant professor of electrical and computer engineering and the author of "Big Data for Power Systems Operation," feels it's his duty as an educator to publish works on the topics he teaches.
"As a faculty member, my passion is to train young engineers and help them to fit into the current and future needs of the industry," Arghandeh said. "Providing scientific resources and textbook for students, researchers and engineers who are working on electricity networks is a reasonable extension of my job as an educator and scientist."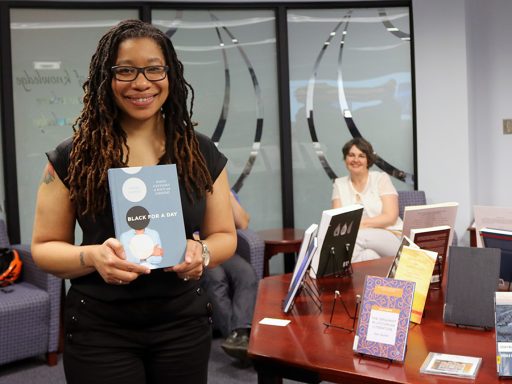 Associate Professor of English Alisha Gaines's book "Black for a Day: White Fantasies of Race and Empathy," was highlighted during the Faculty Reading and Book Signing event earlier in the day.
"We sit in our offices and sweat over these manuscripts for years and years, and it's nice that we have a vibrant intellectual community to share them with," Gaines said.
For more information, visit fda.fsu.edu.