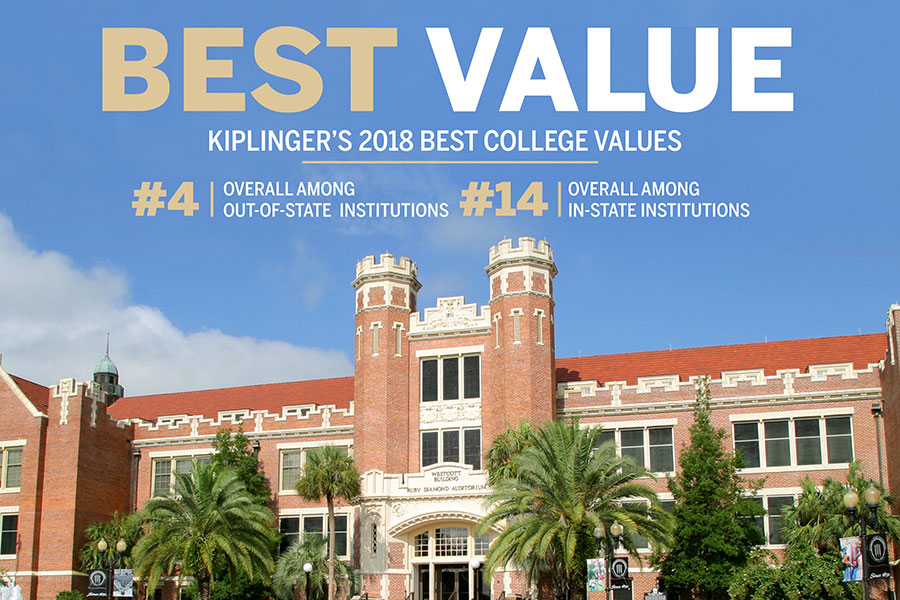 Florida State University offers a top-notch education at an affordable price, according to Kiplinger's Personal Finance, one of the nation's leading publications in personal finance and business forecasting.
Florida State jumped several places in each category of Kiplinger's annual list of Best College Values, including eight spots to No. 4 among public colleges for out-of-state students. Joining FSU in the Top 5 were the University of North Carolina, University of Florida, University of Virginia and University of California, Berkeley.
"Florida State University's commitment to academic excellence and student success is the driving force behind our continuing rise in Kiplinger's rankings," said Provost and Vice President for Academic Affairs Sally McRorie. "Our laser focus on high achievement serves our students well during their studies and after graduation."

FSU also climbed 14 spots to No. 14 on Kiplinger's list of best values among public institutions for in-state students. In the overall ranking of public and private colleges, Florida State leapt 22 spots to No. 63 on the list.
Introduced in 1998, the rankings combine public schools, private universities and private liberal arts colleges into a single, comprehensive list. Kiplinger also ranks the 100 best values in each category. The analysis is based on objective measurements of academic quality and affordability, not subjective criteria.
The publication started with a list of nearly 1,200 schools before whittling it down to the 300 Best College Values for 2018. The full rankings are available online at kiplinger.com/links/colleges and will appear in print in the February 2018 issue of Kiplinger's Personal Finance.
The Florida Board of Governors uses Kiplinger's in-state public ranking as part of its criteria in determining the state's preeminent university designations.