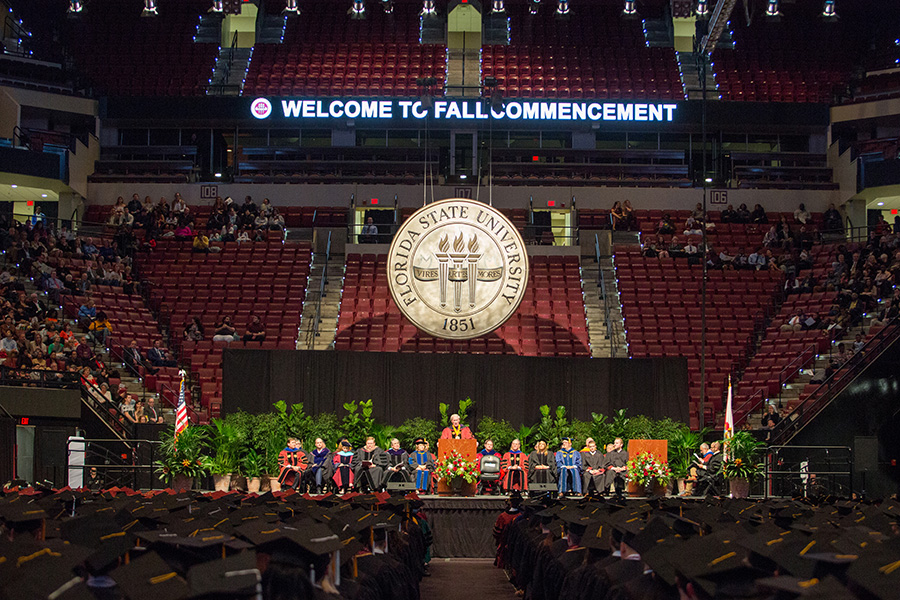 Jeff Chanton, professor of oceanography, hired hundreds of Florida State University graduates for a job he said would provide lifetime benefits, even if it is unpaid.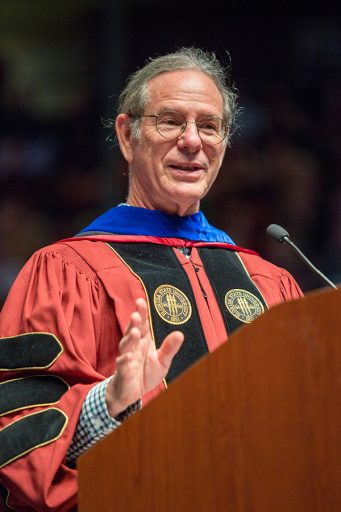 The job? To be good stewards of the earth.
"Today, we are crowding other species off the planet," he said.
Chanton spoke to graduates during the first of two fall commencement ceremonies on Friday, Dec. 15, and Saturday, Dec. 16, at the Donald L. Tucker Center. President John Thrasher presided over both ceremonies as the university awarded degrees to more than 2,600 students.
"Today, America is so divided," Chanton said. "We have our news, our views, fake news and fake views, but science works. In 200 years, it's brought us electrification, lights, modern medicine, longevity, food for most all of 8 billion people, and best of all, the iPhone. Science is our best way of thinking."
Chanton distinguished himself during his 29-year career at FSU with cutting-edge research on climate change, as well as the effects of the 2010 BP oil spill. FSU faculty members named him the 2017-2018 Robert O. Lawton Distinguished Professor — the highest honor awarded by the faculty to one of its own.
As good stewards of the planet, Chanton encouraged graduates and guests to live responsibly and aim for sustainability.
Chanton read a quote from Carl Sagan, an American astronomer, who described an image of Earth captured by the Voyager 1 Space Probe in 1990.
"To my mind, there is no better demonstration of the folly of human conceits than this distant image of our tiny world," he quoted. "To me, it underscores our responsibility to deal more kindly and compassionately with one another and to preserve and cherish that pale blue dot, the only home we've ever known."

Those sentiments shared by Chanton resonated with Julia Jensen, a political science student from Clemson, South Carolina. Jensen is the first Presidential Scholar to graduate from Florida State. The scholarship program, established in 2014, is the premier undergraduate merit scholarship at FSU.
"As a Presidential Scholar, I learned that life is not about just doing or accomplishing things," Jensen said. "The part that matters most is your motivation and reasons for doing something."
Jensen said one of the highlights of attending FSU was being able to get her Clemson-loving family to cheer for Florida State. She expressed gratitude for the Presidential Scholar stipend, which enabled her to study abroad in London.
"There is nothing more powerful than learning to connect with people on a human level," Jensen said. "During my time at FSU many events and tragedies have happened worldwide, and FSU has always seemed to maintain a sense of community amidst political and social divisions. I'll never forget the morning after the Strozier shooting when we gathered across faiths and beliefs to pray and bring hope to our campus. Those are the moments that give us strength to overcome inequality and injustice."
Courtney Thomas, who earned her second degree from Florida State, channeled her own strength as she pursued her master's in Applied American Politics and Policy despite her father becoming ill earlier this year.
"Making it to this moment I have mixed feelings. I am super happy about my accomplishment, but it is bittersweet because my Dad wasn't here to see me walk across the stage. He has been sick the past few months and wasn't able to attend graduation."
Thomas said her father watched the ceremony via livestream, and she knew he was proud that she achieved this milestone. Getting a master's degree was something Thomas wanted to do in order to have an edge over workforce competition.
"If you want a better job, employers need to see that you have the educational background to match the skills that they are looking for," she said.
One of Thomas' highlights during her graduate tenure at Florida State was a surprise visit from President Thrasher to her legislative process class just two weeks ago.
"I appreciate that he took time out of his busy schedule to have an open and honest conversation with students," Thomas said. "It's not every day that a president of a major university is willing to do that, and I loved that President Thrasher did. It was the perfect way to end my time here at FSU."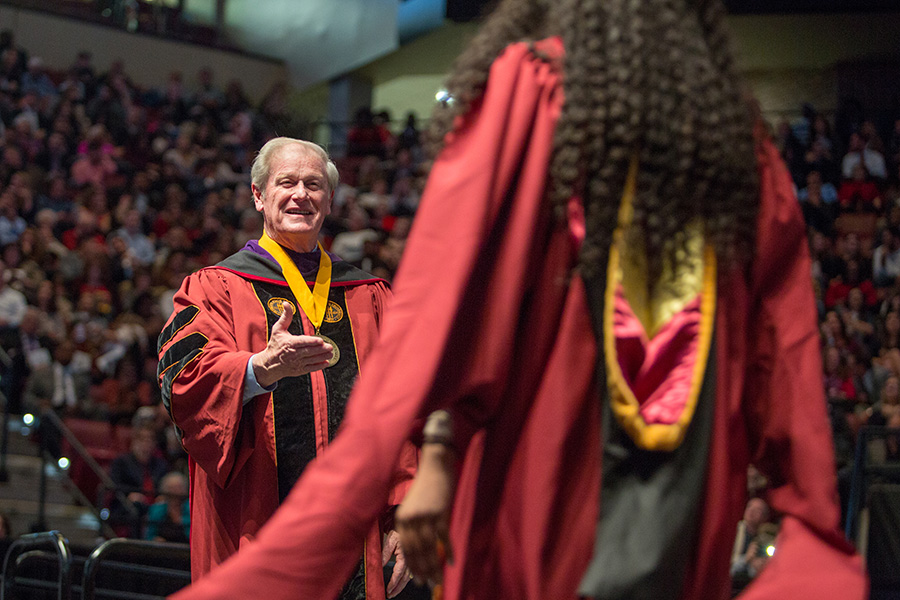 Schmeling urges graduates to embrace change at Saturday's ceremony
Kelsey Thacker, a graduate of the Dedman School of Hospitality, sat with friends before Saturday morning's ceremony got underway and joked she was a little nervous about the possibility of walking across the stage and taking a spill. Thacker laughed as she said it would be a metaphor for her time at FSU because she'd experienced many ups and downs along the way, but learned how to pick herself up and move forward.
"I was that freshman who tripped the first day of class into a big classroom," Thacker said. "But I definitely overcame challenges and learned how to have a smile on my face when I came back the next day. Now, I'm not only leaving FSU, but I'm also leaving the state of Florida for the first time and moving to Washington, D.C. It's a lot of big changes."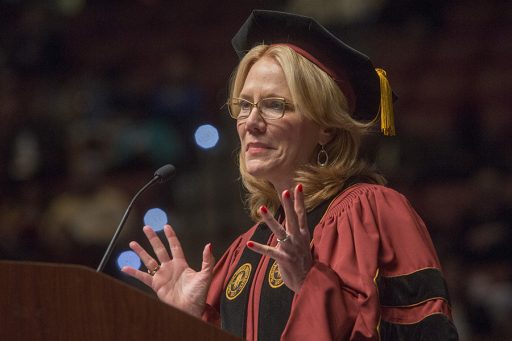 Don't be afraid of change, urged keynote speaker Judy Schmeling, an FSU alumna who offered advice to graduates in an upbeat and humorous address during Saturday's ceremony.
Schmeling, who's made a name for herself in her career since graduating from FSU in 1982, has worked for more than 20 years at the multibillion-dollar retailer and first-ever shopping network, HSN Inc. Along the way, she has earned such honors as CFO of the Year and been awarded FSU's prestigious Inspire Award.
She recalled her commencement at the Civic Center 35 years ago. Schmeling earned an accounting degree — it was "a stable choice" and a "safe profession" — and she expected a nice, level career with no surprises.
As it turned out, Schmeling's career confronted her with many surprises, and she surprised herself along the way by being open to change.
"I want to challenge you to think about what you can be, and for that, you will sometimes have to make the bold move," Schmeling said. "Take a pay cut or a lateral move, if needed. I know what you're thinking. 'Is this an accounting major telling us to take risks and make bold moves?' Yes, it is. But much more than that, make sure you keep pushing yourself to achieve your potential. Find your mission. Challenge complacency. Stay open. You don't know where it will take you."
Schmeling assured graduates it's OK to feel nervous about the next chapter in their lives, and she got cheers when she encouraged them to "chill out." One choice, she said, will never break a career and taking a pay cut for a new job is sometimes the best choice.
Schmeling said she had taken lower paying jobs during her career because they allowed her to focus more on family and different skills.
"What seemed like a giant step backwards wasn't at all," Schmeling said. "That seemingly terrible choice landed me in a company that allowed me to showcase my talents. Did I know that in advance? No. You won't either. Think about the risks and rewards of each decision, but don't overanalyze them. Every time I've let my head overrule my gut, whether personal or professional, it has not turned out well.
"Do not be afraid of your instincts. Do not be afraid to take risks. Go with what is right for you. Nobody else can tell you what that is. Remember, you will be the one living this wonderful, new life you are creating."
Jenny Ross, a digital media production graduate, is excited to start creating her new life. Graduation offers time to reflect on what has been a very special experience for her at FSU, both academically and personally.
"It's definitely bittersweet to leave FSU because I'm wrapping up some of the best years of my life and moving on to the next big thing," Ross said. "I feel excited knowing all I've accomplished here, and I've developed tools for success. Every late hour studying in Strozier has paid off. I've seen there is so much more depth to this university and what it has to offer than I ever imagined. Every day you're surrounded by brilliant and inspiring people, and that makes it a great environment to personally grow."
Nathaniel Smith, a graduate of the Dedman School of Hospitality, felt the same emotions as he thought about what he'd accomplished over the past three-and-a-half years.
"I worked my butt off," Smith said. "I could've graduated in three years but tacked on a minor. I'm graduating cum laude in three-and-a-half years with a major and a minor. I've done great at FSU, and I'm incredibly grateful."