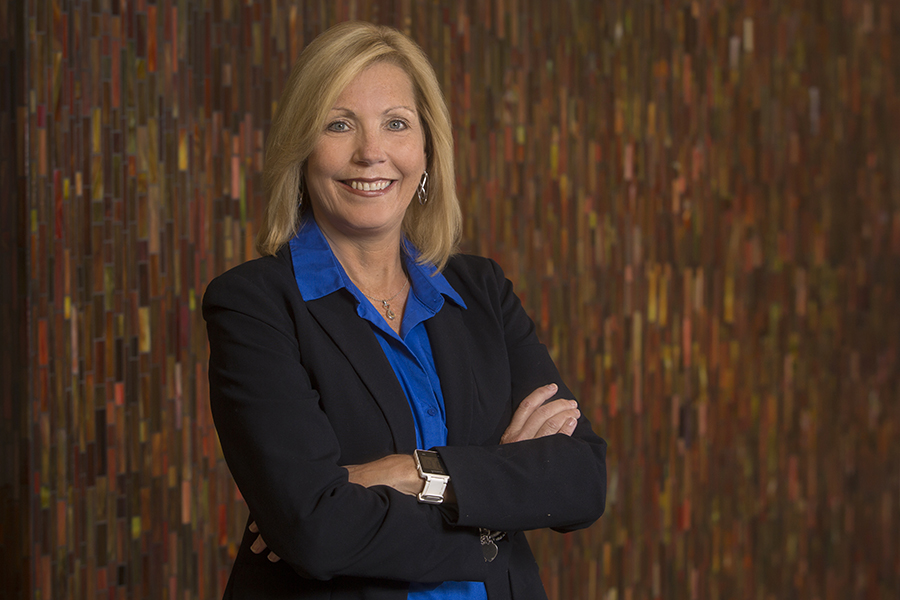 Thousands of Florida State University students will walk across the commencement stage this week and set off on new journeys, whether it be landing their dream job or furthering their education.
They'll be ready for that next step, thanks to the FSU Career Center and the leadership of Myrna Hoover, who has directed the center for the past six years.
Hoover is dedicated to helping students identify their career choice, find jobs and thrive both during and after their time at Florida State. As director, she has helped the center to expand its reach and become one of the most recognizable entities on campus.
"We are in the golden era of career services right now," Hoover said. "Everyone is focused on preparing students for being prosperous in their careers."
In fact, preparing graduates for 21st century careers is one of Florida State's strategic goals, and postgraduation success is a metric evaluated in the state of Florida's performance funding.
This emphasis has helped the Career Center expand. It has partnered with academic units, increased resources and staff and developed strategies to connect with students, such as placing career liaisons in academic units.
A LIFELONG SEMINOLE
Hoover is a two-time FSU alumna, earning both her undergraduate and master's degrees in communications at Florida State. She is the definition of a Seminole — spirited, hardworking, intelligent, a true leader and role model.
She first became associated with the Career Center through a graduate assistantship during her master's program. Thirty-one years later, Hoover is still helping put FSU students on the path to finding a successful career they love.
"I want to help students overcome their greatest fears," Hoover said. "There's nothing better than helping a student identify what they want to do with their life, find a career they value and watch them put into practice what they have learned. The rewards come from watching students feel confident in themselves and knowing they have a plan."
Hoover said it's her great team of faculty and staff that makes the Career Center so proficient in helping students understand themselves, identify occupations and gain experience and skills that ultimately help them find employment.
"As director, it's exciting to showcase the great work that our staff is doing because they are really changing the lives of students," Hoover said.
THE PATH TO SUCCESS
Over the past four years, the Career Center has been the No. 1 way students have found employment after graduation, according to the FSU graduating senior survey. That is just one of the many factors that makes the FSU Career Center so unique. At most universities, students find their first job through family or friends, not with the help of their school.
"The results of this survey show us that we are continually making a positive impact on campus and in students' lives," Hoover said.
One of the Career Center's main goals is to provide students with the information they can use to be successful in the job market. The center's mission is not to find students jobs but to empower and prepare them to seek out a career on their own.
"What we have found is that if we can expose students to a potential career, it helps them feel more confident," Hoover said. "If they figure out that it's the right career path, great; if not, then it allows them to work toward finding the right one."
Real-world experience is also a key part of helping determine a student's interests, values and skills outside of the classroom. It's vital for students to get that type of pre-work experience before they graduate, whether it's through part-time jobs, volunteering, internships or externships.
"Students who do internships are 70 percent more likely to get a job offer than those who haven't," Hoover said.
Every student who visits the Career Center gets an individualized learning plan to help guide them along the path to employment. The center first identifies a student's values and interests and then uses that information to help them find a career or graduate school where they can flourish. They also provide one-on-one advising, working directly with students from the beginning of their time at FSU through graduation, teaching them how to utilize resources and mold themselves into the perfect candidate for employment or graduate school.
"From the start of making a career choice to employment or getting into graduate school, we will work with students so they feel career ready," Hoover said. "We provide them with good information and a safe place to figure out what they want to do with their lives without any judgment."
The Career Center uses a wide variety of methods to help students achieve those goals by hosting events such as graduate, professional, law school and part-time job fairs, along with networking events and workshops. They also provide virtual tools such as SeminoleLink, an online job database that connects students with hiring employers, and programs such as Seminole Futures, FSUShadow, ProfessioNole and InternFSU.
After graduation, whether it's battling in the job market or getting into grad school, students may feel intimidated. But with the help of the Career Center, they're armed with the necessary tools to make their dreams a reality.
SEEING IT FULL CIRCLE 
Hoover said one of the best parts of her job is seeing her work at the Career Center come full circle.
"I love when I see students come back to job fairs as employers or when students return with their children to attend FSU because they had such a great experience," Hoover said. "It shows that what we do works. Helping a student find a career that they love is the best feeling in the world."
It's clear that the feeling is mutual for the students. Hoover has a drawer overflowing with thank-you notes from past students.
"These mean more to me than anything — watching a student's confidence grow over time and getting a note or email from a student saying 'you spoke to my class today, and it helped change my life,'" Hoover said. "All I did was provide them with information that causes a light bulb to go off; they are the ones who created their success. I'm just glad to be a small part of their journey."
For more information about the FSU Career Center, visit career.fsu.edu.