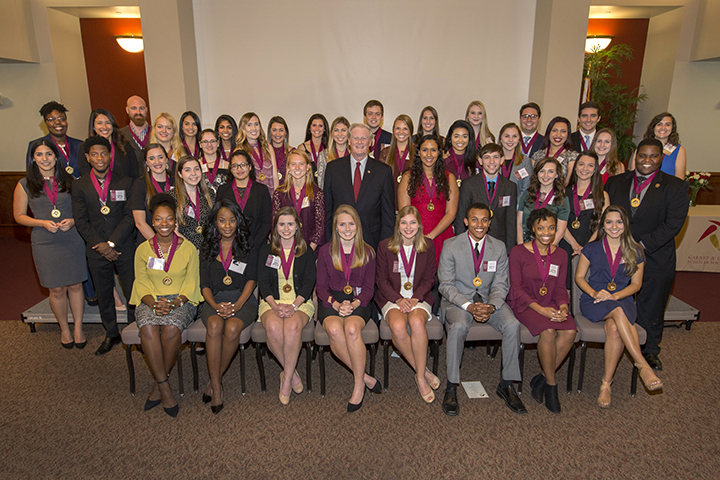 Florida State University welcomed 53 new inductees into its prestigious Garnet & Gold Scholar Society this fall.
Established in 2010, the Garnet & Gold Scholar Society facilitates student involvement and recognizes undergraduate students who excel within and beyond the classroom in at least three of five areas: international experience, internship, leadership, research and service.
"We are proud to welcome this new group of inductees to the Garnet & Gold Scholar Society," said Amy Hecht, vice president for Student Affairs. "They are a wonderful representation of the university, and we are pleased to give them recognition for their involvement bettering the campus and community."
To become an inductee of the Garnet & Gold Scholar Society, students must meet the engagement area criteria and submit a synthesis reflection project in their final semester before graduation. Participants are recognized during graduation and receive a designation on their official university transcript, both of which make the students more marketable to potential employers or graduate programs.
The students were inducted into the Garnet & Gold Scholar Society during a special ceremony Tuesday, Dec. 5. The inductees, along with their hometowns and academic majors, are:
Apopka, Florida
Taylor Lorenz, finance and management
Bonifay, Florida
Savannah Miller, anthropology
Bristol, Florida
Hannah Causseaux, nursing
Bucaramanga, Colombia
Juan Barco, political science and psychology
Chipley, Florida
Christina Williams, family and child sciences
Daytona Beach, Florida
Savannah Rodrigue, environment and society and political science
Decatur, Georgia
Annie Strickland, international affairs and Spanish
Ellenton, Florida
Brianna Griffin, psychology
Fort Lauderdale, Florida
Midenlex Joseph, computer science
Will Whitmire, political science and editing, writing and media
Fort Myers, Florida
James Doyle, political science and social science
Lauren Maribona, nursing
Gadsden, Alabama
Rebecca Carr, exercise science
Gainesville, Florida
Kelly Fuller, nursing
Jacksonville, Florida
Donovan Davis, political science and economics
Jupiter, Florida
Courtney Morenz, nursing
Lakeland, Florida
Emily Holmes, studio art
Isabel De Leon, psychology
Shefali Patel, biological science
Merritt Island, Florida
Desirae Ehley, biological science
Miami, Florida
Cassy Alexandre-Rogers, nursing
Jenn Menjivar, finance and hospitality management
Maria Montano, accounting
Natalia Pena, nursing
Remi Escudie, editing, writing and media
Miramar, Florida
Nicole Rodriguez, finance and economics
Naples, Florida
Breanna Scott, dietetics and exercise science
Ocala, Florida
Edda Rodriguez, psychology
Ormond Beach, Florida
Ben Mock, nursing
Orlando, Florida
Jordane Wong, political science
Palm Harbor, Florida
Carina Gobes, psychology
Panama City, Florida
Bailee Barrentine, nursing
Parkland, Florida
Mallory Rusinowski, nursing and exercise science
Pensacola, Florida
Erin Quinlan, elementary education
Pompano Beach, Florida
Emily Solley, literature
Riviera Beach, Florida
Kendra Morrison, international affairs and family and child sciences
Rome, Italy
Nadia Bortolin, psychology and Italian
Sarasota, Florida
Laurén Borg, nursing
Olivia Ponrick, marketing and international affairs
St. Petersburg, Florida
Emily Pingleton, political science and international affairs
Statesboro, Georgia
Loren Eighmie, family and child sciences
Tallahassee, Florida
Brandon Cherry, nursing
Chelsey Severance, nursing
Maria Knight, information communication and technology and editing, writing and media
Tampa, Florida
Jackelynn Mendoza, psychology
Kimberly Clarke, social work
Krista Hering, nursing
Raquel Moya, nursing
Sarah Eggnatz, nursing
West Palm Beach, Florida
Maicie Ramirez, social work
Mel Theodore, sociology
Winter Garden, Florida
Justin Meritt, management information systems
Yorktown, Virgina
Emily Beyer, biological science
For more information, visit garnetandgoldscholar.fsu.edu.