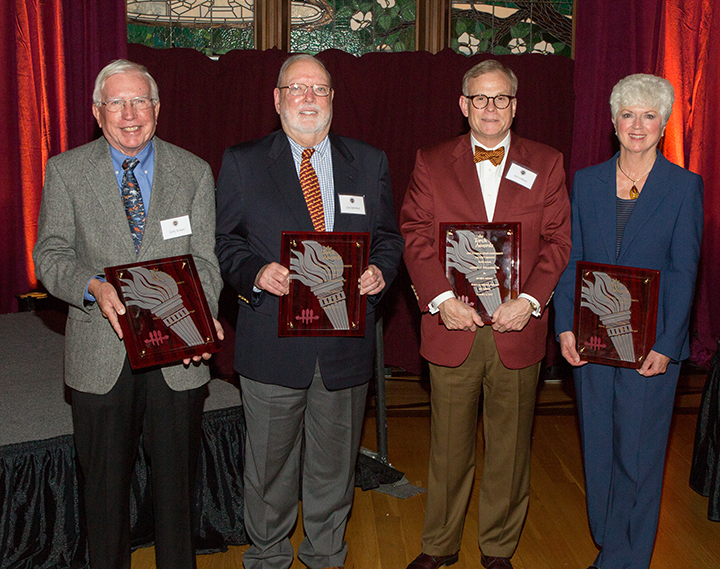 The Florida State University Faculty Senate honored four members of the university family with Torch Awards, an annual recognition of those who have contributed to the university's academic excellence.
The awards were presented Monday, Dec. 4, during a reception and dinner.
Named for the torches depicted in the university's seal, the categories of Torch Awards are: Vires, symbolizing moral, physical and intellectual strength; Artes, symbolizing an appreciation of aesthetics and the beauty of intellectual pursuits; and Mores, symbolizing respect for customs, character and tradition.
This year, there were two Vires and two Mores awards conferred.
Guy Spearman, a well-known and successful lobbyist and alumnus of the College of Social Work, received the Mores Award in recognition of his commitment as a patron of FSU's academic, alumni and athletics programs.
Early in his career, Spearman was recruited by Gov. Reubin Askew to serve as a member of his staff, and after, he began a successful career as a lobbyist. He is known for using his influence in legislative circles for worthy causes and also for his pro bono work.
He was recognized by the Innocence Project of Florida with its highest award for attaining compensation for two innocent men who were wrongfully convicted and served 22 and 26 years in prison before DNA evidence proved their innocence.
Spearman and his wife, Delores, an FSU alumna, have generously supported students for years through donations to the Unconquered Scholars Program, the Veterans Film Festival, the College of Social Work Tradition of Excellence Fund, the Veterans' Support Fund, the Marching Chiefs Instrument Fund and many more. They also serve on the boards of FSU direct-support organizations and are both members of the Circle of Gold.
Ashbel "Ash" C. Williams, the executive director and chief investment officer of the Florida State Board of Administration and an alumnus of the College of Business, received the Mores Award for his dedicated service to FSU.
After graduating from FSU, Williams began a career in public service as a legislative assistant for two Florida House speakers. He worked in both the public and private sectors before accepting his current position in 2008.
Williams has served on the Board of Trustees of the Florida State University Foundation and is the chairman of the FSU Foundation's Investment Committee. His service has benefited countless FSU students and faculty. He and his wife, Jan, established a scholarship through the College of Business and have provided financial support to the College of Business, College of Music and university libraries for many years.
He was recently awarded the Lifetime Achievement Award at the Chief Investment Officer's Industry Innovation Awards Ceremony in New York City.
Jan Moran, philanthropist and president of The Jim Moran Foundation, received the Vires Award for her generous support of entrepreneurial activities at Florida State University.
Moran has worked tirelessly to ensure her late husband Jim Moran's legacy and entrepreneurial spirit live on at Florida State. As a strong advocate of entrepreneurship, she and the Jim Moran Foundation gave the university a $100 million gift to create the Jim Moran School of Entrepreneurship, which began its first classes this fall.
In addition, the gift continues to support FSU's Jim Moran Institute for Global Entrepreneurship, established by Jim Moran in 1995. The institute focuses on assisting Florida's business owners and entrepreneurial leaders.
Moran also sustains her husband's legacy through the Jim Moran Scholar program. Each year, it awards four-year scholarships to African-American high school seniors who have demonstrated leadership qualities and face financial barriers.
Professor Emeritus Kirby Kemper, who began his FSU career in 1968 and rose through the ranks to become vice president for research, received the Vires Award in recognition of his many significant contributions to Florida State.
Kemper retired in 2013 but has remained active at the university. He still conducts research experiments, travels the world representing FSU and has led a search committee for an endowed chair.
Kemper has held several leadership positions at FSU, including director of the Nuclear Accelerator Laboratory from 1990 to 1997, chair of the physics department from 1997 to 2003, and vice president for research from 2003 to 2012.
The Torch Awards were established in 1996 to allow FSU faculty members to honor friends of the university who have contributed significantly to its ability to realize its academic mission. Faculty members make nominations to an awards committee that, in turn, makes recommendations to the Faculty Senate Steering Committee for approval.
For more information, visit facsenate.fsu.edu.