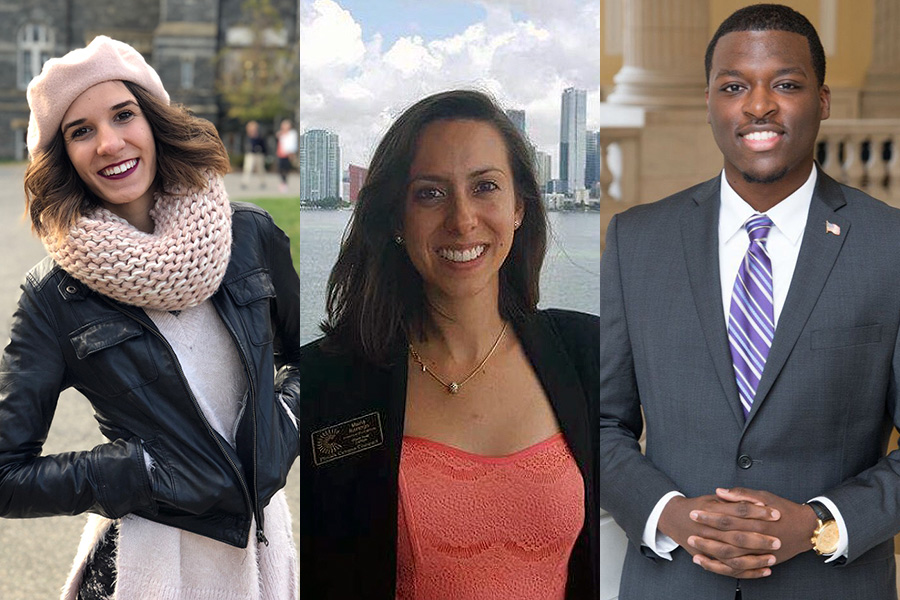 A Florida State University student and two recent graduates will continue their education in foreign policy while working toward careers as foreign service officers as a part of the Charles B. Rangel International Affairs Graduate Fellowship Program.
Senior Ljubica "Kiki" Nikolic and recent alumni Maria Clara Naranjo and D'Juan Sampson are three of the 30 students selected as 2017 Rangel Fellows after a highly competitive nationwide process. Florida State ties Georgetown University with the most Rangel Fellows from a single institution this year.
"It speaks to the caliber of our social science programs and the extracurricular opportunities FSU offers that 10 percent of this year's Rangel Graduate Fellowship cohort represent our university," said Joshua Stanek, associate director of the Office of National Fellowships. "Kiki, D'Juan and Maria's achievements epitomize the value of engagement and reflection during and after one's college career."
The Rangel Program supports recipients through two years of graduate study, internships, mentoring and professional development activities.
Nikolic is majoring in international affairs, political science and social sciences. She has lived on four continents, speaks five languages and has dedicated her summers to international challenges, such as helping underprivileged children in Ghana and empowering women there to become entrepreneurs.
Nikolic has served as a legislative intern for the Florida Senate, is the founder and co-president for the sustainable business "Compassionate Women," and was one of 18 FSU students named a Social Science Scholar in 2016. She is currently studying in Albania after winning a Boren Scholarship last spring, and she plans to attend a master's program focused in conflict resolution with hopes of becoming a foreign service officer.
"I'm originally from Serbia and felt it was important to learn Albanian if I'm going to pursue a career in international conflict resolution in the Balkans," Nikolic said. "I could not believe my eyes when I received my acceptance letter. Did I just get my dream job?"
Naranjo, who was born in Colombia and raised in Clearwater, graduated from FSU in 2014 with dual bachelor's degrees in international affairs and political science with concentrations in human rights, French and social work. Naranjo is a passionate advocate for immigrant and refugee rights, youth empowerment and effective international development strategies. At FSU, she was a Global Scholar, Social Science Scholar and Garnet and Gold Scholar. Following graduation, she spent two years teaching in Thailand — one year in a small city and another at Umphiem Mai, a refugee camp. She recently completed a year as an AmeriCorps Volunteer in Service to America in Miami, where she was helping build a PeaceJam chapter.
"I was in shock when I got the email that I had moved forward in the process," Naranjo said. "It's a great achievement to be one of the 30 Rangel Fellows from a pool of 540 applicants. I am ecstatic to join this new family while continuing to work on my professional and personal goals."
Sampson, a native of Apopka, graduated from Florida State in 2015 with a bachelor's degree in political science and international affairs. Sampson has served as a management and reform intern for the U.S. Department of State and as a staff assistant for the U.S. Senate. He spent the summer of 2015 as a special programs peer mentor with the FSU Center for Global Engagement where he acted as a cultural ambassador and helped more than 125 international students adjust to life in the United States. In graduate school, Sampson plans to study international affairs with a focus on conflict resolution and peacekeeping before pursuing a career as a foreign service officer.
"It is an honor to be selected as a Rangel Fellow and fulfill my dream of becoming a diplomat," Sampson said. "Through the fellowship, I will have the opportunity to bridge the gap between the United States and the global community by engaging with individuals from a wide range of cultures. I am excited to have the opportunity to represent my community in all its diversity and devote my life toward public service."
Rangel Fellows are awarded $37,500 annually during their two-year completion of a master's degree in the area of international affairs or another area relevant to foreign service work. They also are supplemented with up to $10,000 during two summer internships with the program, one on Capitol Hill and one at a U.S. embassy.
The fellows will be mentored by a foreign service officer during their time in the program, and upon completion of the program and meeting foreign service entry requirements, they will receive appointments in the U.S. Foreign Service.
For more information about the fellowship application process, visit http://onf.fsu.edu.