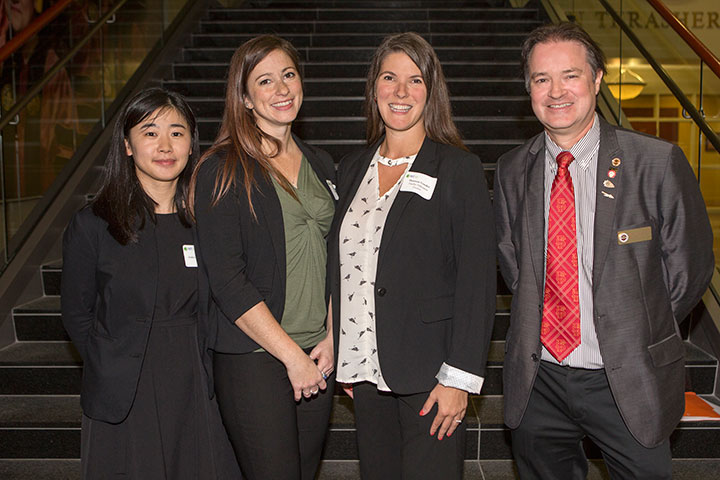 An education doctoral student took home the first-place prize for the Three Minute Thesis competition at Florida State University, Wednesday, Nov. 29.
Shannon Gooden, a doctoral student in FSU's School of Teacher Education, won the $1,000 prize and the opportunity to represent Florida State at a regional competition in February.
"It's so humbling," Gooden said. "There were so many amazing talks and pieces of research. This is the first time the College of Education or the School of Teacher Education has had a winner to my knowledge, so it's not only humbling to be representing them, but to represent the university as well. I can't take that for granted."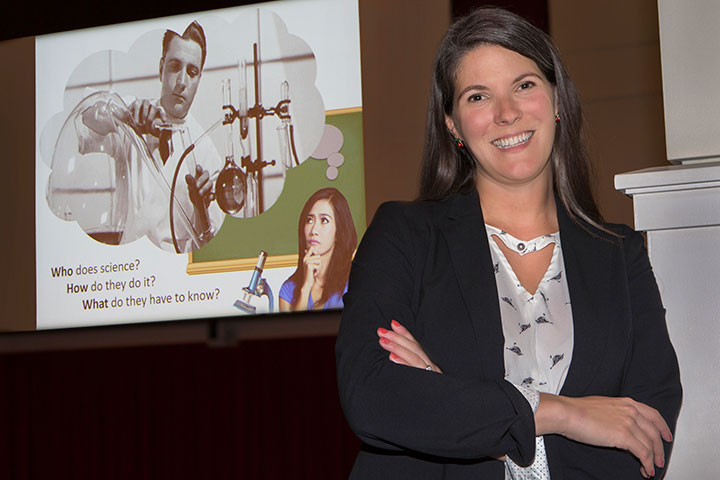 The Three Minute Thesis competition, which began at the University of Queensland in Australia in 2008, charges graduate students to explain their thesis work in a compelling three-minute speech. The goal is for participants to effectively explain their research, which at times can be very complex, in plain language to a nonspecialist audience.
"This is the fifth time we've had the competition and the presentations were exceptional," said Mark Riley, interim dean of The Graduate School. "It makes me incredibly proud to see the amazing caliber of students we have at FSU."
Gooden's prize-winning presentation, "Understanding the culture of science through a research experience for teachers program," highlighted the takeaways of 10 K-12 teachers who recently participated in the Research Experiences for Teachers (RET) program. In the program, teachers work side by side with scientists at the Florida State University-headquartered National High Magnetic Field Laboratory.
Gooden said her research examined three simple questions: "Who does science, how do they do it and what do they have to know?"
"Our hope is that they take something away and bring it back to the classroom, and it may not be scientific content," Gooden said. "For instance, at the MagLab, the teachers work with superconducting materials or on geochemistry projects. Although they might not take those concepts back into the classroom, they may take concepts like perseverance through mistakes, students talking more about their ideas or the notion that anybody can become a scientist."
Gooden has worked with the RET program for the past four years. As she got to know the program directors and staff involved with educational outreach at the MagLab, she became interested in how scientists are viewed.
"We sometimes classify them in an ivory tower situation," Gooden said. "So, I wanted to examine the ways scientists could actually become more real for students and teachers. Because if teachers don't understand that, it's going to be much harder for students to know what scientists actually do and that they can think and act like scientists as well."
College of Education Dean Marcy Driscoll attended the event and congratulated Gooden on her win.
"We couldn't be prouder of Shannon and the work she's doing," Driscoll said. "Her research on science teaching exemplifies the type of impact we aim to have on the field of education and society at large."
Florida State's 2017 Three Minute Thesis competition attracted 32 participants. A team of judges watched the presentations and selected 14 finalists.
Jessica Cusick, a Ph.D. student in the department of biological sciences, won second place for her presentation on individual variation in cooperative behavior. She received a $750 prize.
Xin Shan of the industrial and manufacturing engineering department earned $500 for the "People's Choice" award. Her research focused on using LED bandages for phototherapy.
"It's unbelievably difficult to boil down these intricate research projects into three minutes," Riley said. "But we all need to do a better job at communicating. It's a skill that's incredibly important if you are going to ask for funding or even just tell your family. We must be able to communicate to the public about the important work going on at our university without falling into jargon."