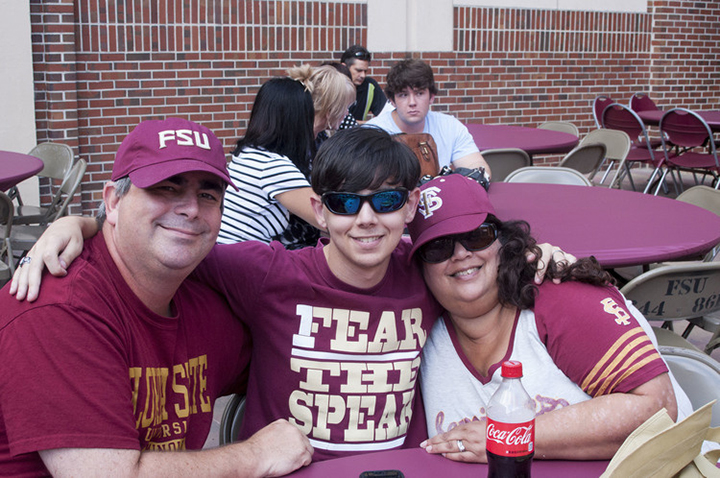 Florida State University is rolling out the welcome mat for students' parents and family members during FSU's annual Parents' Weekend.
This year, the event will be held Friday, Nov. 3, and Saturday, Nov. 4.
Parents' Weekend is a tradition that has been celebrated at FSU for more than 30 years. It is the unique time during the fall semester when parents and families can check out the campus and enjoy the experience of being at FSU with their student.
"We are looking forward to hosting our 34th annual Parents' Weekend at Florida State University," said Mark Striffler, senior associate director of FSU's Oglesby Union and chair of Parents' Weekend. "It's a great time for our students to show off our beautiful campus to their family members who are visiting this weekend."
Featured events during the weekend include:
FRIDAY, NOV. 3
Planetarium Tour & Movie: The Pat Thomas Planetarium will hold showings at 12 p.m. and 3 p.m.
Family Mixer: University Housing will host this event for residential students and their families from 3 to 5 p.m. in the Askew Student Life Center lobby.
President's Address to Parents: President John Thrasher will give his Presidential Address to parents at 4 p.m. in the Moore Auditorium at the Oglesby Union.
Social/Dinner: President Thrasher will visit students and parents during the Social at 4:30 p.m. The Flavors of Florida Dinner takes place from 5 to 9 p.m. at the Oglesby Union. Tickets are required.
FSU Flying High Circus: Members of the FSU Circus performs the best of their spring and summer performances at 6 p.m. and 9 p.m. at the Haskin Circus Complex. Tickets are required.
SATURDAY, NOV. 4
5K Fun Run/Walk: Race starts at 8 a.m. at the Oglesby Union Green near the Integration Statue. Late registration takes place at 7:30 a.m. The course runs through the hilly, picturesque FSU campus and past many of FSU's popular landmarks. There is a registration fee.
Seminole Tailgate Party: Get ready for the game from 8:20 a.m. to 12 p.m. at the Union Green. Exchange your ticket for a wristband at one of the meal ticket exchange tents throughout the Union. Tickets are required.
Marching Chiefs Skull Session: Swing by Dick Howser Stadium at 10:30 a.m. for the band's pregame concert.
FSU vs. Syracuse Football Game: Come cheer on the Noles. Kickoff is 12:20 p.m. at Doak Campbell Stadium. Tickets are required.
Other fun activities for students and their parents include a silent auction, tours, photo postcards, paint-a-pot, cosmic bowling and billiards at Crenshaw Lanes, movies at the Askew Student Life Center and entertainment at Club Downunder.
Parents and families are asked to register if they plan on attending any paid or ticketed events.
For more information and a full list of events planned for Parents' Weekend 2017, visit pw.union.fsu.edu.