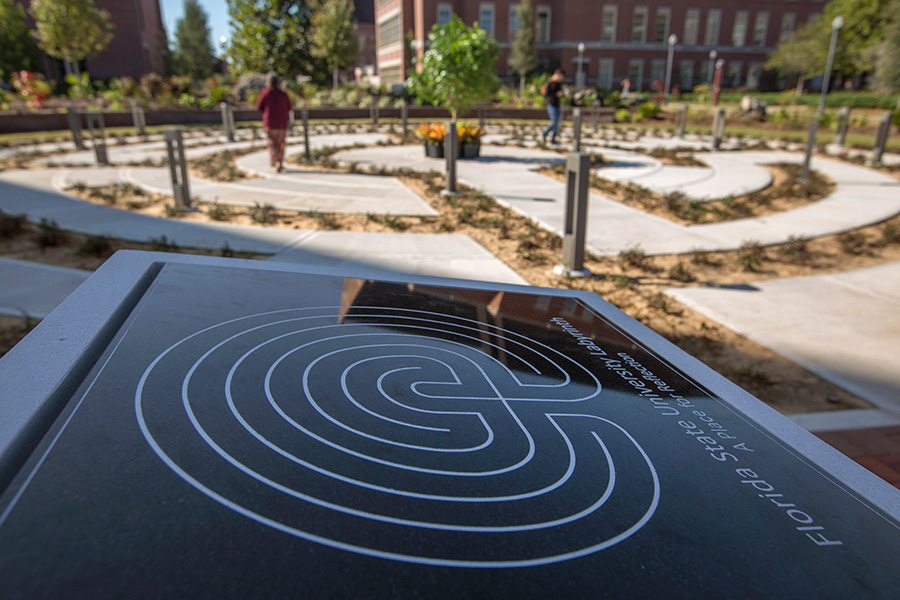 In an overly connected and busy world, Florida State University has designed a place for students to come and take a break. A labyrinth — often confused with but very different from a maze — is a flat, winding path to be followed that promotes reflection, thinking and well-being.
The campus community, along with university administrators, celebrated the opening of the new FSU Labyrinth on Thursday, Nov. 2.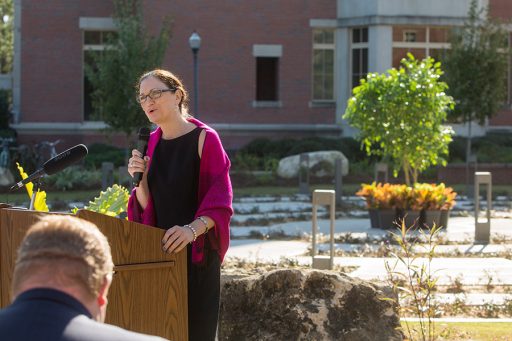 "It is absolutely incredible to see this become a reality," said Laura Osteen, director of the Center for Leadership & Social Change. "It is a truly a work of collaboration from across the university coming together with an idea and unifying different perspectives to create something larger than we could ever imagine. This labyrinth is created to facilitate our ability to think and reflect in order to be more aware of ourselves and each other."
Located between the College of Medicine and the Psychology Building, the labyrinth makes FSU one of the few universities in the nation to create such a sanctuary of thought and meditation for students to come and relax their minds.
"This place has not only added more beauty to our already stunning campus," said Kyle Clark, vice president for Finance and Administration. "It also distinguishes us from other institutions and shows that we are focusing more on the mind, body and spirit of students and further enhancing the FSU unique experience."
The idea for the project began in 2014 when then-sophomore Hunter Anger had a class where labyrinths had been the topic of discussion and asked the simple question, "Why not put one on FSU's campus?"
"Vision was a word I heard frequently at FSU," said Anger, now an alumnus living in Colorado. "Students, myself included, take for granted how willing faculty and staff at FSU can help you achieve your visions. It goes to show the endless opportunities that students can achieve at FSU, and that is why I am so proud to be a Seminole. I hope the labyrinth serves as a space to create and inspire students to find their vision."
Once other faculty, staff and students got involved in the project, the vision started to become a reality. The result is a representation of the unity and hard work of many campus departments including Grounds and Planning in Facilities, the Center for Leadership and Social Change and the Master Craftsman Studio.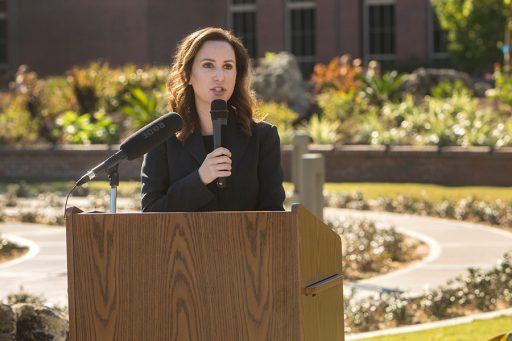 "Today for me symbolizes several things, one being the power of our students," said Amy Hecht, vice president for Student Affairs. "The power of believing in a student's vision and encouraging them to lead, and we follow. I am so proud to see this symbol of work because I believe for us to shape Florida State University into all that it can become, we must work together and this is the result of that. It sends a message that the health and wellness of our students is a priority."
Labyrinths are often connected with wellness and have been used around the world for more than 3,500 years. Walking the labyrinth provides an opportunity to reflect, think critically about a question or problem, connect with your physical self, reduce stress, experience gratitude, inspire creativity or grieve.
Osteen has been intrigued with labyrinths for years and said one of the things a labyrinth brings to a space is the reminder to slow down. She also stresses that a labyrinth is not a maze in which to get physically lost but a guided walk that is intended to have you stop, breathe and think.
"The idea is that you don't get lost by walking, you walk the path and get lost in thought and in doing so find yourself," Osteen said. "How we exist at FSU is often different than other universities, so the idea that we would create more space for reflection and thought and time to take care of ourselves and each other, that's the Florida State I know."
One of the many great aspects of the FSU Labyrinth is that it is designed to be universally accessible by everyone. Flood lights shine on the labyrinth at night, so it can be used any time of the day. The labyrinth features 3-foot walking paths and multiple points along the path with a turning radius, making it wheelchair accessible. There is also a miniature tactile labyrinth map at the entrance of the labyrinth for those with visual disabilities.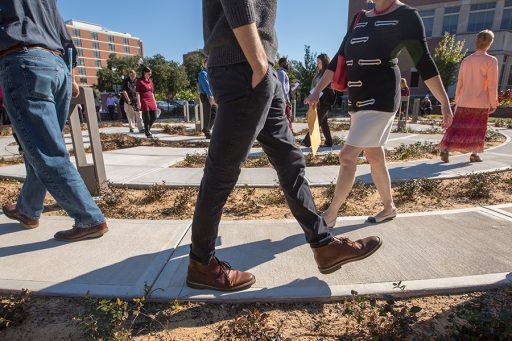 Surrounded by beautiful landscaping, the labyrinth has a seating wall around its perimeter for students who want to sit and ponder while enclosed by its serenity. In the coming months, a custom artistic statue will be installed in the center of the labyrinth by the FSU Master Craftsmen Studio.
"This labyrinth provides a space for students to disconnect and really think outside of the digital world," Hecht said. "For FSU to be one of a few institutions in the country to have such a commitment to student mental wellness is so powerful and will continue to take our student experience to the next level."
The labyrinth, adds to the rich collection of reflection spaces at FSU including the Meditation Room in the Center for Global and Multicultural Engagement, the Be Well Space at the Wellness Center, the Friendship Garden adjacent to Landis Green and the Healing Garden at the College of Medicine, among others.
There is also an option for classes or groups that would like a more focused labyrinth walking experience. The Spiritual Life Project at FSU will provide a guide and facilitator who can give context, engage the group in walking the labyrinth and facilitate a discussion.
To schedule a group tour, visit reservations.dsa.fsu.edu.
For more information about the FSU Labyrinth, visit labyrinth.fsu.edu.
To view more photos of the FSU Labyrinth, visit news.fsu.edu.