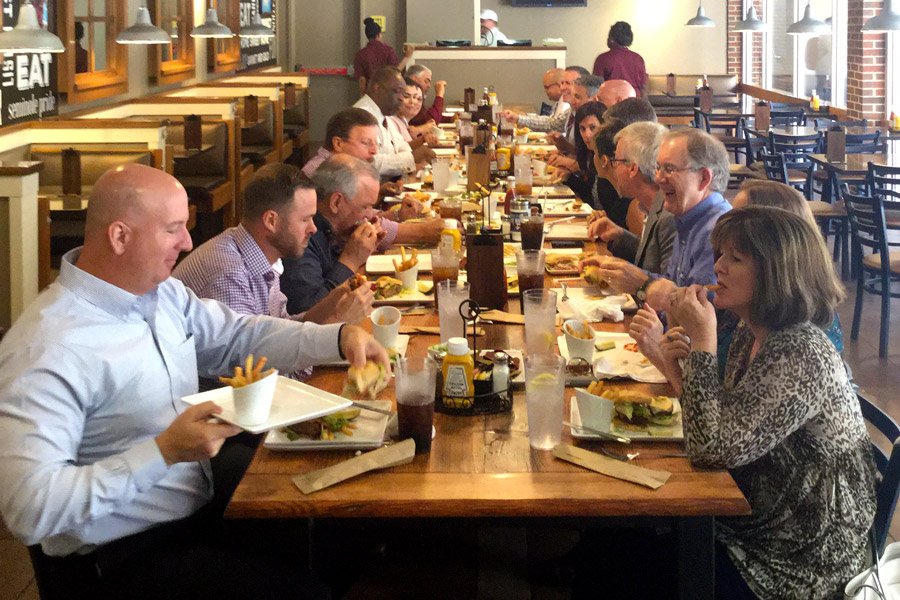 A new restaurant called The Community Table has opened on campus, featuring a cozy space and tasty menu meant for sharing with friends.
The Community Table is a fresh dining venue located at 75 N. Woodward Ave. in the Oglesby Union complex. The restaurant gets its name from a 32-foot, historic pine table. Diners can spread out their sharing plates and sample a little bit of everything.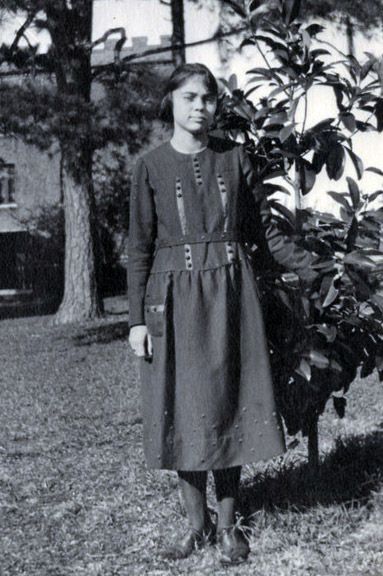 The table has local roots, literally. It was cut from an old pine tree that fell by Bryan Hall. During the milling process, workers discovered 1900's-era ceramic insulators inside the trunk. Over time the tree grew around the insulators, which had once been secured to the trunk to hold a telephone line for the first phone on campus in Bryan Hall. A 1921 photo of a young woman outside the building shows the tree.
So while the historic pine table affirms the concept of community, so does the restaurant's menu. It features monthly specials such as sheet-pan pizza and kitchen-sink nachos that can feed everyone sitting at the table.
The new menu will change every season. Students will vote throughout the year on items that should stay and those that should be benched. Look for the "Garnet and Gold Nachos" to pass on to next season.
The restaurant features homemade items produced by local vendors, such as Lake Tribe Brewery. FSU and its dining provider Sodexo USA are strong supporters of sustainable purchasing as part of the campus-dining experience. Sodexo/Seminole Dining is committed to purchasing as much food as possible from local businesses.
"FSU and Seminole Dining are building community and sustainability through amazing food, and that's an achievement I'm honored to be a part of," said Travis Johnson, executive chef of Seminole Dining. "The Community Table improves the food culture on campus and becomes a place where students will make lifelong memories."
Todd Shaver, director of student activities at Oglesby Union, has already made a lasting memory there. He ordered the restaurant's key lime pie and said it was unforgettable.
"It was absolutely delicious, drizzled with some sort of raspberry sauce," Shaver fondly recalled. "I loved it. It was so good I almost wanted to eat the whole pie."
FSU senior Hunter Bell said he's looking forward to taking his family there during Parents' Weekend, Nov. 3-4.
"I can't wait to show my mom," Bell said. "I'm pretty sure she'll be jealous they didn't have this kind of restaurant when she and her friends were here. I feel blessed to be part of something so progressive."
The Community Table is open:
10:30 a.m. to 10 p.m. (Monday-Thursday)
10:30 a.m. to midnight (Friday)
Noon to 10 p.m. (weekends)