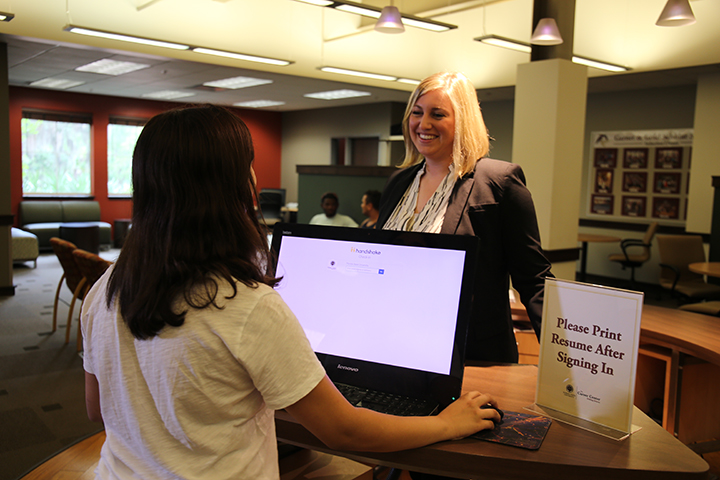 The Florida State University Career Center is launching a new program designed to help undergraduate students gain the knowledge and skills needed to begin their graduate school career.
This specialized crash course, known as "Grad School Boot Camp," will be a one-stop VIP pass to graduate school preparation and success.
The one-day event takes place from 11 a.m. to 4 p.m. Wednesday, Oct. 4, at the Dunlap Success Center.  It will feature multiple informational sessions, including expert advice from professionals in the field and best practices for perfecting the graduate school application.
Students will have the opportunity to explore whether they want to pursue an advanced degree through graduate, professional or law school by weighing key factors involved in the decision-making process. Among the various topics covered will be the necessary elements to complete a competitive application for either law, medical or general graduate school. Focus topics include researching programs, writing personal statements and preparing for the interview.
Students also will gain valuable insight into financial planning for their future and learn about a variety of graduate school funding options, including fellowships, scholarships and loan opportunities.
The day begins with a lunch and registration session and continues with a graduate student panel featuring an interactive question-and-answer session. Expert sessions led by GMAT, GRE and LSAT question writer Stephen Harris will discuss key test-taking strategies for graduate and professional school entrance exams. The day will conclude with an outline of recommended strategies for balancing the demands of graduate school with everyday life.
This event aims to prepare students for the Career Center's Graduate & Professional School Fairs Oct. 10 and Oct. 12, and the Law School Fair Oct. 9. These events provide students the opportunity to connect with a large number of schools on right here on FSU's campus.
For more information, visit career.fsu.edu/fairs.
Student registration for Grad School Boot Camp is now available online at app.joinhandshake.com.