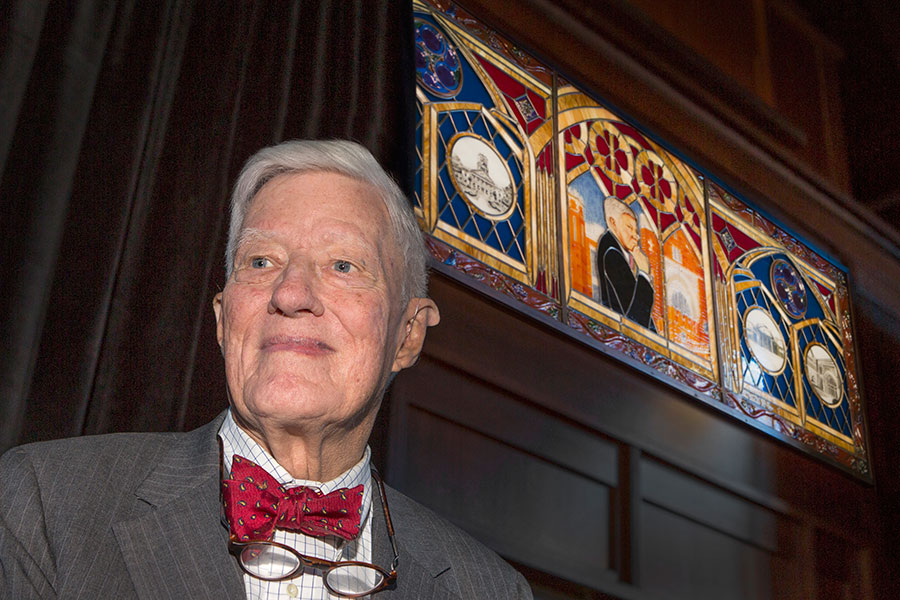 Florida State University expressed its love and affection for President Emeritus Talbot "Sandy" D'Alemberte, an iconic leader whose vision and impact raised the university to new heights and touched the lives of Floridians and people around the world. 
FSU unveiled a stained-glass window in Dodd Hall Monday in honor of the beloved former president, who led the university from 1994 to 2003. The window, located above the entrance inside Heritage Museum, includes four hand-painted black and white pendants drawn in a pen-and-ink style with porcelain enamel. 
Each pendant spotlights a special time in D'Alemberte's life and career: 
The Florida Capitol, where he served in the House of Representatives from 1966 to 1972

 
The FSU College of Law, which he led from 1984 to 1989 as dean and served as a professor for much of his career

 
The FSU College of Medicine, which was established in 2000 during his tenure as president and became the first new medical school in the nation in more than 20 years

 
And his treasured childhood home in downtown Tallahassee, where he was born in 1933.
"That house was directly west of the Capitol," said D'Alemberte, who was surrounded in Heritage Museum by friends and generations of family. "It was my grandmother's house. She was born there, my mother was born there and I was born there."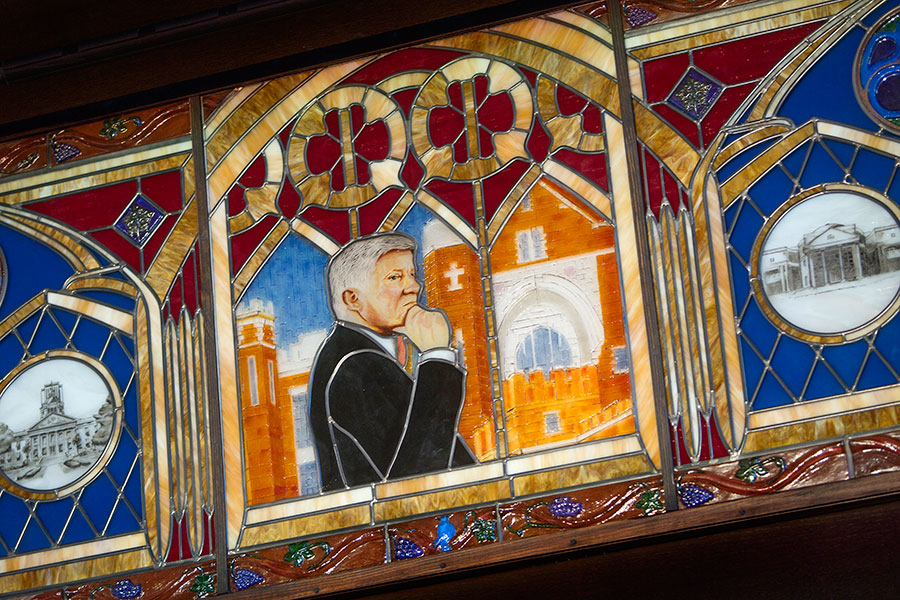 The 101-by-35-inch stained-glass window, which D'Alemberte had not seen before the unveiling, includes a portrait of him based on a photo taken at a birthday party about 10 years ago. His wife, Patsy Palmer, provided the photo for the project and the artist used enamel paints in a half dozen color variations to accurately match skin tones. 
The window displays rich, jewel tones — vivid blues, gleaming greens and golds — to reflect the color palette of architectural accents on the nearly century-old Dodd Hall. A team of artists at FSU's Master Craftsman Studio, which is the only university art studio of its kind in the country, meticulously designed, cut and painted every piece of glass. 
Florida State President John Thrasher, who has known D'Alemberte more than 40 years, described his friend as a brilliant legal mind, a man of great integrity and a tireless force for justice. 
"Sandy and I have developed a strong friendship based on our mutual love and respect for our state, our country, and, of course, Florida State University," Thrasher said. "Sandy has helped shape Florida State's identity as a university that not only educates students, but develops good citizens who contribute to society in meaningful ways. He has spent his whole life trying to make this world a better place." 
D'Alemberte is also credited with making Florida State University a better and more beautiful place. 
He spearheaded the effort to renovate the interior of Heritage Museum in the 1990s. The project resulted in the creation of a series of stained-glass windows throughout the museum and it represented a new commitment to beautify the campus. D'Alemberte was praised for his love of history, architecture and preservation. 
Florida State runs deep in his DNA. His grandfather attended the first iteration of the school, the Seminary West of the Suwannee (1851-1901), and his mother attended Florida State College for Women (1909-1947). And when he became president of Florida State University in 1994, one of his main goals was to make the university one of the finest and prettiest in the country. 
"We have a beautiful campus that we ought to take care of," he urged the FSU family. 
Dodd Hall and Heritage Museum, also known as Werkmeister Humanities Reading Room, are located at 641 University Way near the Westcott Building.