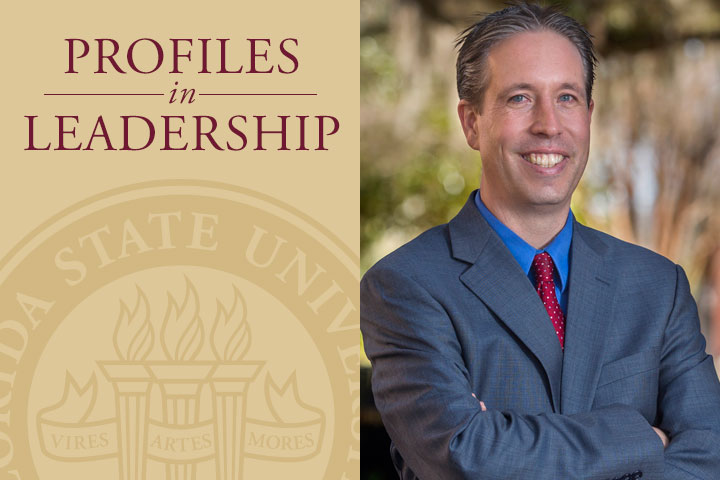 When Tim Chapin arrived at Florida State University in 1999, he didn't know what the future would hold.
But Chapin — now dean of FSU's College of Social Sciences and Public Policy — was certain of his interest in people, policies and cities.
Soon after receiving his doctoral degree in urban design and planning from the University of Washington, Chapin joined the faculty of FSU's College of Social Sciences and Public Policy as an assistant professor. It didn't take long for Chapin to fall in love with FSU, a place where he could do the work he was passionate about.
"I've been in school since I was 4 years old," Chapin said. "I have never left the academic setting and, to this day, I still love the energy and vitality of the university."
Since starting his FSU career almost two decades ago, Chapin has steadily moved up the faculty ladder and taken on a number of leadership roles. He became department chair in 2008 and full professor in 2013.
When longtime dean David Rasmussen retired from the post in 2016, Provost Sally McRorie appointed Chapin as interim dean. He served in the role for a year before he was selected for the permanent position in May 2017 after a national search.
With a host of leadership experience under his belt, Chapin has a solid vision for the college's future. In fact, his list of goals for the college is almost as long its name.
RAISING THE VISIBILITY
For starters, Chapin plans to raise the visibility of the college.
"This college is central to advancing knowledge and policy on issues ranging from climate change to gender and race," Chapin said. "I believe we have the opportunity as well as the responsibility to provide insight in those areas, and my job as dean is to help us tell that story."
Chapin considers the recent establishment of the college's "Policy Pubs" as an important vehicle to raise the college's visibility in the Tallahassee community. Policy Pubs are informal nonacademic gatherings where faculty from the college provide short presentations on subjects such as elections or women's health care and then engage the audience in questions and friendly dialogue.
"The college's faculty and students do so much great work on virtually every economic, political and social issue that society is facing in the 21st century," Chapin said. "It's exciting to be able to share our expertise and show the community how the work we are doing is informing and improving their lives."
Chapin also wants to encourage more students to get involved in the community. The millennial generation is very cause- and issue-driven, and the college should harness that energy for the community's benefit, he said.
Chapin recognizes the advantages of being in a city like Tallahassee, one that is home to state government, a historically black university and a stellar community college. He said it's imperative to continue contributing to the intellectual and social life of Tallahassee, the capital city of the third most populous state in the nation.
He hopes by promoting research that interests the Florida Legislature, the governor, nonprofits and private industry, his faculty will share ideas that can help decision makers and their constituencies.
STUDENT SUCCESS
Chapin is also passionate about student success.
The lifelong academician wants to ensure that generations of students have greater opportunities through expanded financial aid, international travel, service learning, internships, job placements and leadership training. Chapin praises his predecessor, Rasmussen, for starting the "Get More than a Degree" initiative. The program increases the quality of the undergraduate experience through education and professional development outside the classroom.
While students can do well in their coursework and earn a great degree, it may not be good enough in a modern world where they need connections, professional development and internships.
That's why Chapin wants to take the initiative to the next level and provide more internship opportunities for both undergraduate and graduate students.
As dean, he is cultivating relationships with alumni who have expressed interest in giving their time and knowledge, as well as their treasure. Chapin admits the college could use more financial support to assist students with their studies outside the classroom as well as faculty projects.
"I can see their vision, but I know we just don't have the resources," Chapin said. "A part of my job as dean is to go out there and try to secure those resources. I talk very bluntly about our financial realities because I think people need to understand we are remarkably efficient and effective at what we do. More resources would allow us to be even more impactful."
DIVERSITY AND COLLABORATION
Chapin appreciates the university's focus on diversity and inclusion and wants the college to continue to be a leader in the area. He is quick to point out that diversity is not just in reference to ethnic or racial differences, but includes gender, age, sexual orientation and even worldviews.
"We see it in our elections, national debates — and this college celebrates the full breadth of it," Chapin said.
Chapin notes the college is home to faculty and students along the entire political spectrum. He envisions the institution being a marketplace to share ideas although there may be discomfort involved.
"Issues of race and ethnicity, gender and political views can cause heartburn," he said. "We can choose to sweep things under the carpet and hope things turn out OK or we can tackle some of these things head on in a very productive way. We're looking for discussion and enlightenment."
Chapin recognizes the weight of leading this group of faculty, staff and students who are on the forefront of the world's most pressing issues.
"It's a little overwhelming at times," Chapin said. "But when you believe in the people who work with you, when you believe in the faculty and students in the college like I do, you realize the responsibility is shared. It's not all on me."
He tries to foster discussion and collaboration within the college. Chapin said the beauty is in listening to one another and having a peaceful dialogue, even if people disagree.
Chapin believes that kind of positive conversation and collaboration is key, whether partnering with state government, nonprofits, private industry or another college within the university.
One example of cross-college collaboration that Chapin hopes to nurture is the Pepper Institute of Aging and Public Policy, which draws on affiliated scholars from a number of departments within the college and other academic units throughout the university.
Chapin said the research happening at the Pepper Institute is just the tip of the iceberg on the topic of older adult issues and is a major factor in FSU being the first Southern university selected as an "age-friendly university" by the Association for Gerontology in Higher Education.
"Partnership is what the world is about," Chapin said. "My standard line is 'We would love to connect with you.'"
Ultimately, Chapin's vision for the college is one that keeps potential partners connecting with his team of faculty and students.
"I want us to be the place to go for policy insight, research and for great students and future leaders in the state of Florida," Chapin said. "When people think of health, economics and environmental policy, they need to think of FSU. They should say, 'We need to call our friends at the College of Social Sciences and Public Policy.'''