Members of Florida State University's Marching Chiefs have entertained crowds for decades and through the generations, one part of the band has remained constant: the flip chart with its printed sheet music and drill charts.
The band's 400-plus members typically use about 200,000 sheets of paper a year as they work to create their storied "Wall of Sound."
Until now.
This year, band members are mounting smartphones with marching materials onto their instruments. They're using a recently developed attachment called "eFlip" developed by marching band students at Louisiana State University. Now musicians can store PDF files of music in the cloud and discard their flip charts.
"I love it," said Brennen Blotner, who plays the mellophone in the band. "It's especially good for me since I seem to lose music easily. I always have my phone so putting it on the eFlip and having it on my instrument in front of me is so easy. You have all this music in a compact space and it's easily accessible. I think it's a lot better than sheet music."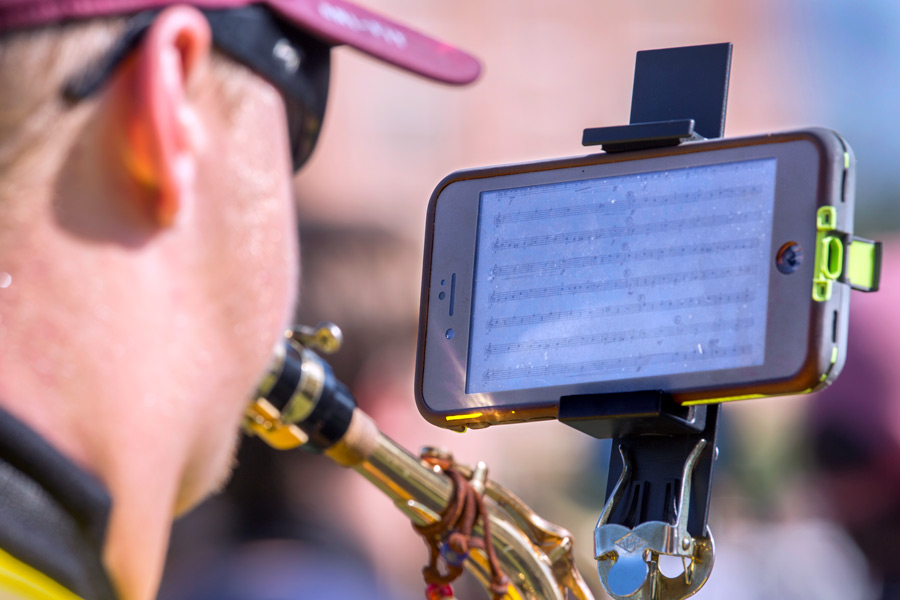 College of Music Dean Patricia J. Flowers, who helped push the idea forward, praised band directors Patrick Dunnigan and David Plack for pursuing an inventive concept that saves money and boosts efficiency.
"The Marching Chiefs' elimination of flip charts represents the type of creativity encouraged by Florida State's sustainable campus initiative, which calls on all of us to incorporate sustainable living practices on campus," Flowers said. "Patrick Dunnigan and David Plack have shown innovative leadership not only in charting their inspiring halftime shows, but also in stewarding resources and reducing waste. The Marching Chiefs continue to set a high standard for the garnet and gold — and green!"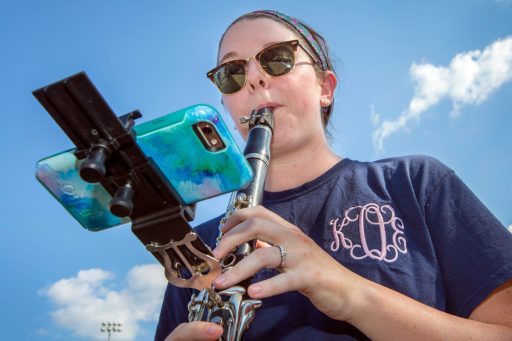 Katie Olney, who plays clarinet, said the transition from paper to digital files presented some challenges, but she quickly adapted.
"I really think it's useful," Olney said. "It's so easy when we learn new music; you just put the new music on here instead of having to print. It also saves a bunch of money for the College of Music and that helps us put money toward other places."
Band members are also using an app called "Ultimate Drill Book," which helps them follow marching formations from point to point using a smartphone or tablet.
Dunnigan estimates the new technologies will help the Marching Chiefs eliminate 85 to 90 percent of their paper consumption.