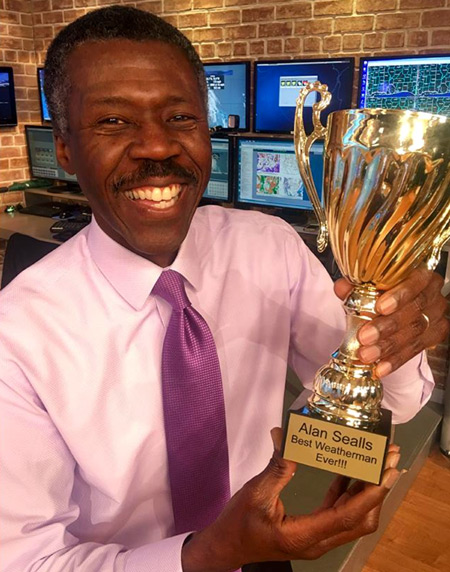 Florida State University alumnus Alan Sealls was the calm in the storm during Hurricane Irma, and his skilled weather forecasting unexpectedly made him an overnight internet sensation.
"It's funny, weird and odd," Sealls said as he recalled the experience.
As Irma exploded into a Category 5 hurricane with fearsome 185 mph winds, Sealls delivered his weathercasts in his typically cool, informative manner, and a video of his presentation went viral on the social networking site Reddit.
Viewers hailed the veteran meteorologist at WKRG-TV in Mobile, Ala., as the "Best Weatherman Ever."
"It's definitely a positive thing," Sealls said, "but it's funny because I didn't do anything differently than I've done in my entire career."
Reddit users loved it. His measured, educational presentation in the midst of one of the most powerful hurricanes on record stood out in an era of weathercasting sometimes chided as too bombastic. They praised Sealls, who earned a master's in meteorology from FSU in 1987, as brilliant.
Sealls said he was just doing his job but, suddenly, he was an online hero.
"I've been forecasting for 30 years, long before the internet and YouTube, so it's bizarre how one little episode can totally eclipse everything else you've done," he said.
Sealls' ability to connect with viewers is no accident. He has spent his career focusing on the language of weather forecasting and identifying specific words that communicate a message most effectively.
One of his professors at Florida State, Jon Ahlquist, said Sealls has surveyed people and broadcasters to determine exactly how they interpret certain weather terms such as "cloudy," and he has used that feedback to communicate information as clearly as possible.
Ahlquist, an associate professor in the department who continues to produce top-notch meteorologists at FSU today, is not surprised by Sealls' fame.
"Alan Sealls just continues to do more and more good things," Ahlquist said. "If you go to Google and type in 'Best Weatherman Ever,' what comes up is Alan Sealls. He deserves it."
What Sealls recalls most about his Florida State experience was the commitment he made to the program and learning his craft.
"FSU was all work and no play," Sealls said with a laugh. "But it was really positive and rewarding because I learned a lot about forecasting, and I learned a lot about myself. I had no social life, which at the time was not fun, but it paid off because I was able to focus on learning and growing."
It also paid off with a job. Sealls landed an on-air position at WALB-TV in Albany, Ga. Soon, he was off to Milwaukee's WTMJ-TV and then major-market television called. Sealls worked in Chicago for seven years, first at superstation WGN-TV and then at the NBC owned-and-operated WMAQ-TV. In 1999, he headed to Mobile, and it's been home ever since.
Sealls' work has been recognized with eight Emmy awards, a best-in-state award for a documentary on Hurricane Ivan and a national award from the American Meteorological Society. He was named a fellow of the AMS, a rare honor among meteorologists, and he will serve as president of the National Weather Association next year. He gives back at FSU and helps meteorology students prepare for their own broadcasting careers.
Sealls has enjoyed a long, successful career, but his prospects coming out of college with a bachelor's degree were unclear. He applied for jobs and didn't get hired, so he decided to go to graduate school.
Florida State's renowned meteorology program became a turning point and helped launch his distinguished career.
"I was really attracted to FSU because they offered me a teaching assistantship," Sealls said. "While I was there, I taught Intro to Meteorology to the nonmajors, and that was good preparation for what I do now, which is communicating weather to people who really don't know a lot about it."
Along the way, Sealls has connected with viewers in his educational, reassuring style, and his Reddit experience is the latest example illustrating why many call this Florida State alumnus the "Best Weatherman Ever."