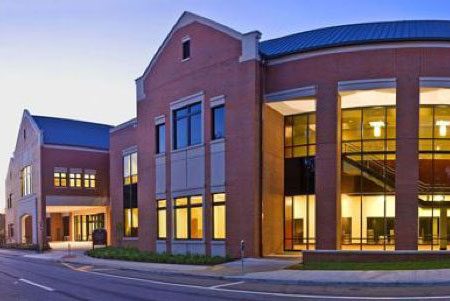 The Augustus B. Turnbull III Florida State Conference Center will host an open house celebration Sept. 28 to showcase its latest presentation technologies, including a new high-definition, seamless video wall.
The event will offer inspirational ideas from event partners, including John Gandy Events, Missy Gunnels Flowers, PSG, Visit Tallahassee-A Division of Leon County, Forever Spring Plant Rentals and Frame.
Guests can sample great food at the first FSUnique Chef's Culinary Showcase, featuring eight executive chefs from FSU's Seminole Dining Culinary Team who will prepare and serve their signature dishes. The Rachel Hillman Band will entertain guests with live music.
"We're looking forward to celebrating the updates with our past and potential clients," said Leigh Eisenhauer, manager of the conference center. "We're pleased to present options available from our partners that enhance the event environment from design to staging to food and beverage."
The open house will take place from 4 to 6 p.m. Thursday, Sept. 28. 
The renovation was designed by EMI Architects of Tallahassee.
"Our job was to create the stage set for presenters at the conference center to communicate their information in the cleanest and most uncluttered environment possible," said Brad Innes, president of EMI Architects. "The state-of-the-art video screen clearly needed to be the center of attention."
The video wall is the region's largest high definition, seamless video wall installation available to the public. The new video wall features an LED, 1.6-pixel pitch wall that is approximately 26 feet wide and 10 feet tall. The system is powered by Alpha and Cinenet technologies developed by Cinemassive.
"Coupled with the Conference Center's technical team's expertise, you'd have to travel as far as Las Vegas to experience a comparable installation," said Robert Kaufman, co-founder of Cinemassive.
Eisenhauer is thrilled about the feedback she's been getting from clients.
"Everyone is excited that the 'lines' from our original video wall have disappeared with this installation," Eisenhauer said. "Presenters like the clarity of the screen and being able to display multiple images simultaneously.
To RSVP for the Open House and Auditorium Reveal, visit http://learningforlife.fsu.edu/open-house/
To schedule an event or to learn more about the Augustus B. Turnbull III, Florida State Conference Center, visit http://learningforlife.fsu.edu/fsu-conference-center/.
About the Augustus B. Turnbull III Florida State Conference Center
The Augustus B. Turnbull III Florida State Conference Center, completed in January 2010, is a full-service center for hosting academic conferences as well as government meetings, nonprofit, business and community events, association programs, corporate seminars and professional development events.
The center has 11 meeting spaces including a 350-seat auditorium, a 280-seat dining room (with catering kitchen), seven break-out rooms, an elegant atrium, a well-appointed executive boardroom, a business meeting room and two training rooms. In addition, the center provides the latest in technology infrastructure to support on-site and off-site participation using web recording technologies and our full-service video studio (green room).
Centrally located near the FSU campus and in close proximity to the Florida Capitol, the center offers professional event management, flexible catering options and convenient parking.