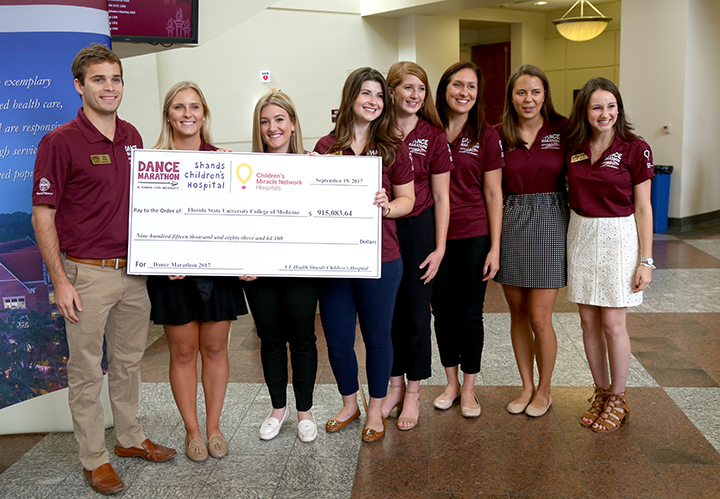 Cheers filled the sunlit atrium of Florida State University's John Thrasher Building Tuesday afternoon as Dance Marathon at FSU and the Children's Miracle Network at UF Health Shands Children's Hospital presented a check for more than $915,000 to the FSU College of Medicine.
The funds, which will be instrumental in providing needed aid to children throughout Gadsden and Leon Counties, are part of the record $1.85 million raised this year by Dance Marathon, the largest student-run philanthropy on the FSU Campus.
"The Dance Marathon check presentation is turning out to be one of our favorite times of the year," said John P. Fogarty, professor and dean of the FSU College of Medicine. "We receive many wonderful gifts at the College of Medicine and we appreciate them all, but there is certainly something very special about this one. The students who drive this effort always seem to outdo themselves."
The funds raised by this year's Dance Marathon will support the Children's Miracle Network at UF Health Shands Children's Hospital in Gainesville and the FSU College of Medicine's pediatric outreach programs.
Locally, the money will bolster a school-based primary-care health clinic at three schools in Gadsden County, where children often have inadequate access to quality care. The clinics are the products of a partnership between the College of Medicine, the Gadsden County Health Department and Gadsden County Schools.
In addition to Fogarty, speakers at the presentation included Christopher Jolley from the UF Health Shands Children's Hospital, nurse-practitioner Susan LaJoie, who oversees the Gadsden school-based clinic, and Chloe Milthorpe, executive director of Dance Marathon at FSU.
Milthorpe, a senior who has participated in Dance Marathon each of her four years as an undergraduate, said that the recent progress made by Dance Marathon at FSU has been meteoric, and the future looks similarly bright.
"Four years ago, I was a dancer in Dance Marathon, and it's awe-inspiring to see how our organization has grown since then," she said. "This tremendous achievement exemplifies just how driven and passionate our Florida State community truly is. Looking forward, Dance Marathon at FSU is excited and ready to commit to creating even more miracles."
Dance Marathon at FSU is currently the fourth largest Miracle Network Dance Marathon chapter in the nation. In its 22 years on campus, the organization has raised nearly $10 million dollars for research needed to find cures for pediatric illnesses, medical equipment that helps save children's lives and programs engineered to brighten the days of children in hospitals.