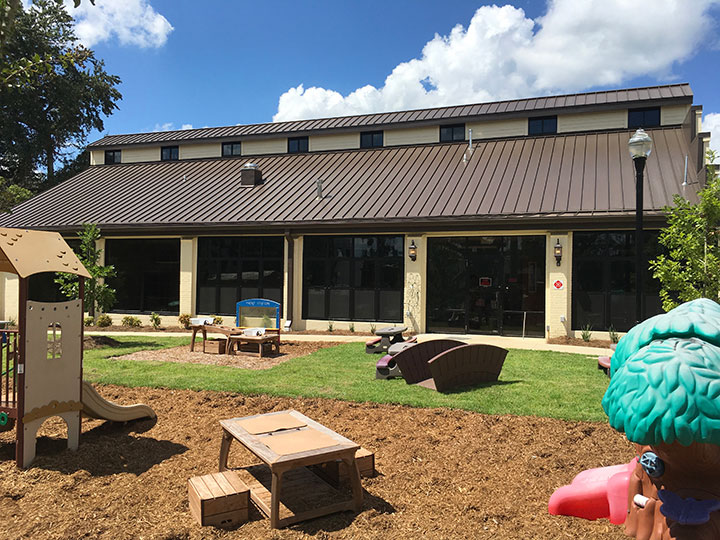 Florida State University is making the lives of its faculty, staff and students who have children a little easier by expanding its childcare facilities and moving them closer to campus.
The new Infant and Toddler Child Development Center, located on the corner of Copeland and St. Augustine streets, opened Monday, Aug. 28. The upgraded facility provides care for babies and toddlers up to 3 years old.
"We are proud to be able to offer childcare services to our students, faculty and staff," said Shannon Staten, director of FSU Housing. "This new facility will not only be more conveniently located for parents but will allow us to make this wonderful program available to more children." 
Alumni Village has been the location of FSU childcare facilities since 2002 and will continue hosting children ages 3 to 4 years old until the final wing of the new Copeland location is completed in 2018.
The 6,350-square-foot Copeland center can provide care for 60 infants and toddlers. When the new addition is completed, it will house more than 140 children up to age 4.
Center hours are 7:30 a.m. to 5:30 p.m. Monday through Friday at both locations with the hope of adding more flexible hours in the future.
The new center features amenities like napping rooms, full kitchens, high vaulted ceilings, double-sided viewing windows, a lactation suite for nursing mothers, play rooms and separate playgrounds for infants and young toddlers. The new building also has high-tech electronic capabilities so teachers can track children's medicines and behavior and send videos to parents.
"I am overjoyed that the daycare is returning to FSU's main campus," said FSU staff member Ellen Arella, whose 29-month-old daughter has been enrolled at the center for the past two years. "Since enrolling my daughter at 5 months old, the faculty and staff have become part of our extended family. I am thrilled that the facilities will now match the exceptional curriculum and programs offered by the daycare. I am also hopeful that the closer proximity will allow for more partnerships with departments across campus."
The new building is equipped with top-of-the-line security cameras and can only be entered with access cards. All full-time employees working at the center are certified teaching faculty, along with several supervised student interns.
Currently, about 81 percent of the daycare spots go to children of enrolled FSU students, but the new larger location should allow for more children of faculty and staff to receive spots.
There is a waiting list, but any FSU parent interested can apply online or in person.
For more information, visit housing.fsu.edu.