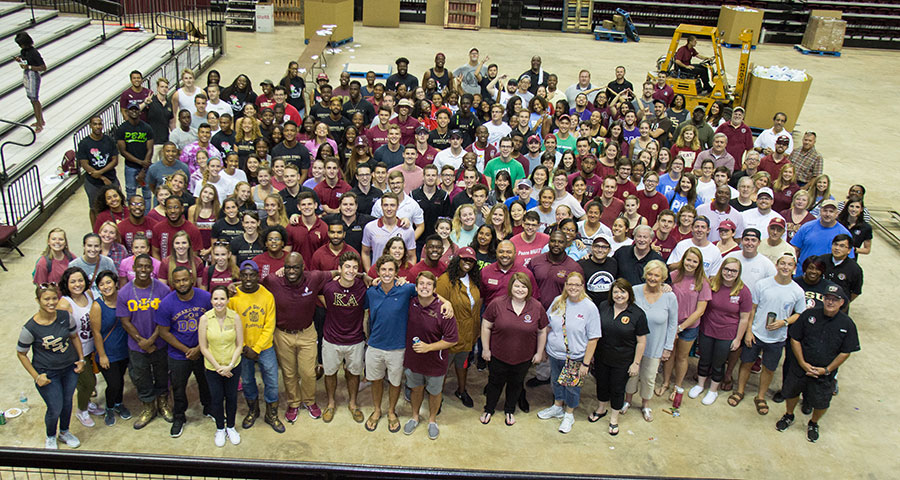 Florida State University and Leon County teamed up to send thousands of care packages to Hurricane Irma victims in South Florida, thanks to donations from local residents and businesses.
On Friday morning, more than 250 FSU students and 100 staff volunteers assembled the donated items into care packages at the Donald L. Tucker Civic Center.
"This is what Florida State's about," said President John Thrasher. "We talk about family a lot at Florida State. When you see things like this, it really shows that the kids believe in the university and its values, and they're willing to participate and give back."
Students from FSU athletics teams and Greek and multicultural organizations turned out to help the massive effort, making about 5,000 nonperishable food care packages and 2,000 bags of personal hygiene items.
Bryana Beckford, a junior chemical engineering major from Miami, heard about the event through fellow members of the Theta Nu Xi multicultural sorority. Hurricane Irma knocked out power and brought down some fences, but her family in Miami is safe and had no major damage.
"Being from Miami I'm familiar with hurricanes and the impact they have," Beckford said. "This was a great opportunity to give back."
Junior track and field student-athlete Conor McClain remembers when Hurricane Sandy hit his home state of New Jersey and thought it was important to come out and help the relief effort.
"It's important that people step up and do the most that they can for their fellow humans, especially those in the state of Florida," said McClain, who is majoring in environment and society.
State University System Chancellor Marshall Criser III also stopped by Friday morning to assist in packing items. He was touched by how students from different groups and organizations came together to work as one team to take care of others.
"I think it speaks to what Florida State is doing even though they're here in North Florida and the storm has passed us," Criser said. "Someone else today is still in a shelter and not back in their home. They will need these supplies — they will be a bright light for someone very soon. It's a fantastic effort, and I applaud all of them for doing it."
FSU staff members and student volunteers collected food, beverages and personal hygiene products, such as toothbrushes, toothpaste and soap, during a donation drive Thursday afternoon at the Tucker Center.
Community members, local hotels and dentists contributed items, as well as Coca-Cola Bottling Co. United Inc., Seminole Dining and Sodexo. U-Haul and Ace Hardware donated boxes, Publix contributed bags and Esposito's donated fans, tarps and propane. Donations and assistance also came from Spectra/Tucker Center, the UPS Store and FSU Bookstore. Leon County and the Salvation Army joined FSU in coordinating the effort.