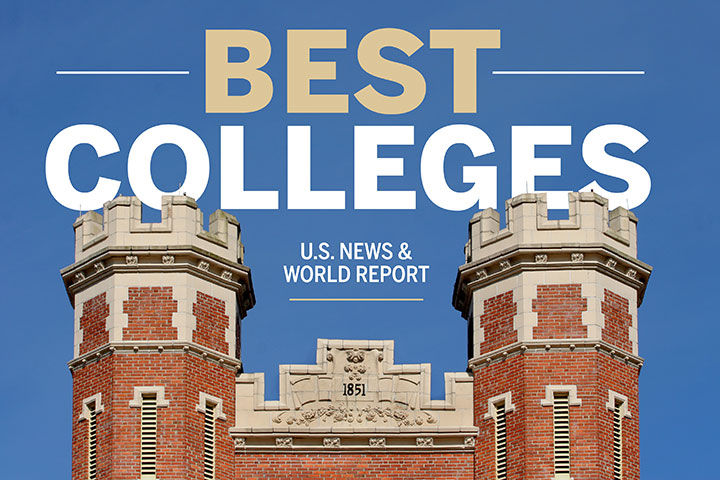 U.S. News & World Report Ranks FSU No. 33 Among Public Universities
Florida State University has jumped to No. 33 among national public universities in the U.S. News & World Report rankings after moving up five places for the second consecutive year.
The rankings appear in U.S. News & World Report's "Best Colleges 2018" guidebook. In two years, FSU has vaulted 10 spots among public universities since placing No. 43 in 2016. Last year, FSU ranked No. 38 among public universities.
"We are thrilled that U.S. News & World Report continues to recognize Florida State University as one of the best universities in the nation," said President John Thrasher. "It means our reputation of academic excellence is rising throughout the state and the nation, and that's a reflection of our world-class faculty, staff and students."

Florida State's excellent graduation and student retention rates are the driving forces behind FSU's ranking among the nation's best public universities. FSU's four-year graduation rate is among the top 25 nationally, the six-year graduation rate is 80 percent and the university's freshman retention rate is nearly 93 percent, which ranks 18th nationally.
"This is an exciting time at Florida State University," said Sally McRorie, provost and executive vice president for Academic Affairs. "We are clearly recruiting even better students, and the success of our programs is being noticed, and emulated, by our peer institutions."
The Florida Legislature's designation of FSU as one of the state's two preeminent universities and the additional funding that comes with it has enabled the university to raise faculty salaries and hire more faculty. As a result, FSU has improved in metrics such as faculty compensation and student-faculty ratio.
"We are extremely grateful to the Florida Legislature and Florida Board of Governors in helping our continuing efforts to raise Florida State to a higher level of national prominence," Thrasher said. "The funding that the Legislature has invested in FSU has allowed us to vigorously pursue our strategic goals."
McRorie reiterated that the university's emphasis on student success is at the heart of its rapid ascent in the national rankings.
"I'm so pleased that everybody's hard work is really paying off for the university," McRorie said. "Before a student even arrives on campus, our focus is on their success, and we're seeing great results."
FSU is committed to preparing students through comprehensive orientation, stressing the importance of taking 15 credit hours each semester and encouraging students to take advantage of co-curricular opportunities available like internships and job shadowing, McRorie said.
The strategy is working. With FSU's 80 percent six-year graduation rate, the university well exceeded a prediction by U.S. News that FSU's graduation rate would be 71 percent.
FSU also saw improvements in reputational ratings by university peers, student selectivity and alumni giving.
Also included in this year's U.S. News report were undergraduate business program rankings. Florida State's undergraduate business program made a significant jump, moving up 14 spots to No. 27 among public universities and 18 spots to No. 45 among all national universities. The undergraduate business rankings are based solely on peer assessment.
"Our significant move up in the rankings reflects the hard work and commitment of our faculty and staff, and the unwavering support of our alumni," said Michael D. Hartline, dean of the College of Business. "We are determined to continue strategic investments in our people and programs in order to continue further down the path of preeminence.  It's gratifying to be recognized for our efforts."
U.S. News & World Report determines its national university rankings based on seven factors: graduation and retention rates (22.5 percent); assessment of excellence, i.e. peer and high school counselor assessment (22.5 percent); faculty resources (20 percent); student selectivity (12.5 percent); financial resources (10 percent); graduation rate performance, i.e. the difference between actual and predicted graduation rate (7.5 percent); and alumni giving (5 percent).
Florida State University shares the No. 33 spot with four other public universities: Michigan State University, North Carolina State University, University of California-Santa Cruz and the University of Delaware.
Among all national universities, including private universities, FSU ranked 81st, up from 92nd last year. The national universities category comprises 311 institutions (190 public, 114 private and seven for-profit) that offer a wide range of undergraduate majors as well as master's and doctoral degrees.