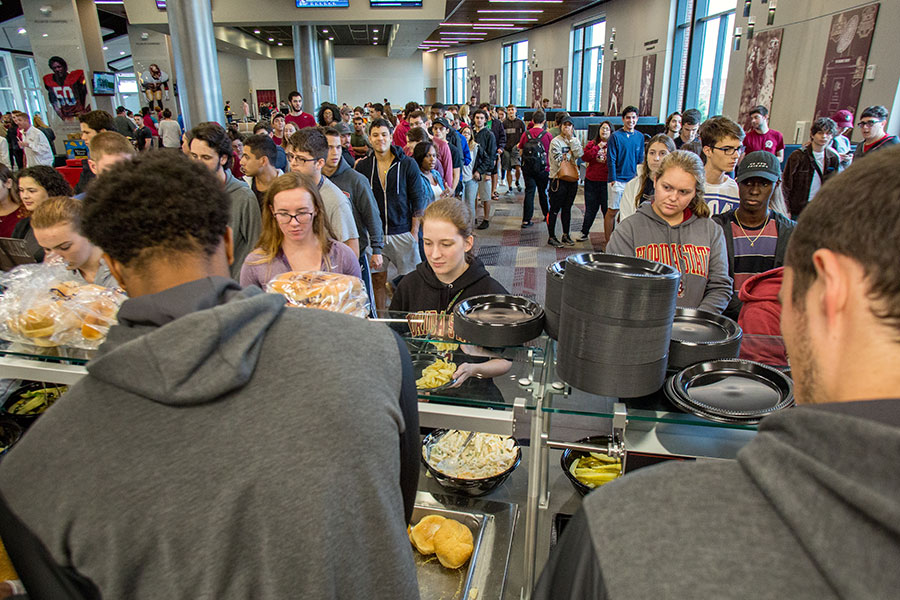 As the worst of Hurricane Irma moved past Tallahassee Monday afternoon, some of the very best qualities of the Florida State University family were on display at a swiftly organized post-hurricane dinner at Doak Campbell Stadium. 
Even as the storm shut down campus this week, FSU organized a plan to open the 70,000-square-foot Dunlap Champions Club — the premier club-seating venue in the stadium — to feed thousands of hungry and grateful students who could finally breathe a sigh of relief. 
"I was filled with anxiety because I wasn't as careful as I could've been with supplies," said student Dylan Sugg, who was thankful to share a meal with friends in the club venue. "It's pretty cool. It's free food and, you know, I'm a college student so I like free food and also get a nice view here."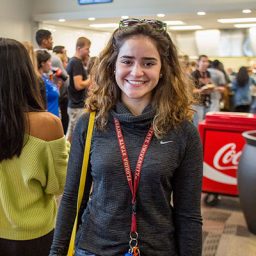 Freshman Laura Palomino was all smiles as she waited in line for a hot dinner served up by Florida State athletes, who volunteered to work the event. Palomino thought the university did a great job keeping students informed and helping them cope with extra stress in the days leading up to the hurricane. 
"It's awesome to see the efforts that the school took to keep us safe and comfortable during these times," Palomino said. "It's comforting for me to see everyone here and working together, and I appreciated the emails and social media updates, as well as texts from our RAs in our residence halls. All of it kept us up to date about what we needed to know and how to get prepared." 
Junior Cobi Johnson, a pitcher on the baseball team, was one of the athletes helping out at the Champions Club dinner. 
"I just want to volunteer and help other people in a time of need," Johnson said. "I'm not special because I'm doing it. I think if you have the opportunity, you should volunteer."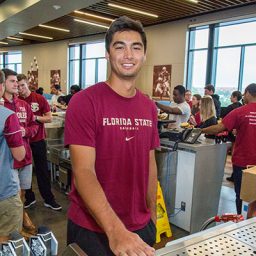 Florida State's food-service provider Sodexo worked hard to prepare thousands of extra meals for students over the weekend. Sodexo and Seminole Dining made 11,400 box meals to deliver to students in residence halls on Saturday and Sunday. 
Then, they managed to assemble the big dinner at the Champions Club with just a few hours to pull it off. They served game day fare of hamburgers and hot dogs to more than 6,000 people Monday evening. 
"We thought it was a great idea to bring students together, help raise their spirits and let them know we appreciate what they did to stay safe and follow the instructions that we put out," said FSU President John Thrasher. "Our staff was superb. Everybody put in the time and energy to make sure we were successful, and the safety of our students was uppermost in our minds the entire time." 
The mood in the Champions Club was upbeat as some students sprawled out in booths with cushioned seats, while others stepped outside and grabbed the premium seats on the south end of the stadium. 
"I think it's a great idea," freshman Marissa Latouche said. "It's really well planned by FSU to help students because getting dinner is not easy right now since everything is closed and we have a curfew. So, this really helps out and we're really appreciative." 
Latouche also appreciated the planning that went into the lead-up to the storm at her residence hall. 
"They organized games and activities for us, so we weren't bored," Latouche added. "We were downstairs playing games with all our friends. We had other things to do, so we didn't have to focus on everything going on outside." 
Now, Thrasher said, it's time to start focusing on helping the Florida State family get back to its normal routine with classes resuming on Sept. 18. 
"We've been preparing for a week knowing there was a possibility the storm would come here and we feel fortunate, very blessed," Thrasher said. "All of that planning will help us get back on track quicker. We'll make up the missed classes, and our faculty is ready to help. We have some debris to pick up, but we'll be fine."