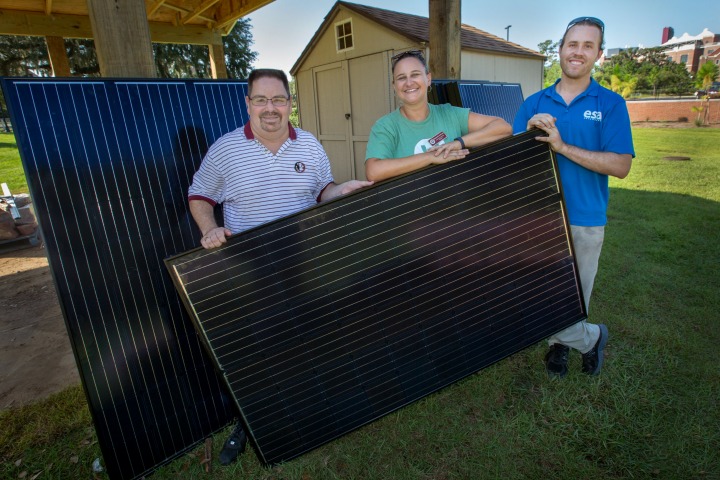 Florida State University is moving forward on the path of solar sustainability — thanks to three alumni and FSU Sustainable Campus.
The alumni, Justin Vandenbroeck, Chris Diaz and Scott Minos, provided and installed 12 solar panels to their alma mater, all pro bono.
The installation was completed Friday, Aug. 18, with the panels mounted on top of the FSU Sustainability Hub at the Seminole Organic Garden. Together the 12 panels will provide enough solar energy to power a small house, helping FSU reduce financial costs and use less electricity.
"We are excited about furthering our sustainability commitment and contributing to a low-carbon campus," said Elizabeth Swiman, director of FSU Sustainable Campus. "We have a mission to provide students the opportunity to experience the benefits of solar energy as they learn how to incorporate sustainable practices into their lives."
The materials and services for the project were designed, installed and donated by Vandenbroeck through ESA Renewables. The financing was provided by Seminole Financial Services sanctioned by Diaz, and Minos coordinated the project.
All three alumni play significant roles in the sustainable energy sector across the country. Vandenbroeck, a 2014 graduate of the FAMU-FSU College of Engineering, is a senior project developer at ESA Renewables. Diaz, a 1988 graduate of the FSU College of Social Sciences and Public Policy, is the principal and executive vice president of Business Development for Seminole Financial Services, and Minos, a 1984 graduate of the FSU College of Social Sciences and Public Policy, is a senior policy and communication specialist for the U.S. Department of Energy in the Office of Energy Efficiency & Renewable Energy.
The idea for the project was born in 2016 when Minos met with Swiman during one of his yearly visits to FSU to speak to classes on energy-related topics. The two shared the goal of enhancing sustainability on campus. Together, they came up with the idea of incorporating solar energy onto FSU's Sustainability Hub.
Swiman has led FSU Sustainable Campus in the development of multiple environmentally driven projects, including the Sustainability Hub, which is an outdoor learning center dedicated to educating students about renewable energy sources and promoting sustainable lifestyles. The gazebo-type structure, constructed by FSU Facilities, is located behind the FSU Circus and overlooks the Seminole Organic Garden, also run by Sustainable Campus. The garden gives students, faculty and staff a place where they can grow and harvest their own fresh organic fruits and vegetables.
"I thought the Sustainability Hub was a great idea," Minos said. "But I shared with Elizabeth that any such facility should be powered by renewable energy. It's not only a showcase of what renewable energy is capable of doing but also acts as a very public gesture of 'walking the walk' that promotes ongoing sustainability measures on campus."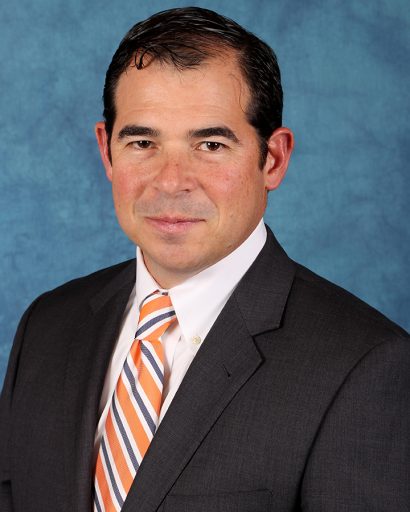 Vandenbroeck, who considers Minos his mentor, heard about the idea for the solar project and was excited to be a part of it. Bringing solar energy to campus was something he envisioned since he first came to FSU.
"Being able to bring solar energy to my alma mater is a dream come true," Vandenbroeck said. "There were so many times as a student I would walk around campus, look up at the rooftops and think 'that would be a perfect spot for solar panels.'"
The next step was figuring out how to finance the project, and Vandenbroeck had someone in mind. Diaz, who he had met in 2014, is one of the top construction financiers of solar projects in the country. He pitched the idea to Diaz while at a solar conference in San Diego in March 2017. Diaz was immediately on board.
"What makes this even better is that the team associated with this project are all FSU alumni," Vandenbroeck said. "FSU has an immense amount of opportunity to lead the state of Florida as an institution that embraces the clean energy economy."
Other solar-powered places on campus include solar umbrellas located outside the Union and in between Mendenhall A and the Wellness Center where students, faculty and staff can charge their electronics. There are also 168 solar thermal panels on top of the Leach Center that heat the pool during mild to warm months.
"These solar panels are more than just clean energy," Swiman said. "This whole project is advancing sustainability at FSU and enriching our campus. Sometimes, it takes these smaller steps to realize a much bigger idea."
For more information, visit sustainablecampus.fsu.edu.