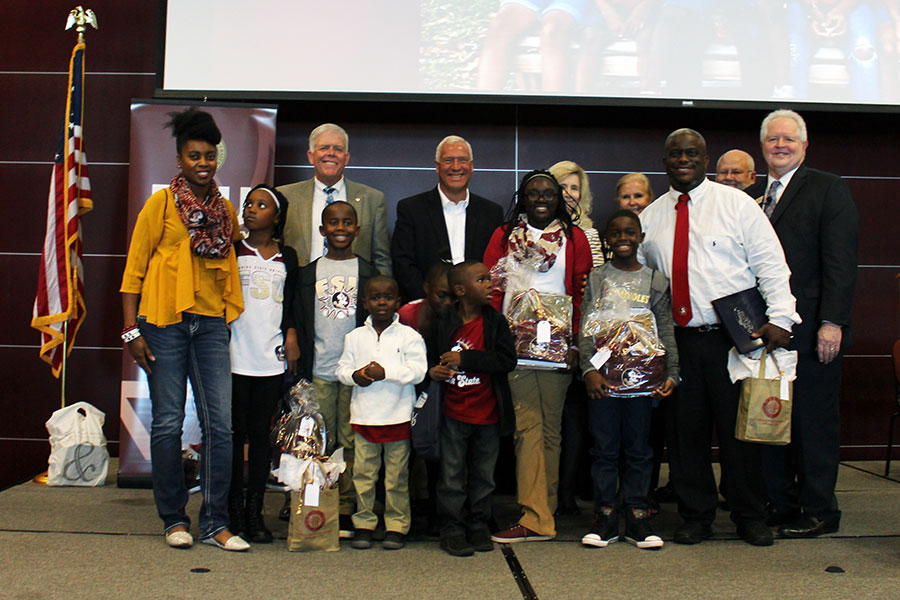 An adopted family of seven will have a guaranteed college education thanks to combined scholarships from FSU Panama City, Gulf Coast State College and Chipola College.
DaShoan and Sofia Olds, of Marianna, earned national fame this summer after adopting siblings who were in separate foster homes: Reggie, Keyon, Erica, Dava, Zavian, Eric and Necia.
FSU Panama City Dean Randy Hanna, Chipola College President Sarah Clemmons and Gulf Coast State College President John Holdnak awarded each of the children with guaranteed scholarships Aug. 17 at FSU Panama City's Welcome Back Symposium. FSU Panama City and Chipola pledged at least $1,000 per semester per child, and Gulf Coast pledged the cost of educational expenses.
"They want all seven of their children to be Seminoles," FSU Panama City Dean Randy Hanna said. "Our goal as partners in higher education is to help them achieve their goals that all seven of these children will be college graduates."
DaShoan Olds, a math teacher at Rutherford High School, has taught at FSU Panama City STEM Institute summer camps. His wife, Sofia, has a master's degree in social work from FSU. Both attended Chipola College.
"We are so grateful for your support and for this opportunity," Sofia Olds told the crowd. "It takes a village to raise children – especially seven of them. We are very appreciative."
At the symposium, FSU Panama City also recognized Florida CFO Jimmy Patronis and Tyler Montgomery, who earned the Governor's Young Entrepreneur Award, for their superior representation as Florida State alumni.
"The impact Florida State has made in my life, my mom's life, my dad's life and my wife's life is changing everything we do," Patronis said. "We have a great community, and being a part of it means a lot."
FSU Panama City also recognized former congressional aide Jerry Smithwick for his ongoing advocacy of FSU Panama City expansion to the Lynn Haven fuel depot property. The 40 acres of property, which has been in negotiation at least 18 years, closes next week. Academic advisor Dana Smith, custodian Mark Benton and police officer Freddie Kinard also received