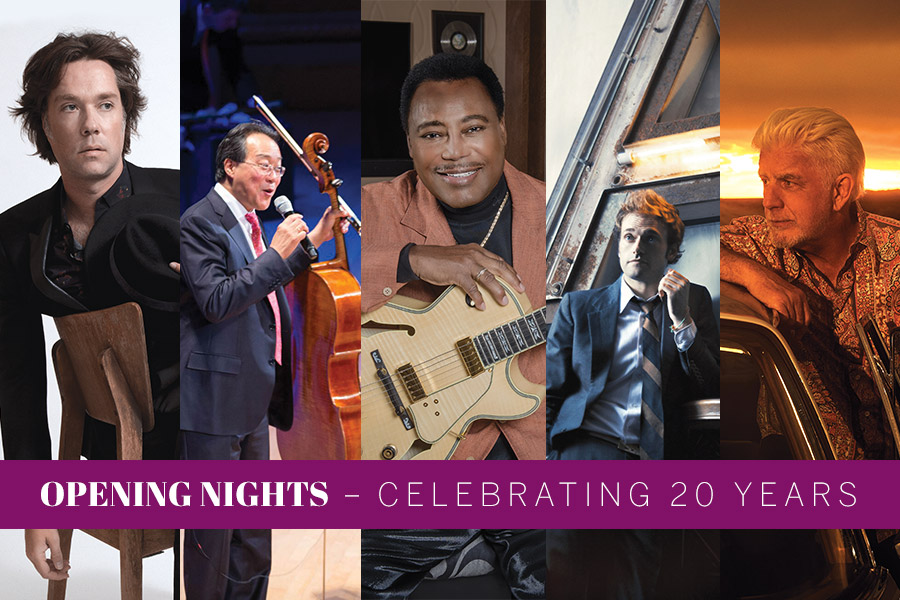 Opening Nights at Florida State University has announced its 2017-18 season of world-class performances and events in music, dance, theatre, spoken word, film and visual arts. 
To mark its 20th anniversary, Opening Nights has put together a diverse season of best-in-class artists, popular favorites and past Opening Nights performers. Festival highlights include Jazz at Lincoln Center Orchestra with Wynton Marsalis (Dec. 5); Patti LuPone (April 5); and The Silk Road Ensemble with Yo-Yo Ma (April 17).
"For the past two decades, Opening Nights has distinguished itself as one of the premier performing arts programs in the country," said FSU President John Thrasher. "Opening Nights provides unique educational experiences for our students and brings world-class artists to our community. Tallahassee is right up there with the nation's biggest cities in terms of the caliber of performers it attracts."
The season includes the highly curated Director's Choice performances, the Southern Circuit Film Tour, commissioned new performances with a world premiere and the most exciting and entertaining artists on the international scene.
Opening Nights has co-commissioned three new, original works by world-renowned artists. Grammy-nominated string orchestra A Far Cry and Grammy-winning vocalist Luciana Souza will perform "The Blue Hour" (Nov. 21); "New Work for Goldberg Variations" will feature pianist Simone Dinnerstein with Pam Tanowitz Dance (Dec. 1 and 2); and Martha Graham Dance Company will perform a world-premiere work (Feb. 27 and 28) by noted choreographer Gwen Welliver, who is currently in residence at FSU. Martha Graham first came to FSU in 1932 as part of the Florida State College for Women Artist Series. 
Opening Nights is offering two ticket promotions that provide an opportunity to see a variety of performances at an exceptional value. The "7 Days Festival" ticket package honors its beginnings and includes seven performances from a range of genres during February, including public radio personality Ira Glass (Feb. 10); 10-time Grammy-award winner George Benson (Feb. 13) and the ever-popular Michael McDonald (Feb. 14). 
The "Director's Choice" ticket package comprises five curated performances representing music, dance and theater, which were chosen for their unique qualities and contributions to the cultural arts.
As part of its anniversary celebration, Opening Nights will host two performances at FSU Panama City, including Bluegrass favorite Sierra Hull (Dec. 9) and vocalist, trumpeter and songwriter Bria Skonberg (Feb. 24). 
For the full season lineup and ticket information, visit openingnights.fsu.edu.