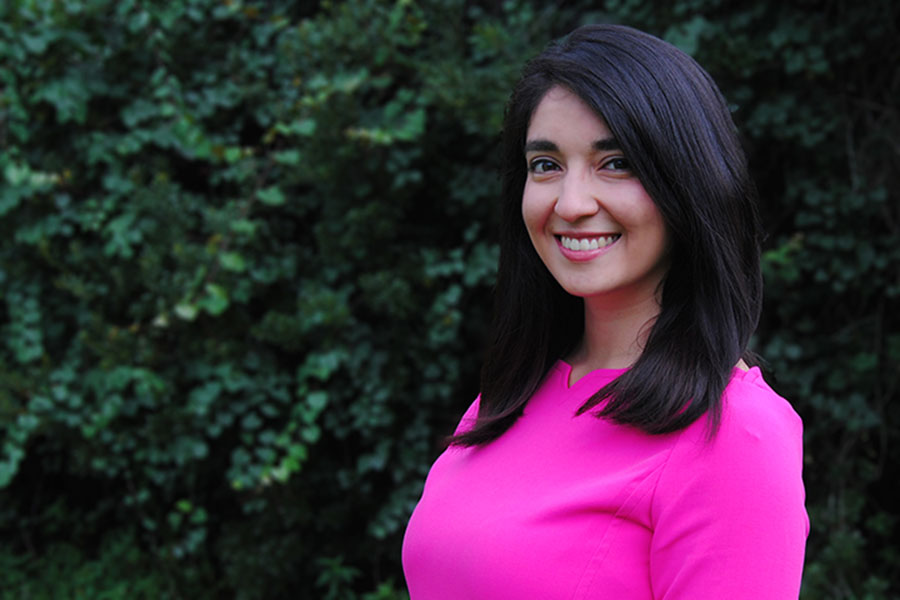 A Florida State University alumna has earned a distinguished graduate studies fellowship from the U.S. Agency for International Development and Howard University.
Jacqueline Rojas, who graduated from FSU in 2015 with degrees in international affairs and political science, is one of 10 students to be awarded a 2017 Donald M. Payne International Development Fellowship. As a Payne Fellow, the native of Ocala, Fla., will pursue a master's degree in global human development at Georgetown University's Walsh School of Foreign Service.
This is the second time that FSU has produced a Payne Fellow since the program's inception in 2014.
"Jacqueline's selection as a Payne Fellow speaks volumes to the quality of the education and opportunities offered for exploring service and global engagement at FSU," said Joshua Stanek, associate director of FSU's Office of National Fellowships. "We are so proud of Jacqueline. Throughout her undergraduate career and beyond she has been steadily developing the skills and understanding to meaningfully impact struggling communities worldwide with the USAID."
Rojas was overjoyed to learn that she'd been selected for the fellowship.
"To be honest, I let out a scream at first because I was that excited," Rojas said. "As I kept reading the letter, it started to sink in that out of a diverse and extremely accomplished group of finalists, I had been selected as a Payne Fellow. I felt surprised, amazed, even a little nervous, but grateful for this opportunity that I never thought possible."
The USAID Payne Fellowship seeks to attract exemplary young scholars who have demonstrated an interest in foreign service and international development. In addition to receiving funding for two years of graduate school, fellows who successfully complete the Payne program are guaranteed three years employment as USAID Foreign Service Officers, where they serve the dual purpose of promoting American interests abroad and improving lives in the developing world.
Rojas' enthusiasm for international development can be traced back to her childhood, when, as the daughter of immigrants, she was exposed to the structural challenges that can stifle a region's progress.
"One of the most influential factors in my pursuit of a career in foreign relations is being the daughter of immigrants from Venezuela and El Salvador, whose stories of growing up in poverty and amid a violent civil war have impacted me greatly," Rojas said. "My studies and experiences have been guided by a desire to understand the factors that limit and influence development. Pursuing a master's in global human development while preparing to enter USAID's Foreign Service is just another step in this process."
For Rojas, the Payne Fellowship represents another in a succession of prestigious foreign affairs scholarships. As an FSU undergraduate, Rojas received both a David L. Boren Scholarship and a Fulbright research grant, two esteemed academic prizes that allowed her to conduct research in Mozambique and Portugal, respectively.
These experiences abroad cemented Rojas' ambition to devise carefully considered, actionable solutions for the world's most vulnerable regions.
"Both experiences were transformational in my personal and professional life in different ways, but they affirmed my commitment to addressing development challenges through a career in the public service," Rojas said. "One of the greatest takeaways from my research is that the policies of wealthy countries like Portugal and the U.S. affect other countries' abilities to develop. This research strengthened my interest in macro-level policies that influence development and how to make them more effective."
As a student in the College of Social Sciences and Public Policy, Rojas made a point of immersing herself in programs that would foster, refine and put into practice her research and leadership skills. Through her participation in programs like the Department of Political Science's Research Intensive Bachelor's Certification and the Social Science Scholars, Rojas developed a skill set that serves as the foundation of her academic and professional success today.
"Those two opportunities enhanced my academic experience by helping me narrow my interests and improving my research skills," Rojas said. "The best thing about FSU is that you find inspiration, support and opportunities everywhere you look."
After receiving her master's degree, Rojas will begin her employment with the USAID Foreign Service. While she's not yet certain where in the world she'll be stationed, Rojas hopes to work as a Project Development Officer, formulating strategies and sustainable, evidentially sound policies to address cross-cutting issues of development.
"With the Foreign Service, you're placed wherever your skills and experiences can best be used," Rojas said. "It's hard to say what kind of work I expect to be doing or where exactly, but I do hope it is somewhere my experiences and skills can have a lasting impact on improving development."
For more information on USAID Foreign Service and the Payne Fellowship, visit https://paynefellows.org/.
For more information on undergraduate fellowships, visit the Office of National Fellowships: http://onf.fsu.edu/.