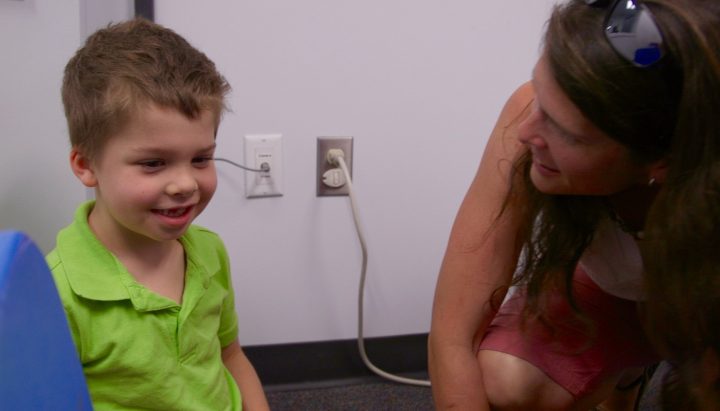 Five-year-old Jasper Geisz smiles as he clicks the small motorized fan off and on. Jasper loves fans and anything electrical.                             
He has a big toothless grin not unlike any other child his age, except he's not like any other neurotypical child — Jasper has autism. He was diagnosed about two years ago by psychologists at the Autism Spectrum Disorder Clinic housed in Florida State University's Multidisciplinary Center. The center operates under the purview of the FSU College of Social Work. 
"These people are angels for us," said Heidi Geisz, Jasper's mother. "It gives us a place to find information. It would've been really easy for us to have gone years without having a clue of what was going on. I think we would've come to a crashing halt in the third or fourth grade without this early diagnosis."
Now, these "angels" are working to find more ways and resources to help families like Jasper's. Through two new partnerships, FSU's ASD Clinic is expanding their reach. The Multidisciplinary Center has partnered with Capital Health Plan, a regional insurance company, to offer services to residents in Tallahassee and the surrounding areas. CHP provides coverage to more than 125,000 members.
This summer, the clinic will partner with Children's Medical Services and the Tallahassee Pediatric Foundation to provide group services to children and parents in the surrounding counties at no charge to the families. For 10 weeks, families will be able to participate in group counseling sessions with children experiencing anxiety and in social skills training with children on the autism spectrum.
Autism spectrum disorder (ASD) is a neurodevelopmental disorder that can cause significant social, communication and behavioral challenges. About 1 in 68 children has been identified with ASD, according to the Centers for Disease Control and Prevention.
"There's been a huge jump in the number of children being identified with autism," said Lauren Hutto, co-director of the ASD Clinic. "There are a lot of questions floating out there from parents about whether or not their child has autism. We get calls all the time."
The ASD Clinic was established in 1983 when the Florida Department of Education provided funding for specialized evaluations. In 1994, an internship program was started in conjunction with the clinic and ultimately received accreditation in 2007 by the American Psychological Association. 
Hutto is also director of internship training at the clinic. Every year, the clinic takes on six doctoral student interns from across the country. As part of their training, interns go through a formalized rotation of conducting autism spectrum evaluations under the supervision of Hutto and her colleague, co-director Anne Selvey.
"We're doing these same evaluations privately," Hutto said. "That's really the best practice for us because this is a tricky diagnosis at times, and it's really difficult to have a nice broad range of experiences if you're not continually doing these type of assessments. We grow every day in terms of our understanding." 
The ASD Clinic at FSU is one of six university-based clinics in Florida. Hutto said each clinic has their own unique focus. FSU's clinic is school-centered. So, although the evaluations often answer clinical questions, the reports also are given to parents to take to the child's school to maximize educational progression. 
That kind of information and the ability to use the ASD Clinic as a consistent resource is life changing Geisz said. 
"It takes a lot of people and a lot of time to get a diagnosis like this," Geisz said. "To know that you can come and get this early intervention is so key. To know you can walk in here no matter where you're from, no matter what your background, is huge."
The Geisz family is from Wakulla County.
"It's wonderful for Florida State to be able to serve surrounding communities," Hutto said. "Especially when you think about where we are located, a lot of our surrounding school districts are small and rural and don't have as many resources. The fact that we, as ambassadors of Florida State University, can reach out into the communities and provide that expertise is invaluable." 
While Hutto and her colleagues believe the community appreciates their work and recognize its value, she said patience and understanding from the community is key. Right now, parents calling to have their children evaluated are being told that openings for appointments are not available until September or October.
"As a parent, I understand when you finally decide 'Ok, I want some answers,' you don't want to wait months to get that," Hutto said.
The rewards of working to impact the lives of children truly makes their job worthwhile to Hutto and her colleagues. She called her role in evaluating children and providing feedback to the families "humbling" and "personally meaningful."
However, Hutto said she recognizes how challenging diagnosing autism can be because of the nuanced nature of evaluating children who are constantly developing and also because of limited personnel and financial resources.
"Financial support really matters," Hutto said.
In the future, Hutto said she would like to build the capacity to evaluate more children.
After all, for the Geisz family, that one evaluation made the difference.
"Finding that diagnosis was a relief," Geisz said. "Knowledge is power and that was a pivotal point for us. We've been able to feel like we have tools, and Jasper's been making leaps and bounds. You don't want to get hung up on the diagnosis, but it gives you a place to go.