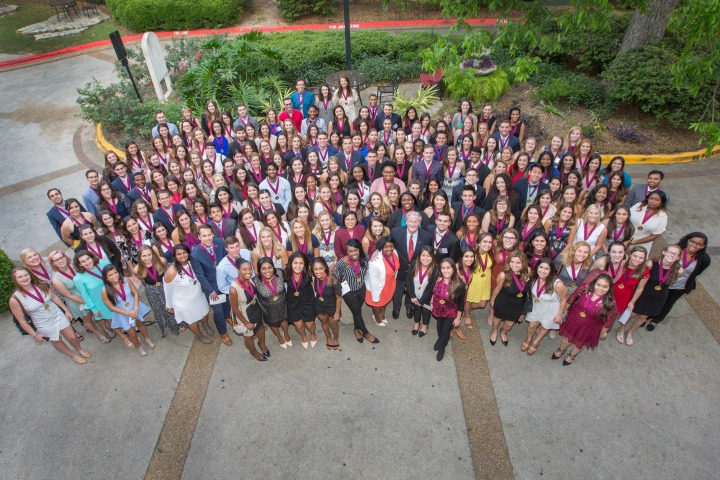 Florida State University's prestigious Garnet and Gold Scholar Society welcomed 216 new members this spring, its largest group of inductees to date.

The Garnet and Gold Scholar Society recognizes accomplished undergraduate students who excel within and beyond the classroom in at least three of five areas: international experience, internship, leadership, research and service. The Garnet and Gold Scholar Society's inaugural class of 31 members was inducted in April 2010.
"It is so wonderful to see how this organization has grown over the years," said Mary Coburn, vice president for Student Affairs. "With this year's record number of inductees, the Garnet and Gold Scholar Society is now more than 1,000 members strong. This is a testament to how student engagement in multiple areas truly enriches one's college experience and life after graduation."
To become an inductee of the Garnet and Gold Scholar Society, students must meet the engagement area criteria and submit a synthesis reflection project in their final semester before graduation. Participants are recognized at graduation and receive a designation on their official university transcript, both of which make the students more marketable to potential employers or graduate programs.
The students, all graduating seniors, were inducted into the Garnet and Gold Scholar Society during a special ceremony April 27. The inductees, along with their hometowns and academic majors, are:
Amelia Island, FL
Elizabeth Nimitz, family and child sciences
Apex, NY
Rachel Stephens, marketing and political science
Atlanta, GA
Gabrielle Tribou, creative writing and humanities
Jennifer Meier, nursing
Savannah Price, international affairs and history
Boca Raton, FL
Andreana Paz, psychology
Hannah Lyon, finance and marketing
Jennifer Simes, psychology
Rafaela Sousa, exercise science
Bonifay, FL
Camerin Hatcher, professional communication
Bonita Springs, FL
Sydney Look, exercise physiology
Bradenton, FL
Amanda Gorgy, biological science
Brittany Molinari, political science
Brendan Rempert, media/communication studies
Lyndsey Nguyen, biological science
Rachel Drummey, biochemistry
Ryan Salom, biological science
Stephanie Nusche, nursing
Bristol, FL
Hammadah Talib, communication science and disorders
Brookline, MA
Rose Rodgers-Dryfoos, media/communications studies
Chatham, NJ
Claire Seefried, communication science and disorders
Clearwater, FL
Nicole Palenzuela, communication science and disorders
Columbia, SC
Tiffany Farr, sociology and English
Columbus, GA
Brianna Jordan, psychology and Spanish
Cooper City, FL
Alexis Blanco, exercise science
Ira Stecher, music/liberal arts and biomathematics
Krista Gomes, biological science
McCayla Sica, political science and economics
Coral Springs, FL
Hali Jordan, public relations
Jake Teich, exercise science
Janelle Campbell, exercise science
Crystal River, FL
McKenna Britton, history and editing, writing and media
Deland, FL
Bianca Jyotishi, international affairs
Delray Beach, FL
Amanda Scherer, information communications and technology
Scarlett Singh, political science and editing, writing and media
Fair Lawn, NJ
Chloe Laniado, marketing
Floral City, FL
Rebecca Wright, nursing
Forest, VA
Lauren Romanzak, international affairs and literature
Fort Myers, FL
Brittany Saldivar, biological science
Lauren Hayes, management
Morgan Lodes, social work
Fort Walton Beach, FL
Kelsey Drew, entrepreneurship and hospitality management
Gainesville, FL
Andrew Burk, music education
Elizabeth Grater, environmental science
Erica Pope, editing, writing and media
Ryan Nicholas, economics
Glastonbury, CT
Catherine Cuva, communication science and disorders
Griswold, CT
Keval Patel, chemical-biomedical engineering
Guayaquil, Guayas
Mercedes Puig Kreis, psychology
Gulf Breeze, FL
Aly Coleman, political science and public relations
Raleigh Hooks, exercise science
Haddonfield, NJ
Matthew Bigelow, finance and management information systems
Havana, FL
Mia Muldrow, marketing and management
Hinsdale, IL
Kelsey Whalen, social work and editing, writing and media
Holland, MI
Andrea Lameris, family and child sciences
Huntingtown, MD
Edward Town, political science and economics
Immokalee, FL
Olna Astrel, marketing
Jacksonville, FL
Allyson Bush, nursing
Cathryn Dobrowolski, communication science and disorders
Emily Holmes, nursing
Emily Quirk, family and child sciences
Heather Raya, marketing and history
Jewel Ngatunyi, managing information systems and hospitality management
Katie Mackoul, biological science
Kelly Hurtado, economics and political science
Lydia Hayes, communication science and disorders
Megan Federico, hospitality management and marketing
Johns Creek, GA
Elizabeth Root, marketing
Jupiter, FL
Deanna Sand, information communication and technology
Dillon Hall-Rodriguez, computer science
Key Biscayne, FL
Christina Parodi, international affairs, creative writing and Italian
Key West, FL
Elisabeth Rockteschel, marketing and human resource management
Lauren Schoneck, nursing
Kissimmee, FL
Marisa Chanin, biological science
Lakeland, FL
Ashley Valdez, accounting and finance
Mary Beth Ritter, theatre
Meredith Mank, music
Michael Oh, biological sciences
Lecanto, FL
Amy Nayfield, nursing
Lima, Peru
Kiara Talancha, sociology and international affairs
Lynn Haven, FL
Cynthia Collyer, psychology
Miami, FL
Alexandra Lazcano, literature and international affairs
Ashley Green, English education
Aubrey Murphy, chemistry
Briana Saffold, psychology and sociology
Briana Whitehead, biological science
Cristina Socarraz, communication science and disorders
Crystal Serrano, international affairs and political science
David Butter, political science and sociology
Emily Anne Vargas, industrial engineering
Joanna Alvarez, communication science and disorders
Kevon Harris, criminology
Kris Reig, biological science
Marielle Estrugo, information technology
Nick Schutz, industrial engineering
Richard Sandoval, chemical engineering
Richea Osei, sociology
Yaniet Sosa, exercise science
Victoria Fariñas, communication science and disorders
Middleburg, FL
Katherine Koerner, marketing
Naples, FL
Angelica Barroso, management
Jena Martino, civil engineering
New Port Richey, FL
Jessika Eglin, political science
Newberry, FL
Megan Smith, nursing
Newport, RI
Alyssa Knisley, criminology and psychology
Niceville, FL
Ronette Kortbein, mathematics/FSU-Teach
North Port, FL
Brian Menard, psychology
Oakland Park, FL
Alexis Sanchez, communication science and disorders
Ocala, FL
Abigail Reed, family and child science
Alexis Holland, marketing
Allison Mills, public relations
Lisette Babalian, psychology
Ochlocknee Bay, FL
Savanna Harris, nursing
Orlando, FL
Cerenity Carmichael, psychology
Devyn Nixon, political science
Gabriela Oliveira, marketing
Jacourie Clark, psychology and literature
Julie Ackerman, nursing
Kaeli McClenahan, civil engineering
Katy Smith, nursing and psychology
Kelsey Collazo, nursing
Kia Adams, psychology
Kristi Creel, nursing
Madison Duncan, family and child sciences
Mason Sutherland, biological science and psychology
Mya Frieze, art history
Nicole Bonitto, nursing
Shahrzad Moradi, psychology
Shalini Patel, marketing
Oviedo, FL
Alana Mellers, biological science
Hallie Lavery, international affairs and management information systems
Jenny Karpinski, elementary education
Matilda von Kalm, public relations and political science
Palm Beach Gardens, FL
Michelle Sanabria, psychology and media/communications studies
Palm Harbor, FL
Corinne Carlton, psychology and biological science
Jordan Moran, economics
Pamplona, Navarra
Haizea Lee Gonzalez, nursing
Parkland, FL
Laura Megan Gayle, human resource management
Pembroke Pines, FL
Steve Lizano, nursing
Sosie Kae Quarrie, recreation, tourism and events
Pensacola, FL
Alex Price, nursing
Will Hahn, finance
Plantation, FL
Ana Garcia Seeger, psychology and international affairs
Ana Seeger, international affairs and psychology
Jeff Edelstein, music/liberal arts and management information systems
Shelby Curran, editing, writing and media
Ponte Vedra, FL
Christy Timm, communications science and disorders
Ponte Vedra Beach, FL
Ashley Ohorodnik, nursing
Port Charlotte, FL
Amber Lechner, psychology
Morgan Wilder, exercise science
Port Orange, FL
Breanna Kinnett, Spanish
Port Saint Lucie, FL
Bianca Fox, biological science
Potomac, MD
Leslie Blalock, nursing
Quincy, FL
Tatyana Smith, information communication and technology
Randolph, NJ
Drew Walkowicz, economics
Rupert, ID
Mazel Sievers, nursing
Sanford, FL
Kiera Martin, biological science
Sarasota, FL
Charisa Powell, computer science
Cristina Chiodi, biological science
Madison Daunt, family and child sciences
Megan Konen, history
Victoria Jones, Spanish and marketing
Satellite Beach, FL
Hana Hamilton, exercise science
Ryan McWilliams, marketing and English
Sebring, FL
Kelby Mahoney, information communication and technology
Seminole, FL
Amber Sieradzki, studio art and media/communications studies
Spring Hill, FL
Delaney Rose Ahrens, history
St. Lucie, FL
Daniella Lauriello, finance
St. Augustine, FL
Abby Sanders, international affairs
Cassidy Smith, hospitality management and global club management
Hannah Brock, information technology
Margo King, nursing
St. Elizabeth, Jamaica
Tashana Shields VII, criminology and psychology
St. James, NY
Lauren Vlachos, finance
St. Petersburg, FL
Liesa Abel, international affairs and history
Monica Nemat, exercise physiology
Samantha Miker, art history
Sumterville, FL
Sydney Mann, political science
Sunrise, FL
Henry Moreno, biological science
Shumiya Islam, accounting and finance
Tallahassee, FL
Daniella Frank, biological science and media/communication studies
Govind Kallumkal, biological sciences
Hannah Webster, exercise science
Kelly Scandone, art history and international affairs
Leah Ramsier, information technology and creative writing
Meaghan Maus, media/communication studies and sports management
Mehuli Upadhyaya, exercise science
Michael Cenedella, political science
Phil Mendez, English
Quinn Rainer, biological science
Sarah Michael Anderson, family and child sciences and psychology
Vivek Somasundaram, biochemistry
Tampa, FL
Andrea Megiel, nursing
Colleen Koubek, finance and marketing
Cristina Suarez, biological science
Emily Solis, psychology
Isabella Moreira, political science and literature
Kaleb Starr, biological science
Lauren Lange, political science and sociology
Lauren Poiley, nursing
Linzy Gump, biological studies
Madison Allen, humanities
Mike DeLisle, finance
Valentina Saracino, psychology and biology
Tarpon Springs, FL
Lauren Thompson, psychology
Temple Terrace, FL
Micah Friedman, religion
Titusville, FL
Rene Miller, marketing and digital media production
Genevieve Vereb, criminology
Tolland, CT
Kelsey Lewis, international affairs
Vero Beach, FL
Allison Schepers, nursing
Virginia Beach, VA
Nicolas Richardson, theatre
West Palm Beach, FL
Cathryn Urso, nursing
Diana Haber, international affairs
Jasmine Richardson, social science
Jon Hall, international affairs, criminology and Russian
Juan Cardona, international affairs
Sierra Cortes, biological science
Tamara Wiggemans, accounting and finance