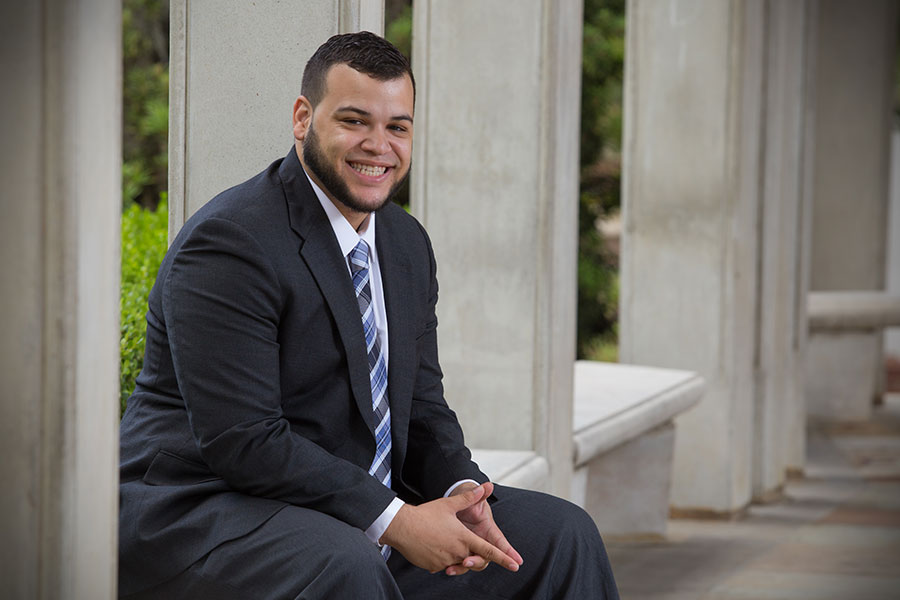 A Florida State University environmental engineering major has been selected as a recipient of a prestigious 2017 Udall Scholarship. 
David Perez, a junior from Homestead, Fla., who has established himself as a thoughtful and prodigious researcher at the FAMU-FSU College of Engineering, will receive a cash stipend of up to $7,000.
Udall Scholars are selected on the basis of commitment to careers in the environment, Native health care, or Tribal public policy; leadership potential; record of public service; and academic achievement.
"I am both honored and grateful that I get to positively represent Florida State University, and most importantly my family, on a national level," Perez said. "Without the motivation from both FSU and my family, I never even would have applied for the Udall Scholarship."
In two years at Florida State, Perez has developed a formidable research résumé. He's conducted sophisticated investigations and taken a solution-based approach to international issues of water quality and wastewater infrastructure. Nevertheless, this recognition took him by surprise.
While Perez's academic talents are now routinely honored with scholarships and superlatives, it was only a few years ago that he had dropped out of college with a 1.78 GPA, soured by his experiences and disenchanted with higher education.
After graduating high school in 2009, Perez enrolled in Miami Dade College. He found the adjustment more difficult than expected.
"Nobody in my family had ever gone to college, and I didn't know anyone who had family members who had gone to college, so I was kind of uncertain going in," he said. "I ended up getting straight F's and failing completely."
After dropping out of community college, Perez began picking up work as a tutor. It was then that he met a troubled but precocious sixth-grader who challenged his own self-perception and changed his attitude.
"This kid was so smart, and his parents couldn't understand why he was getting C's," Perez said. "He was always making excuses about how the teacher didn't like him, but I didn't believe it. One day I asked to see his homework and he pulled out a crumpled-up paper from the bottom of his backpack. I said 'Well, that's why you're getting C's!'"
That, Perez said, is when it hit him.
"This was exactly the kind of student that I was. I would never ask for help or take my work seriously. I realized then that even though I knew I was smart, these were the things I needed to do to be a good student."
Buoyed by this revelation, Perez resolved to take his academics more seriously. He moved to Tallahassee, enrolled in Tallahassee Community College and, with his renewed commitment to taking a more proactive approach to his coursework, passed all of the classes that had once left him feeling dejected and aimless.
From there, Perez never looked back. He soon earned admission into Florida State, raised his GPA and became a mainstay on the Dean's and President's Lists.
"When I came to Tallahassee, I was just trying to get my GPA up," Perez said. "When they told me that I had the opportunity to study at Florida State, I was shocked. It felt like Hogwarts. And now here I am, one year away from graduating."
Since arriving at FSU, Perez has adopted a global research perspective. In addition to conducting research on campus, he has studied biofuel production at the Brookhaven National Laboratory in Long Island, N.Y. Last year, he received the U.S. Department of State's Benjamin A. Gilman Scholarship, which funds study and intern abroad opportunities for Federal Pell Grant Students, and he traveled to India to investigate innovative solutions in the remediation of contaminated drinking water.
Perez credits much of his success to mentors such as FAMU-FSU College of Engineering Associate Professor Clayton Clark, who helped shepherd him through unfamiliar experiences and enrich his academic life.
"David has always impressed me with his intelligence, work ethic and compassionate worldview," Clark said. "I am happy to have been connected with him as he has continued to expand his horizons in engineering. I expect that he will continue to accomplish great things and be a great blessing in the future for his community and the world."
Adrienne Stephenson, assistant dean of FSU's Graduate School and director of the Office of Graduate Fellowships and Awards, first met Perez while serving as the STEM Center Coordinator at Tallahassee Community College. 
"I have enjoyed watching David realize his potential and use it to grow during his academic journey," Stephenson said. "David's involvement in research, scholarship and service is a testament to his love for learning and helping people. He may not know it, but his success is creating space for others to believe in themselves and to take a first step to engage in an academic world that may be unfamiliar to them. He is adding to so many narratives, and I'm excited to see where he goes from here." 
This summer, he plans on studying the treatment of water that has been contaminated by chemical warfare agents. He also intends to continue a history of laudable work promoting science education among minority and marginalized groups. 
In August, Perez will attend the five-day Udall Scholar Orientation in Tucson, Ariz., where he will meet and collaborate with his fellow Udall Scholarship recipients.
Perez plans to continue conducting rigorous research while beginning preparations for graduate school. 
Despite his late start at FSU, 25-year-old Perez shows no signs of fatigue. 
"I have so much left in the tank," he said. "Some kids arrive on campus as freshmen, push themselves through engineering school and then they're done. But I came here with a really spirited approach, so I just want to step on the gas pedal. I'm enjoying what I'm doing, and I'm ready for what's next. This is fun for me." 
The Udall Scholarship honors the legacies of Morris Udall and Stewart Udall, whose careers had a significant impact on Native American self-governance, health care and the stewardship of public lands and natural resources. For more information, visit https://www.udall.gov/. 
The Udall Scholarship requires a university nomination. For more information, contact the Office of National Fellowships at http://www.onf.fsu.edu.