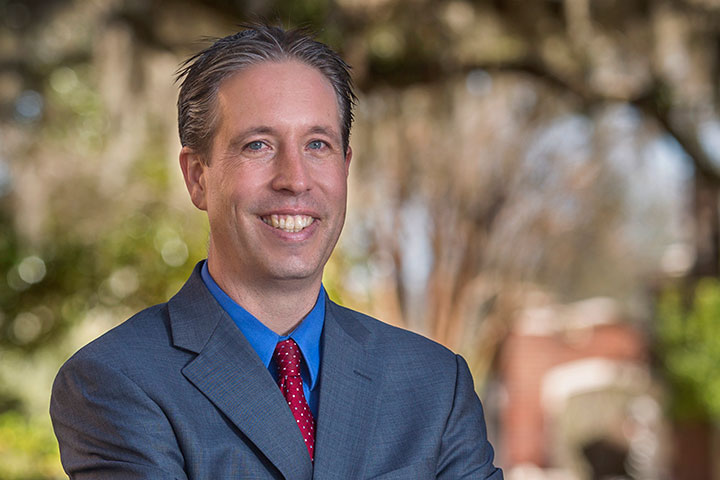 Provost and Executive Vice President for Academic Affairs Sally McRorie today announced the selection of Professor Tim Chapin as the dean of the College of Social Sciences and Public Policy at Florida State University, effective May 8.
Chapin, a long-time faculty member turned administrator in the College of Social Sciences and Public Policy, was selected after a national search for dean. He has been serving as the college's interim dean since May 2016 when long-term dean, Professor David Rasmussen, stepped down to serve on the college's faculty.
"Our national search for a new dean yielded an excellent and competitive candidate pool," McRorie said. "We are very pleased that Professor Chapin emerged as the top choice to lead the college, whose success is critically important to FSU's goal of being ranked among the Top 25 public universities."
Chapin served from 2008 to 2014 as chair of the Department of Urban and Regional Planning and as associate dean for development for two years at the college prior to stepping into the interim dean's role.
"I am honored and humbled to have been selected as the next dean of the College of Social Sciences and Public Policy," Chapin said. "As a faculty member in the college since 1999, I consider this my intellectual home, and I have a deep, abiding love for the 130-plus faculty and 5,000 students who call the college home."
Since joining FSU nearly 20 years ago, Chapin has undertaken research on the effectiveness of Florida's growth management system and the role of sports facilities in the promotion of urban redevelopment. He is a noted expert on land use and comprehensive planning, growth management and urban redevelopment. 
As dean, Chapin said he intends to raise the visibility of the college. He plans to bolster the reputation of the college's faculty who are providing leadership on issues as diverse as protecting coastal communities and environments, strengthening economic markets, understanding changes in American and international politics and assessing the importance of gender, race and ethnicity in life outcomes.
Over his career he has secured more than $3 million in outside funding from federal, state and local governments to support his research. Chapin said he is looking forward to securing more funding and continuing to work with the school's partners to advance the college. 
"Over the past year I have met with hundreds of alumni and friends who support us through financial gifts, placement opportunities for students and graduates, and service to our 'Get More Than a Degree' initiative," Chapin said.
That initiative increases the quality of the undergraduate experience through education and professional development outside of the classroom. Chapin said he wants to connect with more members of the FSU community to ensure that generations of students have greater opportunities through expanded financial aid, international travel, service learning, internships, job placements and leadership training. 
"Connecting with alumni and friends and finding ways for them to give back has been the biggest surprise, and greatest joy, of my time as interim dean," he said. "I feel empowered by the confidence of the FSU administration and the support of my colleagues and students to move this remarkable college forward." 
Chapin currently serves as the senior associate editor and review editor for the Journal of the American Planning Association. He holds a bachelor's degree in sociology from Emory University, a master's in city and regional planning from the Georgia Institute of Technology and a doctoral degree in urban design and planning from the University of Washington.
Storbeck/Pimentel & Associates conducted the national search, and College of Business Dean Michael Hartline chaired the 15-member search committee.