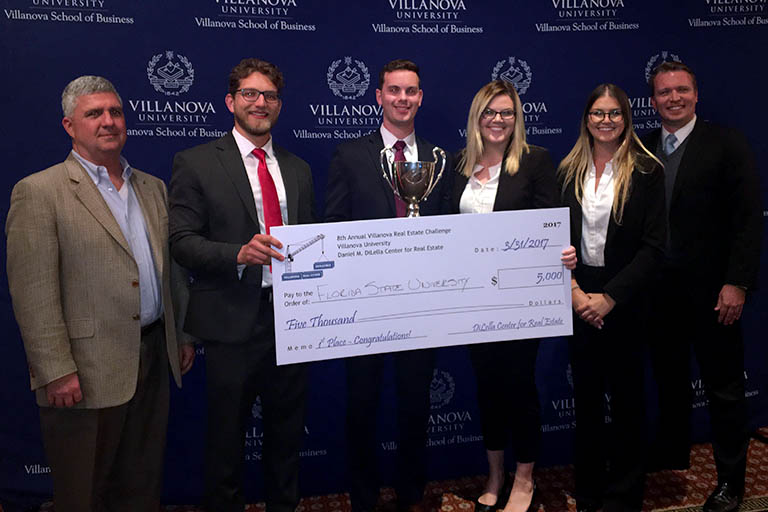 Florida State University's Real Estate program has established itself as one of the nation's most successful programs over the past 40 years and has been consistently ranked in the Top 10 for education and faculty research. The latest example of the program's national prominence comes from a talented group of students in the College of Business's Real Estate program, who skillfully closed the deal during a demanding competition in Philadelphia.
A team of four FSU real estate students won the eighth annual Villanova Real Estate Challenge on March 31. They competed against teams from 18 universities that operate the top undergraduate real estate programs in the United States.
The Florida State team included students Sarah Flemister, Michelle Langborgh, Race Smith and Michael Walsh. In the final round, they competed against teams from the University of Southern California, Villanova University and the University of Pennsylvania's Wharton School.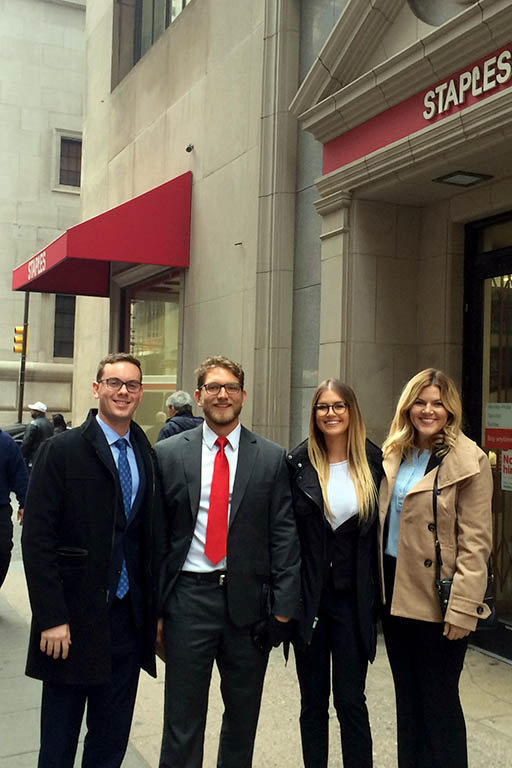 Florida State's real estate team was advised by Ryan Dietz, director of external relations in the Real Estate Center.
"We are immeasurably proud of our students," Dietz said. "They prepared for this case for more than 100 hours in less than a week. They spent an entire weekend working in the FSU Real Estate Laboratory prior to the event and still aced their real estate exams the week after the competition. These students are truly champions. They uphold the spirit of the FSU real estate program and mirror the competitive drive of the entire university."
The teams tackled a tough challenge: They were asked to figure out the best use for an underutilized suburban office building in New Jersey. It was a real-life commercial real estate case testing their ability to imagine and manage all elements of a project from financing to design.
The FSU students crafted a proposal to demolish the building and construct an assisted-living facility for the community's aging population. Their idea went through a meticulous review. More than 20 commercial real estate professionals studied the case, graded the presentation and awarded FSU's team the first place trophy and $5,000 in prize money.
Villanova Professor of Finance Shawn Howton was impressed. Howton, who earned a doctoral degree from Florida State, said FSU's real estate teams always come to the competition well prepared. But Flemister, Langborgh, Smith and Walsh really made a compelling impression.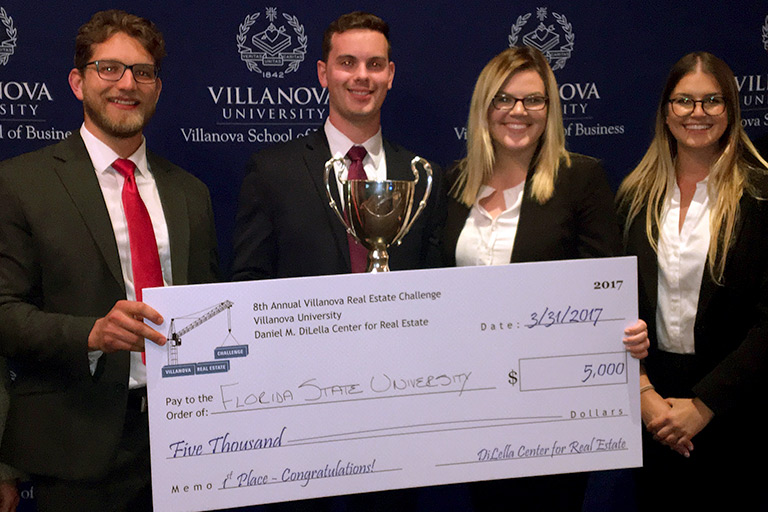 "The Florida State teams have been great representatives for the university in all of our competitions," Howton said. "They conduct themselves with class and professionalism every year. This year's team took it to another level with their confidence and polish.
"The key to winning our case competition against a field of the best schools in the country is to not only have a great idea but to present it to our panel of professional judges with confidence and believability.  This year's team had both and, as a proud Seminole (Ph.D. class of '97), I was thrilled to hand them the giant check and winning trophy. Their name is now on the cup with Wharton, USC, Wisconsin, Villanova, UNC and other excellent real estate programs around the country."
Former FSU professor Barry A. Diskin also helped advise the students. Funding from Carl Rieger with Eastdil Secured and Greg Michaud with Voya Investment Management helped to make the trip to Philadelphia possible.
Florida State's Real Estate major, which is a limited-access program, has earned a reputation as one of the best programs in the nation because of its top-ranked faculty and comprehensive curriculum. The program trains students to land jobs in many real estate-related industries, including mortgage banking and institutional lending; real estate brokerage and leasing; appraisal and investment consulting; real estate investment and development; or corporate and government real estate work.
Faculty in the real estate program were recently ranked fourth globally — tied with Cornell University — by the Journal of Real Estate Literature, 2017.
The Villanova Real Estate Challenge is a national real estate development case competition for students from leading undergraduate real estate programs. Student presentations are judged by top executives in all areas of commercial real estate.