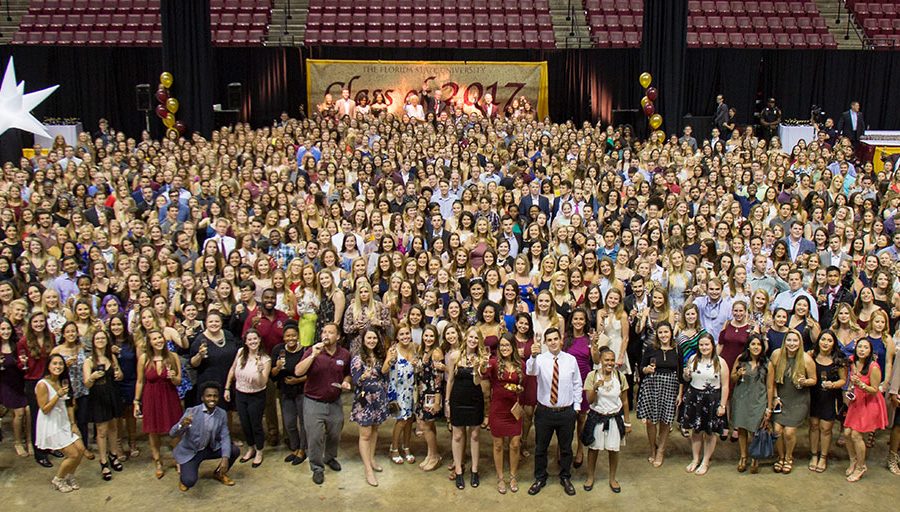 Hundreds of Florida State University seniors joined President John Thrasher in raising a glass to celebrate the last four years and the upcoming spring commencement ceremonies at the President's Senior Toast April 17.

As part of the fourth annual Senior Sendoff Week, members of the Class of 2017 enjoyed complimentary champagne, appetizers and music from a disc jockey while mingling among friends at the Donald L. Tucker Civic Center.
"Graduation is such an exciting occasion," President Thrasher said to the seniors. "It's a time to reflect on your accomplishments and look forward to the many opportunities that await you."
The FSU Alumni Association, FSU Student Alumni Association and the Tallahassee Seminole Club had booths set up for those interested in staying connected with Florida State after graduation.
Scott Atwell, president of the Alumni Association, spoke to the graduating seniors about how receiving their diploma from Florida State is a privilege and that it is their obligation to do their part in making sure their degree increases in value.
The graduating students listened to a performance by Toni-Ann Singh who sang the Alma Mater and experienced a moment of nostalgia as they searched for their signature on the Class of 2017 banner that was on stage. Those who didn't sign the banner four years ago at freshman orientation took the opportunity to do so before graduation.
"Wherever your future holds, I hope you will always remember you are forever a member of Florida State family," President Thrasher said.