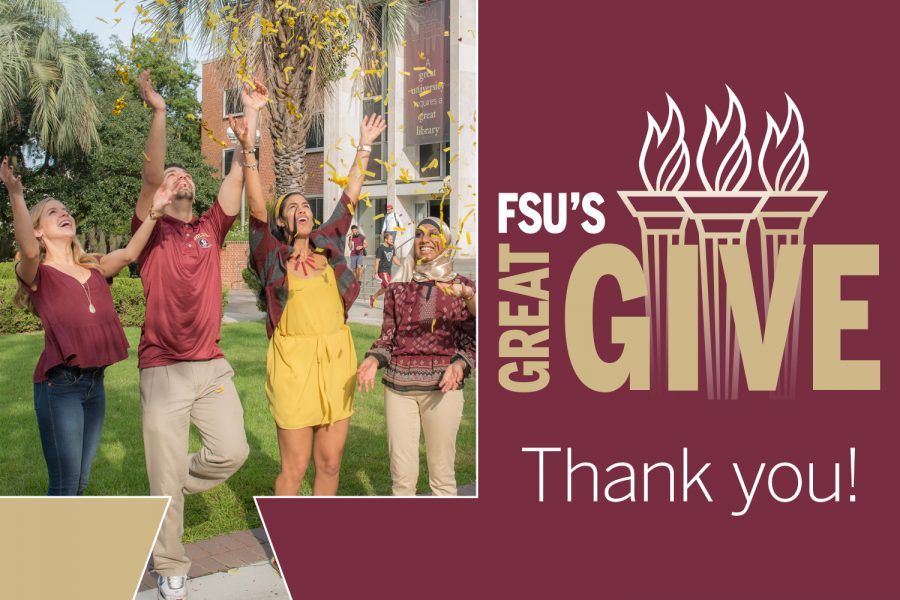 FSU's Great Give, Florida State University's 36-hour online giving campaign, recorded its most successful campaign to date, raising $336,863 — more than $100,000 than last year — for academic programs, student activities and scholarships. 
The sixth annual event, which took place March 30-31, showed a 61.5 percent increase in dollars donated and a significant increase in donors. More than 2,250 donors supported FSU's Great Give, an increase of 31 percent from the previous year. 
"The featured projects created by the colleges inspired the support of alumni and friends far and wide," said Robyn Bertram, donor engagement officer for the Florida State University Foundation Office of Annual Giving. "Twenty-two of the projects met or exceeded their fundraising goals." 
Throughout the campaign, 10 incentive challenges totaling $17,000 fostered a friendly competition among FSU's donors to give back and boost their chosen project's chances to receive cash prizes. The incentives were sponsored by members of the FSU Foundation Board of Trustees. 
The FSU Marching Chiefs took the grand prize with the most alumni donors (171) during the 36-hour campaign. The FSU Veterans Alliance, the FSU Student Foundation, the Garnet and Gold Scholar Society, the colleges of Business and Social Sciences & Public Policy and the Division of Student Affairs also claimed incentive wins. 
"FSU's Great Give is an opportunity to showcase the amazing things happening at Florida State and encourage people to make a difference by supporting something they are passionate about," Bertram said. "From first-generation college students to student veterans, there were so many worthy projects." 
Donors were encouraged to share their support using #FSUGreatGive through their social media channels. 
Donors may still make a gift to Florida State by visiting give.fsu.edu or calling (850) 644-6000.