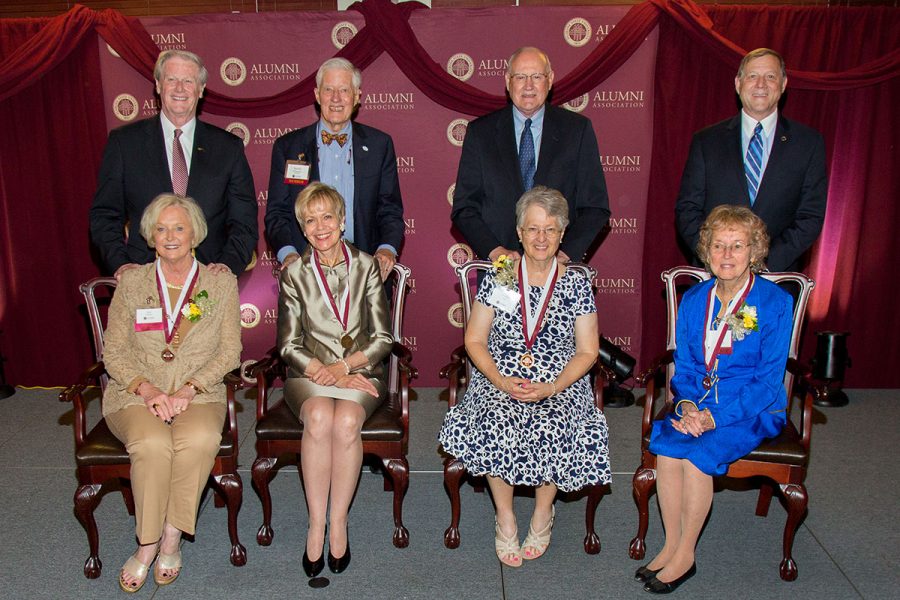 Seven first ladies of Florida State University have been inducted into the FSU Alumni Association's Circle of Gold.
The Circle of Gold Spring Induction Dinner honored current first lady Jean Thrasher, wife of President John Thrasher, and former first ladies Molly Barron, wife of Eric Barron, 2010-2014; Patsy Palmer, wife of Talbot "Sandy" D'Alemberte, 1994-2003; Marilyn Lick, wife of Dale Lick, 1991-1994; Greta Sliger, wife of Bernard F. Sliger, 1976-1991; Shirley Marshall, wife of Stanley Marshall, 1969-1976; and Mary Champion, wife of John E. Champion, 1965-1969.
"These first ladies have served this university with unwavering support, good humor and plenty of Seminole spirit," said Scott Atwell, president of the FSU Alumni Association. "With their induction in the FSU Alumni Association's Circle of Gold, we proudly and formally recognize the incomparable ways they have strengthened and brightened FSU."
The induction, held April 12 at the Alumni Center Grand Ballroom, was attended by 150 of some of the most prominent members of the FSU community, including past Circle of Gold inductees and FSU President John Thrasher. With the induction of the seven first ladies, the total number of Circle of Gold honorees stands at 257.
Three of the first ladies — Barron, Champion and Sliger — were unable to attend but sent video greetings.
First lady Virginia "Ginger" Wetherell, wife of T.K. Wetherell, 2003-2010, was inducted into the Circle of Gold in 2014 in recognition of her contributions to the planning, construction and interior design of the university's "new" President's House, which opened in 2007.
The FSU Alumni Association's Circle of Gold recognizes worthy individuals who, through their service and achievements, personify the university's tradition of excellence. A maximum of 12 awards are presented each year.