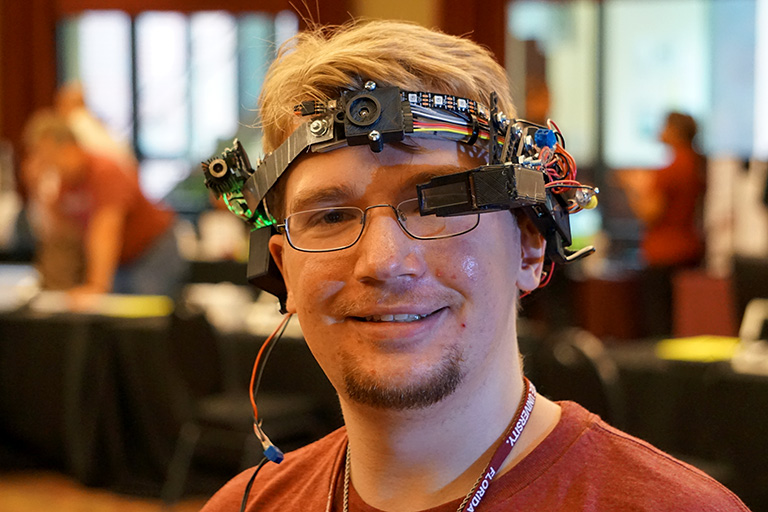 Florida State University's DIGITECH conference transformed a 5,000-square-foot auditorium into a fascinating futurescape of technological innovation as students put their ingenious dreams on display Wednesday.

The Augustus B. Turnbull III Florida State Conference Center buzzed with the energy of gleaming, humming and noisy inventions created by enthusiastic aspiring entrepreneurs. They were eager to show off their high-tech work and even more excited to talk about it.
"This is a thermal camera and this is a high-powered laser that can cut and burn things," explained Ryan Whitney, a computer engineering senior, as he demonstrated the head-mounted, wearable computing device that he's been building over the past four years.
"The laser looks like a blue lightsaber when it's on, kind of like a Phaser from Star Trek. It's pretty powerful. Not ridiculously powerful — it can't start fires — but it'll smoke."
Whitney acknowledged he has to be careful when he switches the laser on, but assured a questioner it's very safe. When asked what types of things the laser could cut, he revealed the real reason he installed it on the modular headgear.
"Honestly, I just put it on there for the cool factor."
Mission accomplished.
DIGITECH attracted students from across campus. It was hosted by the Program for Interdisciplinary Computing, or PIC, and it concluded Florida State's successful two-week Student Innovation Celebration.
Erik Inglis, a doctoral student in sport psychology, stood out on the floor of the auditorium as he tested his fitness and cycling form by standing up on the pedals and hammering away on a stationary bike equipped with an ergometer. The bike is hooked up to a computer and measures myriad minutiae about an athlete's performance, including muscle power generated in watts, heart rate, distance, speed, metabolic burn rate, among other things.
The ergometer is a new training tool in FSU's state-of-the-art Sport and Exercise Psychology Lab that teaches students how to help athletes improve performance. Joshua Drayer, a first-year master's student in the sport psychology program, is excited to have access to this equipment because it gives him hands-on experience with new technology that will be invaluable in his career.
"It opens up a whole new world of possibilities for consulting work," Drayer said. "The methods you can try with an athlete become endless when you can combine mental skills training with different technologies in the lab. It's very cool that we have this equipment."
Drayer said this kind of technology can help athletes see exactly where they struggle in an event — maybe the third mile of a five-mile race is the most difficult section — and sports psychologists can then provide advice that helps an athlete prepare mentally for that problematic moment during a performance.
"In the athletic world, physical training makes up such a small component of performance compared to the mental side," Drayer said. "You hear many professionals like Michael Jordan and Wayne Gretzky say that the mental side of competition is the most important part. So, I think we'll see an expansion of technologies like this as people get more creative with what we can measure."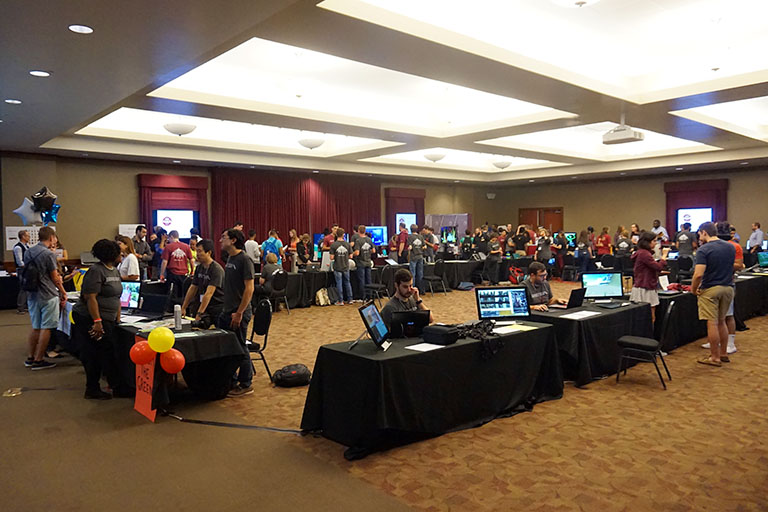 The DIGITECH conference showcased dozens of interactive exhibitions by student and faculty innovators, such as robots, apps, artistic creations and engineering marvels. The coveted DIGITECH crystal trophies were awarded to winners in five categories:
Best in Show — Innovation: "Machine Learning and Music Analysis"
Daniel Tompkins, a graduate student in the College of Music, used machine learning to analyze nearly 2,500 pieces of music from the years 1400 – 1750 A.D., including more than 500 digitized especially for this project. The results showed important trends and practices, including different modal frameworks and harmonic functions. The project increased understanding of the development of music.
Best in Show — Expression: "Space Base"
Munroe Brandi, a senior majoring in computer criminology, created Space Base at HackFSU. It provides a virtual reality experience that takes you through a futuristic spaceship. Brandi took on the project to improve her 3D modeling and texturing abilities with Unreal Engine, 3DS Max and Substance Painter.
Best in Show — Contribution: "3D Printing Ancient Art and Artifacts for Museums and Education"
Bethany Brownrigg (School of Theatre), Kristina Hopf and Gabriella Visit created an exhibit using various 3D printing software programs to reproduce ancient artifacts for museums and educational uses. The work focused on pieces that were excavated from an Etruscan and early Roman site in Tuscany. One major focus of the research used printed pieces to create interactive experiences, allowing visually impaired students to explore history, culture and art.
Best in Show — Entrepreneurship: "MyHealthyCampus"
Gabriela Aguilera, Jessica Hector, Ana Sanchez of the Department of Economics developed MyHealthyCampus as a one-stop shop app for fitness and healthy eating tips. Designed to help college students live healthier lifestyles, the app has four main components: move, eat, learn, connect. It provides quick and easy recipes, healthier menu choices on campus and details on how to enroll in fitness classes.
Jim Moran School of Entrepreneurship — $1,000 Shark Tank Winner: "ZOI"
Alex Kasdas, a senior in the College of Business, developed the Ultimate Fraternity Management and Communication app. The mobile app is designed to offer students advice on how to effectively use private communication and also create personal profiles.