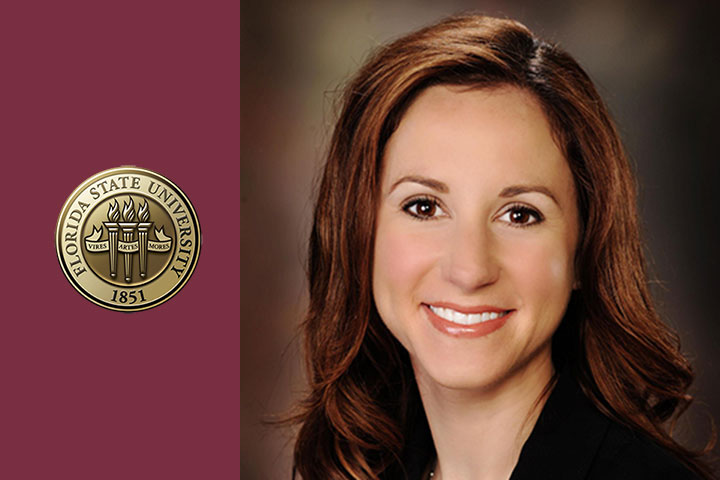 Florida State University announced today the appointment of Amy Hecht, vice president for Student Affairs at The College of New Jersey, as the new vice president for Student Affairs, effective July 2017.
Hecht, an alumna of FSU, will lead approximately 1,000 employees in the university's student affairs division that spans a wide array of departments including University Housing, University Health Services, the University Counseling Center, Campus Recreation, the Career Center, the Dean of Students, the Oglesby Union and the Student Government Association.
"We are extremely pleased to welcome Amy back to her alma mater," President John Thrasher said. "Amy's knowledge and experience in student affairs, as well as her passion for FSU, will serve our students well as we strive to continue on our path of excellence."
Prior to her current role at The College of New Jersey, Hecht spent five years as assistant vice president for Student Affairs at Auburn University. Before her stint at Auburn, Hecht served as associate dean of students and assistant dean of students at Temple University in Philadelphia, and assistant director of student activities at Cabrini College in Radnor, Pa.
"It is an honor to return to my alma mater as the vice president for Student Affairs," Hecht said. "FSU has always been an exemplar, and I am looking forward to working with President Thrasher, his Cabinet and the incredibly talented staff in Student Affairs to continue to build on that tradition of excellence."
Hecht graduated from Florida State with a bachelor's degree in mass communications. She earned her master's degree and doctorate in higher education administration at the University of Pennsylvania.
Hecht will succeed Vice President for Student Affairs Mary B. Coburn, who is retiring at the end of this semester after 14 years in the position.