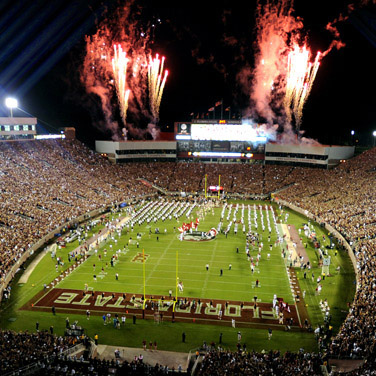 The annual Garnet and Gold Spring Game returns to Doak Campbell Stadium for 2017 with kickoff set at 3 p.m. Saturday, April 8. 
Police expect thousands of fans for the event, and they are making preparations to ensure the safety of all patrons. 
FSUPD is encouraging fans to download the free app, SeminoleSAFE, which has up-to-date and in-depth information regarding activities surrounding the game. Within the app's Spring Game Day Guide, information regarding parking, admission, allowable items, traffic, emergency contacts, ADA parking and more are available in a convenient and easy-to-access format. 
Parking lots open at 8 a.m. around Doak Campbell Stadium (excluding Lot 14). Booster Lots 1, 2 and A are reserved for pass holders only. General public parking lots include Booster Lots 3 – 7 and 9 – 29. Starting at 10 a.m. Friday, April 6, motorhome parking will be available in the Booster Motorhome Lot located on Airport Drive for $100 (no campers or trailers will be allowed). The Motorhome Lot will close at 12 p.m. Sunday, April 8.  
Admission is $5 for the general public. While multiple ticket locations will be available game day, fans may avoid lines by purchasing tickets in advance at Seminoles.com. Students may enter the game for free with a valid student I.D. through Gate M only. All other patrons may enter through Gates B, C, D, F, G, J and K. 
Traffic patterns will NOT be modified for this game, so fans are encouraged to allow plenty of time for travel to arrive by kickoff. There are several other events occurring on campus in addition to the spring game. Please be sure to plan accordingly.  
As with all previous football games, the "clear bag policy" will be in effect, and bags larger than 12" X 6" X 12" are prohibited. 
Law enforcement will be out in force at the stadium. Police encourage fans that if they see something suspicious to say something to law enforcement, in line with the See Something Say Something safety initiative. 
For more information, visit Seminoles.com. Download the SeminoleSAFE app today.