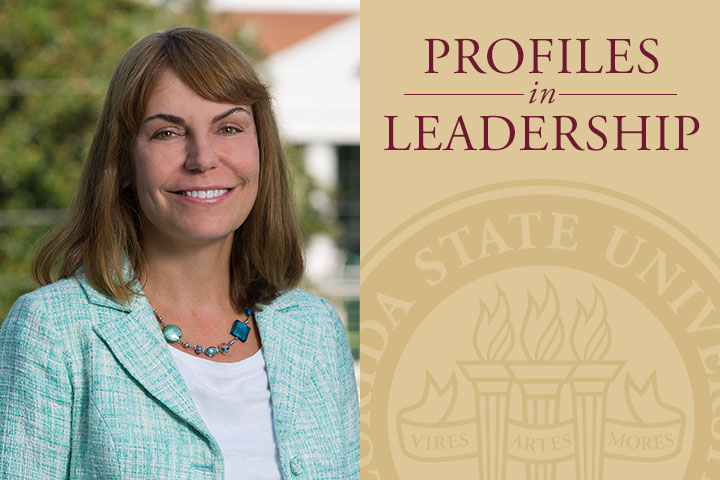 Erin O'Hara O'Connor, the new dean at Florida State University's College of Law, sprinkles her language with a boxing expression when she talks about her talented and motivated faculty.
She says they "punch well above their weight" — an expression of respect, recognizing and praising them as potent overachievers — as they step into the ring every day to prepare students for the fast-changing legal marketplace of the 21st century.
The expression suits her. You can bet she'd take off the gloves to fight for college funding, scholarships for underrepresented students or her colleagues.
"I just love being here. I have never experienced a law school community that's so focused on making the institution a better place as here," said O'Connor, who earned her law degree — magna cum laude — from Georgetown University Law Center in 1990.
"The administrative staff works incredibly hard. The faculty are fabulously accessible to the students, yet they are rock star solo scholars at the same time."
Tough Act to Follow
In July 2016, O'Connor became the eighth dean in the 50-year history of the FSU College of Law. She moved to Tallahassee after making a national name for herself as a rising legal star and scholar during a 15-year tenure at Vanderbilt University in Nashville.
O'Connor takes leadership of the law school at a time when it is climbing in rankings and gaining strength. FSU is ranked as the No. 1 law school in Florida for job placement; boasts a bar passage rate of 78.8 percent, 16 points higher than the national average; and the school is rated as a top-10 best value by The National Jurist.
She succeeds Don Weidner, who served as dean for 25 years. Weidner, who remains a professor, was a transformative leader who turned FSU's law school into a top-tier program. When O'Connor arrived on campus in 2016, he gave her his full support.
"He was so committed to the institution and cared so much to see it succeed," O'Connor said. "He opened a lot of doors for me and connected me with a lot of people who have been important to the law school so I could start those new relationships. He's been terrific."
O'Connor first experienced FSU in 2008 when Weidner invited her to Tallahassee as a visiting scholar. At the time, Florida State was in the process of acquiring the former First District Court of Appeal facility across the street from campus.
She remembers the day they walked through the building and Weidner was describing his vision for the structure that would become a warm home where the law lived and breathed through students and legal scholars.
O'Connor witnessed Weidner's passion and love for FSU's College of Law that day and it made a lasting impression. Today, she shares that sentiment and is grateful to lead a law school with such a strong foundation.
"We are in many dimensions the best law school in the state of Florida, and we didn't start there," O'Connor said.
"I just love being here. I have never experienced a law school community that's so focused on making the institution a better place as here." – Erin O'Hara O'Connor
The Vision
O'Connor's vision to move forward from a position of strength includes three main priorities.
The cornerstone is to diversify revenue. That goal starts with the creation of a new Juris Master degree online program in the fall semester 2017. The College of Law already offers a classroom version, but the online course presents an opportunity to attract more students and generate more revenue.
It is designed for an evolving workforce that increasingly demands more legal training for workers. The Juris Master degree does not train students to practice law, but graduates are better equipped to land jobs in professions that require regulatory knowledge and skills.
"I think there is very strong demand for the Juris Master degree," O'Connor said. "We can help corporate America better handle the costs of trying to deal with their regulatory environments, and we can bring in those extra revenues missing now. Maybe we can get back to where we were in 2008 and 2009, which was probably the heyday for most law schools in terms of financial strength."
The Great Recession of 2008 dramatically changed the legal marketplace. The financial crisis prompted law firms to develop a new billing structure that no longer included the cost of training young lawyers. As a result, the job market for new lawyers shrunk, applications to law schools plummeted 40 percent nationally, and the situation was exacerbated by evolving technology and international competition. Computer algorithms could do the type of tedious search tasks that young lawyers used to perform, and lawyers in other countries could complete some jobs that previously were done stateside.
"Historically, law schools have been profit centers for universities, so law schools could charge decent tuition levels. Our students all went off to lucrative jobs, they didn't worry about debt burdens and universities didn't worry about supporting law schools. That's changed," O'Connor explained. "Since 2010, universities are supporting law schools, and legislatures are earmarking special funds to support law schools. Those can't be long-term solutions. That's why we're focused on the Juris Master degree program."
Focus on New Legal Technology
A second priority for O'Connor is to build upon the already cutting-edge training provided by the College of Law Research Center in the area of technology. The legal profession is moving fast to incorporate new technologies such as e-discovery, which has transformed the research process for many types of lawsuits.
In the past, O'Connor explained, one side in a court case would ask the other for documents and then a load of boxes would show up at the office. Next, a young lawyer would be sent into the library to meticulously comb through the boxes and read all of the documents. Now, all of that information is turned over on a thumb drive and lawyers are able to perform very focused, accurate searches.
"Those searches are more reliable than the tired associate might be if you know what exactly you're searching for," O'Connor said.
She wants the law school to continue to train students in new legal technologies so they have a sophisticated knowledge of those options when they graduate.
"I would like to see us endow that research center to generate additional revenue, so we could train our students to embrace the legal technology," O'Connor said. "They can also help develop it as lawyers."
Establish Center for Professionalism
Another top priority is to create a Center for Professionalism and Leadership to help students form professional identities. Law schools typically include some training on professional responsibilities, but O'Connor wants this type of center to develop an environment where students focus from the start on what it means to be a responsible professional as technology changes and new ethical questions come up.
"Almost all students who come to law school know they want to be a lawyer, but they don't know what that means. They don't have a sense of the tensions and pressures you can face in practice," O'Connor said. "We want to provide opportunities for students to develop that identity and get a sense of what it means to be a competent, reliable, fair, just and ethical lawyer."
Help Students Succeed
O'Connor aims to formalize and expand the law school's mentoring program. She's talking with state and local bar associations about a plan that would connect mentors with third-year law students and hopefully continue that partnership after graduation.
She says she hopes to show the world the strengths of the law school by hosting high-profile conferences and events that put the spotlight on such programs as Family Law, Criminal Law, International Law, Constitutional Law, Public Law and Environmental Law.
The law school also is working with other colleges on campus to develop joint master's degree programs. One example is a financial math-law master's degree specifically for auditors, compliance officers and those handling regulatory issues. Training students in those skill sets will give them advantages in landing jobs and moving ahead in their careers, O'Connor said.
In less than a year, O'Connor has already shown her personal commitment to the College of Law. She and her husband, along with President John Thrasher and his wife, Jean, both pledged $50,000 to create the FSU Friends Opportunity Scholarship. The scholarship is awarded to students from groups underrepresented in the legal profession.
"We find historically underrepresented minorities are often more sensitive to the debt burden," O'Connor said. "Those students may have less family wealth to deal with the financial burdens of law school. I never want a student to say, 'I can't afford to go to law school.'"
The average law student racks up $84,000 in debt at a public law school and $122,000 at a private school, according to data from the American Bar Association. The figure is somewhat lower at FSU, but O'Connor is looking for ways to make law school more affordable.
With those realities framing her new tenure as dean of FSU's College of Law in its 50th year, O'Connor is ready to fight for the school's next 50 years.
"I really feel like we can be a national leader in education and our academic pursuits. Fifty years from now when people think of the top three or four state law schools in the country, I'd like them to think of Michigan, University of Virginia, Berkeley and Florida State."